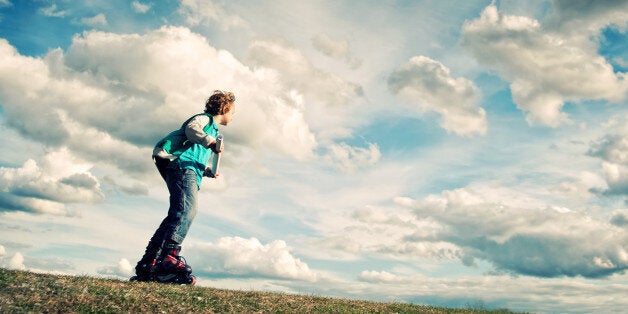 Last week was Adult Learners Week, a time to encourage adults from all walks of life to keep on learning - even busy working mums like me! When I left school, I thought all that was behind me, but my apprenticeship has taught me all kinds of new skills and made a big difference to myself and my family.
I joined McDonald's eight years ago and jumped at the chance to join the apprenticeship scheme. I'd always found school tough and didn't leave with many qualifications, so the opportunity to get back into learning was something I didn't want to miss. It's also important for my job as a Shift Manager that I have good maths and English skills, so I knew the apprenticeship would really help me to progress at work.
Juggling my job as a mum to four boys, working and studying for a qualification has been hard work, especially as I became pregnant with my two youngest during the apprenticeship! Heading on maternity leave, alongside looking after my boys, meant it took a little longer than originally planned, but I was always committed to finishing my qualification.
I finally completed the McDonald's apprenticeship last year. With four children to look after it was sometimes tough to find the time and energy to study, but it was really important to me to build up my skills. I had such a sense of achievement when I found out that I had passed, I never thought I'd get over the finish line. On the day of my maths paper nerves almost got the better of me, as did occasional attacks of 'baby brain' during my studying!
Now that I've finished, I have an Intermediate Apprenticeship in Hospitality and Catering (level 2), which is accredited by City & Guilds, and equivalent to five GCSEs grade A* to C. When I started learning, I also completed maths and English courses online, which will help me to get on anywhere.
I'm already seeing the benefits of the qualification - both at work and at home. At work, it's given my confidence a real boost and my new skills have really helped me in my day to day role as Shift Manager. At home, when my kids come home from school with maths homework, I can now help them out and show them how to do it. My improved maths skills even help with working out my family budget.
Having passed the qualification, I'm not looking at management just yet. My partner Craig works at the same restaurant as me and we often have to work opposite shifts to ensure someone is at home to look after the family. The flexible hours really help. I work in the mornings until two in the afternoon, when Craig's shift starts. He passes over the baton, so to speak!
I'm keen to use my new skills to progress within McDonald's and get promoted in the next few years. In the meantime, I'm just very happy where I am. I've been lucky enough to find a job I love and an apprenticeship I value, all whilst being a working mum. I'd definitely recommend an apprenticeship like this to anyone who wants to continue their education and boost their confidence.