The BUAV has campaigned for greater transparency in animal research for many years so naturally welcomes any steps towards genuine openness. Effective scrutiny - parliamentary and public - of the way animal experiments are carried out and regulated is impossible under the current system.
We are concerned, however, that genuine transparency is not what the recent Concordat on Animal Testing delivers. It is simply transparency on their terms with researchers having complete control over what the public gets to see.
In October 2012 a group of companies, universities, charities and academic bodies signed a Declaration on Openness on Animal Research to agree on developing a Concordat to set out being more open in their use of animals in scientific, medical and veterinary research in the UK.
The resulting document -'launched' on Tuesday 13th May at the Science Media Centre - can really only be seen as a public relations exercise and, we believe, a deliberate distraction away from the pressing issue of the current Government consultation on removing Section 24, the so-called secrecy clause - with a view to ending the blanket ban on the Government releasing information about animal experiments into the public domain. Section 24 of the Animal (Scientific Procedures) Act 1986 overrides the Freedom of Information Act 2000 (FOIA) and currently prevents the Government itself from disclosing most information on animal experiments.
The Concordat offers us an explanation of the need for animal research and ways in which institutions can explain their involvement, yet is silent on the more significant current Government consultation process which could finally remove the blanket secrecy that currently operates - by removing Section 24. The Concordat is choosing to give what they want to give but we believe that the starting point for openness is that everything about animal experiments should be out in the public domain and then we work backwards to exclude personal information and genuine commercially sensitive information.
The BUAV believes there is growing unease and opposition by the public towards animal research. Ipsos Mori, the leading polling company, ran a series of focus groups on behalf of Understanding Animal Research. Participants saw a BUAV film of undercover investigations, showing the reality of life for animals in laboratories: they often suffer far more than researchers let on; avoidable suffering is not avoided (with animals routinely left unattended overnight after highly invasive surgery); and non-animal alternatives are often not used when they should be. Participants in the focus groups showed a strong support for far greater transparency even by supporting the use of CCTV in laboratories. They also thought that licences should be published, with names and genuinely confidential information deleted.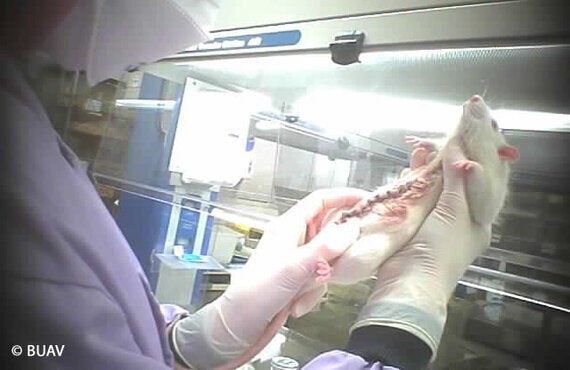 The BUAV has a long history of bringing Freedom of Information cases and campaigning for greater transparency. Our recent high profile case involving Newcastle University and its controversial publicly funded research on primates continued for a number of years with the University trying every which way and spending over £250,000 in the process to avoid providing the information.
The industry claims it wishes to debate and discuss animal experimentation, but debate requires information. That includes the information the industry would prefer the public not to know Openness involves disclosing full project licences (with names and genuinely confidential information blanked out) and also the results of experiments, even if they are negative (thereby avoiding duplication). It involves disclosing the precise care arrangements for the animals - for example, is there someone on site 24/7 to attend to sick animals or summon a veterinarian (very few laboratories have such arrangements)? This is about human health as much as animal welfare and the public has a right to know. Apart from the terrible suffering of animals in laboratories, we all have a stake in ensuring that medical research is scientifically sound and that scarce research resources are wisely targeted.
If genuine openness is what the Concordant wants, then we call on the signatories to announce their backing of the removal of Section 24 instead of simply executing yet another public relations exercise.