Mauritius is exceptionally blessed with a tropical climate, wonderful beaches, world heritage sites and wildlife together with a population made up of a diverse blend of ethnicity and cultures. It is no surprise, therefore, that the country is seeking to expand its tourist industry, and in principle there should be an excellent chance for the island to become a centre for "eco-tourism" or green tourism- a paradise for visitors seeking a modern, well-equipped yet naturally beautiful escape from the pressures of the world.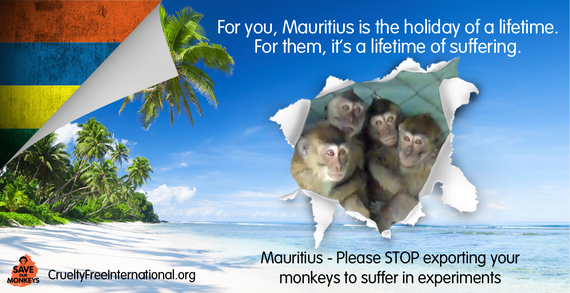 And yet, the prospect is at risk, because Mauritius is also controversially linked to the international trade in monkeys for research. During 2014, 8,991 monkeys were exported from Mauritius, primarily to the laboratories of Europe and the USA. The breeding and export of monkeys inflicts immense suffering and cruelty on thousands of animals every year. Monkeys trapped in the wild are kept in concrete pens and used for breeding; their offspring shipped overseas, as cargo on airplanes in small wooden crates, for experiments. In the laboratory, they will likely suffer the effects of poisoning after being forced to consume large quantities of chemicals or drugs in toxicity tests. Or they may be subjected to major brain surgery, their skulls cut open and devices implanted into their brains; forced to perform repetitive tasks, sometimes deprived even of water to give them the incentive to cooperate.
Public concern has led to some countries banning the trade. India banned monkey exports years ago and more recently Israel banned the export of wild animals for experiments. Most passenger airlines refuse to transport monkeys destined for the research industry.
And yet, for Mauritius, the trade in monkeys is economically insignificant compared with tourism. Less than 2% of Mauritian export income involves monkeys, a small fraction of the value of the tourist industry. Is it possible to combine being a booming global tourism attraction with being involved in one of the world's most controversial animal trades? Probably not.
Cruelty Free International (formerly the BUAV) has commissioned a survey of over 3,000 people in the UK, France, Germany, Italy and Switzerland. The survey has shown that as ethical tourism becomes more important to holidaymakers and the tourism industry, it can be a key concern for travellers when choosing a holiday destination. 53% of tourists and potential tourists interviewed would reconsider choosing Mauritius as a holiday destination after learning about the island's monkey trade. Mauritius is likely to have to choose: to continue to delight the world with its beauty, or to see tourist numbers fall back as details of the cruel monkey trade spread across the world.
One in seven of the people interviewed in the survey believed that their holiday actions can make a stand against the monkey trade in Mauritius. Examples from other countries show that animal welfare concerns expressed by tourists can make a difference. For example, a decline in attendance at Sea World, falling profits and a decline in stock market has been linked to Blackfish, a documentary raising awareness about the issue of Orcas in captivity:
Cruelty Free International is the world's leading campaign organisation working on the global trade of monkeys for experiments. During a recent visit to Mauritius, we welcomed the initial interest shown by the new Government in discussing the issue. We are now waiting to learn what its next step will be. It is time for the Mauritius Government and the Mauritius Tourism Promotional Authority to recognise that the monkey trade is tarnishing the country's reputation.
We look forward to the day when the reputation of Mauritius is no longer overshadowed with this controversy and the country's status as an island paradise can attract many more travellers from across the world.
After all, don't the monkeys of Mauritius also deserve a share of paradise?
If you believe Mauritius should be a paradise for everyone, including the monkeys, please sign our petition.
Popular in the Community