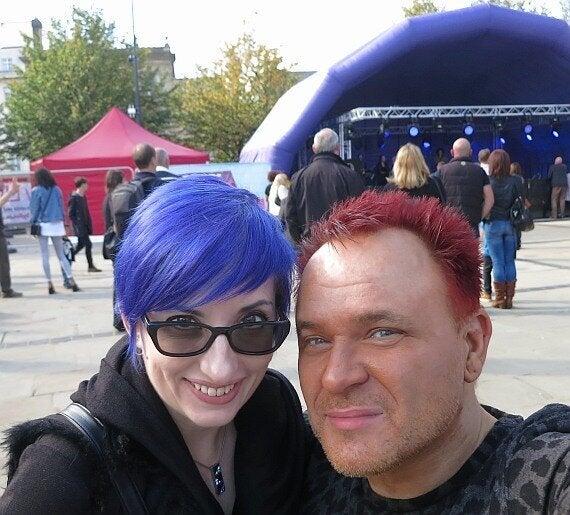 I have a soft spot for Derby and have done ever since I visited the city for work, interviewing a local disabled photographer for a magazine. It is very disabled friendly and being a wheelchair user I find many similar trips marred by poor access, so when I find somewhere that suits my life on wheels I tend to return when I want a break from work. Derby is one of these places and it is so good for my chair that I really can arrive and forget I use wheels to get around for the rest of my stay, allowing me to just enjoy my visit. On top of this ability to enjoy a break just like anyone else, without the panic of access I experience in so many other destinations, once a year the city comes alive with culture and art as Derby Feste hits town.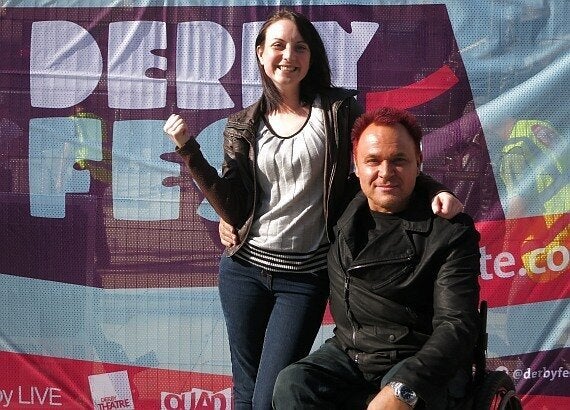 Every September Derby is taken over by the arts and becomes a must see for all the family. I try not to miss it if I can. Before this year's party kicked off my wife, Diane, and I met up with local Deaf actor, writer and director, Emily Howlett. This area of the UK has a thriving Deaf and Disability arts scene, and Ms. Howlett is a key player with her work with the Derby Theatre and as director of PAD Productions, who create exciting and challenging dramatic shows. She is about to launch the company's first touring production "Soul Bear", a show for children that explores friendship using fantasy and wonder so watch out for that in a theatre near you in 2016. After a few drinkie poos, we ventured outside to watch Derby Feste kick off in style, with a stunning installation using computer animation and projection to make the Silk Mill, home of the Joeseph Wright Collection, the canvas for a world of wonder. It captivated young and old as the combination of picture and music played with the fabric of the building. It was a joy to behold. Next was the dance performance of "Soul of Fado" by Nuno Silva, with it's flaming gondola and flamenco inspired passion. As the crowd stood captivated, the air was punctured by a young child decrying "They're not going to kiss are they?", and luckily they did not. Instead it was a beautiful piece of modern dance. Lastly we roamed along to the Market Place to catch the end of the Saurus parade, by Close Acts, not a usual parade but a march by huge puppet dinosuars that even took the breath away from us adults, and the kids just stood stunned with amazement. We said bye to Emily, who is hoping to help next year's even with rolling out more BSL interpretation through the festival and scooted off to bed. We had a long day ahead.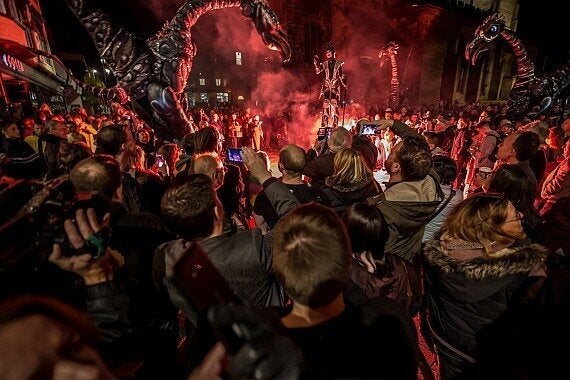 We awoke early, went into town to have a breakfast at Jack Rabbits, one of the best coffee shops in Derby and then hit the shops. Derby has some amazing shopping and for a shopaholic like me it is paradise. A quick pop back to our hotel, the Jurys Inn with it's lovely accessible room, to drop off our purchases and it was off to meet with another local disabled creative type, fashion designer Catroina Stewart. Catroina works in latex, and has a thriving business after dressing stars of stage and screen. We decided to just wonder the city taking in shows as we caught them, as the city is filled with arts installations and music, dance and theatre performances. Highlights were the magically theatre and dance of "Wheel House" by Acrojou, the acrobatic marvels of "Straw Dog" by Wired Aerial and the smooth jazz sounds if local up and coming act Jamie Joseph. Catroina agreed that Derby was easy to get round, whether you use wheels like me or crutches as she does. Then in a flash she was gone, back to design next season's creations. Which left Diane and me to venture to the Bass Recreation ground for the festival's grand finale, "Danbar Talka" by Deabru Beltzak and Les Commandos Percu. A combination of drumming, theatre and fireworks this show was truly stunning and as we filtered out of the grounds everyone was buzzing at the size and grandeur of the piece. And the fireworks were great too!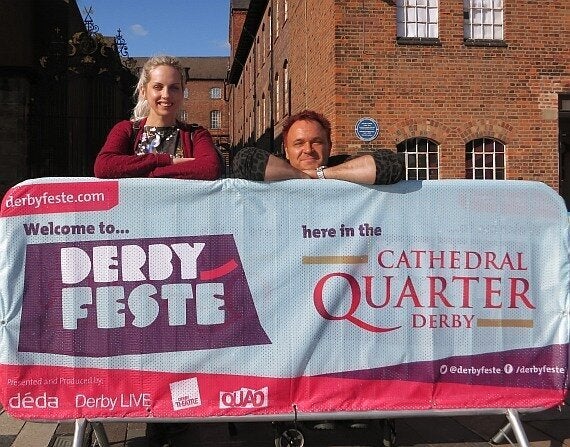 The truth is that whether you visit Derby to attend one of the many events held in the city or just for a short break or even a longer holiday, as a disabled person you are sorted. I can't sing the praises too highly of the city as destination, as it really is very accessible You can hire scooters and wheelchairs from the friendly staff at the local shop mobility scheme if you need them which opens up the city even more. Added to that the surrounding countryside has been made accessible too with wheelchair chair accessible paths through out the Dales. I know that the local council pride itself on it's work to create an accessible environment within the area, and that they are always looking to improve things too. This level of commitment shows and if you are searching for somewhere to visit that means either you or a family member can forget they have a disability for the entire stay, you can't do much better that Derby. I love it and can't wait to go back.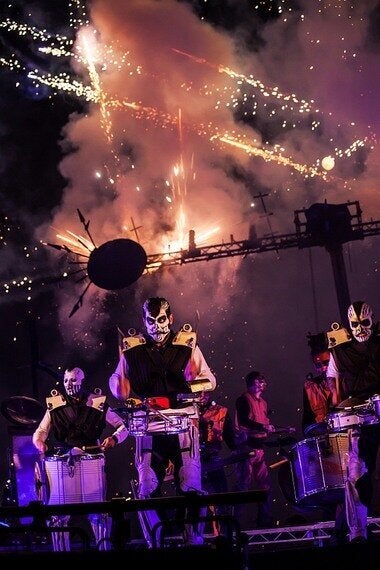 To find out what's on and for offers check out Visit Derby
All photos by permission - Mik Scarlet/Kev Ryan/Derby Tourist Board