I've spent a few days struggling how to write this article, so please forgive me if it gets a little heavy in places. I began wanting to write something joyous after hearing that the Huffington Post has joined forces with Models of Diversity for a campaign to run for the whole of February call #Fashion4All. The drive is to get the fashion industry to become more diverse, and to finally represent the wider society it is trying to sell to. I have been a supporter of MoD for many years and have covered their campaign for magazines, interviewed some of their models and even modeled for them myself. You see I was one of the first disabled people to ever do catwalk, at London Fashion Week, way back in 1996, when I modeled for a club wear designer called Dane, who went of to design stage wear for the Spice Girls. That show was made up of every type of model, whatever their ethnicity, sexuality or ability. The diverse line up made a Benetton advert look tame. To be honest I was a well known TV presenter and musician at the time and this was more fun that a possible career choice. It also wasn't a huge political and cultural statement by the designer, he was just mirroring the clientele from the thriving club scene at the time.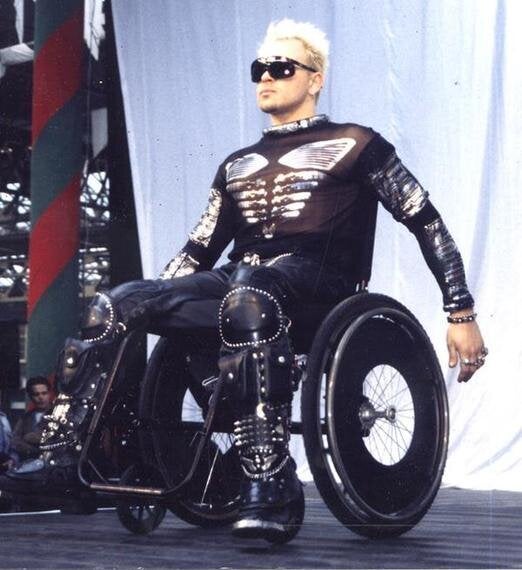 In the 21st century, and yes that does make me feel old, we now have a generation of young disabled people who see modelling as career and they want the chance to strut their stuff. Not as a token but as a professional. Models like Kelly Knox, Chelsea Jay and Jack Eyers prove that disabled people really can be model material. There are many more too. I will also be supporting the MoD team as they travel the UK this month asking the public for their support for a campaign to get more disabled models on our catwalks and on the pages of our glossy magazines. However, recently the news have been full of stories that make their battle for professional recognition become part of the bigger battle. A fight not for representation but to seen as a valid part of the wider society at all.
Yesterday my wife and I wandered round Camden Market near to where we live. It's not the easiest place to shop if you are a wheelchair user like me, and I am working with the market's management to create a map of the easiest route for people with mobility impairments, and then to make physical improvements to the site. It's annoying to fight your way round your local shops, especially if they are such iconic hot spots for fashion. But imagine how it might feel if you were barred from even entering your local shopping centre. Well if you live in Macclesfield you don't need to imagine, as that is what has just happened.
The Macclesfield Express reported on January 28th that the owners of the Grovsvenor Centre have barred wheelchair users and people with mobility scooters from entering the centre after a fire safety inspection. Steve Gibbons, head of Cheshire's Fire Protection service said "We have serious concerns that if a fire was to break out in the Macclesfield Grosvenor Shopping Centre some people would simply not be able to get out." A spokesperson for the centre explained "Following instructions from the Cheshire Fire Authority, we were unable to allow access to the centre for disabled and mobility impaired persons, due to concerns over the accessibility of fire exits within individual stores." However Mr Gibbons did not agree with this explanation of the centre's reaction "We have not prohibited people with disabilities from visiting the centre - we simply need the owners to satisfy us they have effective means in place to ensure the safe evacuation of everyone, particularly those with mobility issues." To be honest I bet no one in Macclesfield really cares who said what, they just want the right to shop like everyone else. The shopping centre's owners shouldn't be allowed to let anyone in if it isn't easy to escape in case of emergency, as many people have mobility issues who are not as easy to see as sitting in a wheelchair might be. More than that, the centre should never have been allowed to open without an effective fire escape procedure in place, one that encompasses every possible user.
As we spend February fighting for #Fashion4All, let's also make sure we fight for access to the shops that sell that fashion too. Let's fight to make sure that disabled people are not seen as a group who can be barred entrance to anywhere just because of who or what they are. That's how Black people were treated in apathieid South Africa and segregationist America of the 60's. Then Black people were told "get to the back of the bus". In Macclesfield it seems disabled people aren't even allowed on the bus. Sure, seeing disabled people up on the catwalk will help change the way we are thought of by society but so will creating a society that doesn't exclude us from stuff non-disabled people take for granted. Not everyone out there has what it takes to be a model but we must all have the right to go shopping? I wholeheartedly support #Fashion4All but in truth I want #All4All.
This February, HuffPost UK Style is running a month-long focus on our Fashion For All campaign, which aims to highlight moments of colour, size, gender and age diversity and disability inclusivity in the fashion and beauty world.
We will be sharing moments of diversity at London Fashion Week with the hashtag #LFW4All and we'd like to invite you to do the same. If you'd like to blog about diversity or get involved, email us here.
Related