In the suburbs of Dunkirk in Northern France, there is a neighbourhood where worlds collide. On one side of the road, there is a pristine suburban housing estate. On the other, thousands of refugees exist in filthy, freezing circumstances in the refugee camp of Grande Synthe.
Conditions are miserable. When it rains, the muddy ground turns into a swamp. People young and old shelter in flimsy tents that offer little protection from the wind or biting cold.
Little children are dressed in donated ski suits to keep them warm. With no school to go to, they play with anything that can be fashioned into a toy. Others amuse themselves by perilously hanging off the backs of vehicles passing through the camp.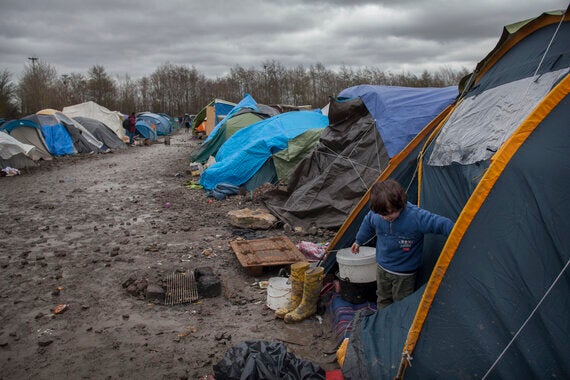 Despite being less notorious than its sister camps in Calais, dozens of people have volunteered there to offer food and medicine - but the one thing they cannot offer them is hope.
The Red Cross is supporting refugees fleeing conflict right along the migratory route: from Syria, to the border countries, and throughout Europe. Last month I visited Lesbos in Greece, to meet the red cross volunteers who are providing support to the thousands of refugees arriving by boat, many of whom are desperate to be reunited with their family when they land.
In Grande Synthe I met the people who have nearly - but not quite - reached the end of their traumatic journey. I was shocked by the conditions that people are living in, which are some of the worst I've seen anywhere. They need our support, just as those in Syria and its neighbours need our support.
There are around 100 families with young children stuck in cold, wet and muddy tents only 50 miles from our own shores. These are people with family in the UK - brothers, sisters, aunts and uncles who could offer them a home from home in a safe place. Many speak English and could make a valuable contribution to our country.
Take for example Ali, who until last year had been living together in Mosul, in Iraq with his wife, their seven-year-old twin sons and two-year-old daughter. Emotional but resilient, he wanted to get to the UK because he has a brother here.
Being together with our families is one of the most basic human instincts we have. This need for togetherness is no different for the thousands of people living at Grande Synthe, and its forcing people like Ali and his young children to embark on perilous journeys run by smugglers.
I am clear that we cannot ignore these people in crisis. That is why last week the British Red Cross, together with our international partners and more than 30 European Red Cross Societies convened a conference in London and agreed ways in which we can strengthen family reunion right along the migratory route.
In the UK, refugees have a legal right to bring their close family members over to join them. This is one of the few, established safe and legal routes for refugees to reach a place of safety. But the narrow criteria stops this being a reality for families like Ali's, whose UK connection is not a spouse.
We believe our government should proactively examine asylum claims for vulnerable families in Grand Synthe with young children and a UK connection. By working closely with the French Government, we can accept asylum transfers through discretionary clauses in a mechanism known as the Dublin regulation.
Based on our current assessment, this would mean the UK examining asylum claims for fewer than 100 families from Grande Synthe. This is a modest ask that would provide a safe, secure and cost effective way of giving hope to young children and their families, who at the moment can see no future.
Most of us in this county are fortunate enough for our families not to be caught up in this crisis. We must not turn away from these people and their hopes and dreams to be with the people they love, just like us.
Image copyright British Red Cross
Related