With an estimated worth of between 10 and 20 billion dollars each year, the "zero tolerance approach to wildlife trafficking" announced by HRH Prince William in Washington this week is so very welcome.
Many view wildlife crime as a conservation issue, but it is clearly a welfare issue too. Our wildlife is in crisis, with the trade of live wildlife causing some of the worst suffering imaginable. Imagine a three month-old tiger cub drugged in a suitcase, 1,700 live animals in the boot of a hatchback car, or 18 endangered Titi monkeys placed inside socks and strapped to a male passenger underneath his jumper as he passed through customs. These cases are real. Wild animals will experience shock at being removed from their habitat, drugging and man-handling as well as unfathomably cramped conditions without food and water, sometimes for days. This is the life for many millions of animals caught up in illegal wildlife trade. As many as four out of five of them will die in transit, or within a year.
All of this is fuelled by money and consumerism: the status of owning an exotic pet, or a trinket or animal part for a cure or ointment. The reality is, we can no longer ignore the huge cruelty behind the fourth most lucrative crime (after drugs, arms and human trafficking).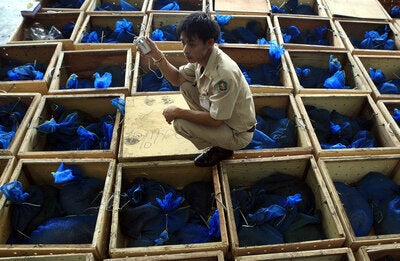 The announcement of a taskforce to combat the role of transport in facilitating wildlife crime worldwide, is desperately needed. Keeping this urgent issue firmly on the global stage is Prince William who will spearhead the taskforce, alongside the UK First Secretary of State, William Hague MP who will chair. It will bring together airlines, shipping companies and couriers, alongside animal welfare and conservation organisations to combat the hi-jacking of their travel services for wildlife crime. Our hope that it will be a powerful new front in the battle against wildlife crime; disrupting trade routes and criminals who are killing and harming the world's wildlife.
And whilst previous efforts have focused on poachers at one end of the chain and traders or consumers at the other - there has not been enough focus on the routes and mechanisms that connect the two to facilitate this dreadful trade. Until now.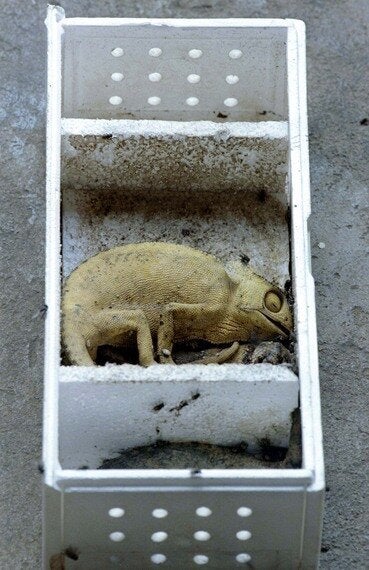 I am proud that World Animal Protection has a well-established history of working closely with enforcement officials dealing with wildlife crime. Earlier this year we successfully campaigned to safeguard the future of the Metropolitan Police's Wildlife Crime Unit, which is leading the fight against wildlife crime in London. With our network of 1.7 million supporters worldwide, the organisation is extending this approach to campaign against the wildlife trade globally.
Our work with Defra, ACPO, the National Wildlife Crime Unit and Crown Prosecution Service to ensure that wildlife crime is tackled effectively in the UK, and has recently released a report and online map to encourage more public to report wildlife crime to the police.
According to the National Network to Fight Wild Animal Trafficking (RENCTAS) - more than 38 million wild animals are captured annually in Brazil and 90% die in the process of being caught or during transportation
75% of parrots captured in Mexico, to be sold as pets, die before reaching a buyer; 31% dying en route
At least 75% of pet snakes, lizards, tortoises and turtles die within one year in the home - it is thought that most of these newly purchased animals, whose natural lifespan ranges from 8-120 years according to species, die from stress-related causes of captivity
Malagasy chameleons experience high fatalities in transit during the import process; between 10% - 50% and up to 100% in some cases (TRAFFIC, 2011)
The world's elephant population is estimated to have dropped from 1.3 million in 1979 to 400,000 now
A world rhino population of 500,000 at the start of the 20th century has fallen to 29,000
There are fewer than 3,500 tigers, reduced from 100,000 80 years ago.
Related