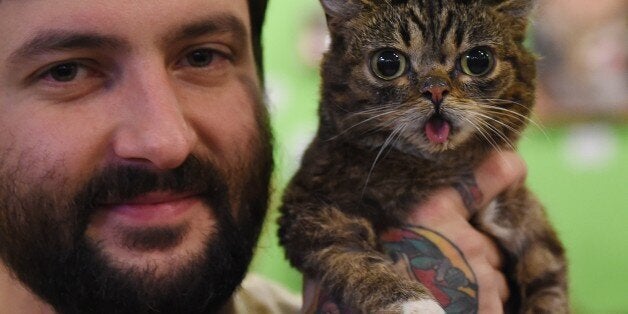 Hello. It's me, BUB's Dude. My friends know me as Mike.
Four years ago, I was chosen to take care of a very special and unique critter by the name of BUB. You may know her as Lil BUB.
BUB is a one-of-a-kind cat, born the runt of a feral litter. Some believe she is from outer space, and they're probably not wrong. I gave her a home when she was only eight months old, more than four years ago. After sharing some photos of her on a Tumblr blog, she quickly became one of the most famous animals on the planet. Since then, we've starred in an award-winning VICE Media documentary called Lil BUB & Friendz, founded Lil BUB's Big FUND for the ASPCA - the first national fund for special needs pets, have raised over $300,000 for animals in need, written two books, created our own television special on Animal Special called Lil BUB's Special Special, created an online talk show called Lil BUB's Big SHOW which featured guests like Whoopi Goldberg, Michelle Obama, Steve Albini, and Andrew WK, amassed over 4million followers on social media, racked up 30million views on YouTube, and most recently have released BUB's debut album, Science & Magic: A Soundtrack to the Universe.
I have been deeply immersed in all of this for the past three years, so it's difficult to even take a moment to look back and reflect on all of it. But one thing that I can say about it is that it's been an overwhelmingly positive experience, and I am honored to have been chosen by BUB to help facilitate her mission. From the very beginning this has been a completely organic experience - I never intended for BUB to become famous, and I don't actively seek any opportunities.
Everything that's happened has happened naturally, I simply check my inbox, and go from there. I only work with folks and organisations that are true fans of BUB and what she stands for, and only agree to projects that allow me to have full creative freedom and let me involve the talents of my close friends, and have a charitable component to them. I can only imagine that from the outside this whole thing must seem ludicrous and bizarre. But to those that understand the true magic of BUB and the nature of our work, it is a truly magnificent phenomenon that brings hundreds of thousands of people great joy and inspiration, and also raises awareness and money for animals in need while supporting smart, talented and creative people that help me create fun and original content in the spirit of my amazing cat.
BUB's most recent creative output is her debut album, Science & Magic: A Soundtrack to the Universe. As someone who's owned a recording studio, has been making records professionally for over 13 years, and has played in several touring bands, I realise that an album "by a cat" must seem absurd. But as with everything that involves BUB, the project came about organically and seemingly out of thin air (or directly from BUB's mind), and was truly one of the most enjoyable musical endeavors I've had the pleasure of being a part of.
It all started years ago, when I just needed original instrumental music for the background of some of BUB's YouTube videos. So I asked Matt Tobey - my neighbor, my bandmate, one of my closest friends, and BUB's official 'BUBbysitter' - if he would write some simple tunes "in the spirit of BUB" so that I could use them for her videos. I'd give him some direction - "she's on a beach", or "make it sound like she's playing in a pond on a distant planet" - and he would effortlessly come up with these brilliant little compositions, written and performed on cheap recording software using a little keyboard and stock MIDI sounds. Over time, we had amassed a collection of close to 20 little BUB tunes. And ever since featuring them in BUB's videos, folks had been inquiring about the music, wondering where they could hear more.
So this inspired Matt and I to start discussing the idea of re-recording the songs in my studio, and asking our talented friends to play on the recording. The original idea was to completely recreate all of the electronic sounds from the original compositions with real instruments, and was really just intended as a fun side-project. We soon discovered that this would be a brutally daunting and time-consuming task, but not before recording real drums and real bass guitar for each of the songs. Then, my close friend Karl, who had previously released my other bands' albums on his record label Joyful Noise Recordings, heard some of the tracks and like them so much that he asked if we would want to have it be officially released on his label. Naturally we liked the idea, but mostly because it gave us a reason to finish the project, which would otherwise take years to complete. So with a hard deadline, we were forced to keep some of the original electronic sounds, and be selective about which real instruments we would record. We "re-amped" the original synth sounds by running them through vintage guitar amps and tape machines to enhance their sound, and also added a variety of other instruments including string quartet, bassoon, oboe, electric guitar and vibraphone. In the end, it's this marriage of electronic sounds and acoustic instruments that makes the record sound so unique - a combination of science and magic.
What I like about this record is that it truly embodies BUB's spirit - it lacks pretension, it's not overwrought or overthought, and most importantly, it was a truly pure creative experience, something that I've discovered is an increasingly rare opportunity. If people like the record, that's great. But as with everything else I get to do with my amazing cat, this is really about the overall experience, and the affect it has on those that love BUB and the magic she brings to the world.
Science & Magic was released on 4 December 2015 and debuted at #121 on the Billboard Top 200, and at #2 on both the Electronic Music and Top New Artist charts. 25% of net proceeds from the albums sales benefit Lil BUB's Big FUND for special needs pets, and 100% of the album's music benefits people that love BUB.