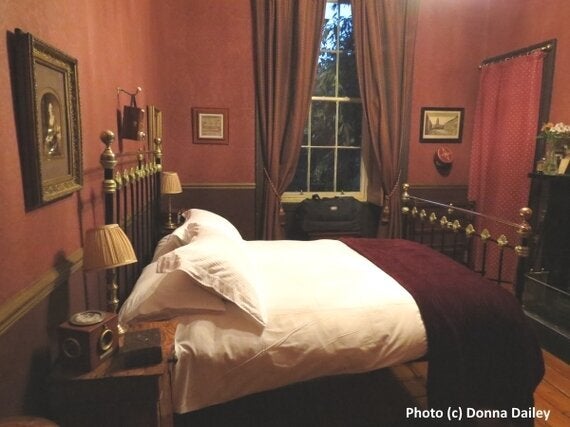 I'd never encountered a Tangophone before, and that's because the one at the 2 Cambridge Street apartment in Edinburgh is the only one in the world. We'd just arrived in Edinburgh for the start of one of the lesser-known festivals in Festival City, the Scottish International Storytelling Festival, so it seemed perfect that we found ourselves in unique accommodation that was full of stories itself.
The Tangophone, owner Erland Clouston explained, was how we should summon him if we wanted anything during our stay at the delightfully quirky two-room 'micro-boutique hotel' that he runs with his French wife Hélène in Edinburgh's Cambridge Street, directly across from the Usher Hall and around the corner from the Traverse Theatre. Indeed, the other guest on the night we arrived was directing a play that was about to open at the theatre.
So what is a Tangophone, I asked Erland, who's also a freelance journalist who has previously worked for The Guardian and The Express. The house is still also their own home, and feels beautifully intimate as if you are indeed house guests rather than paying customers.
'Well,' said Erland, 'it's constructed from a tuba we found in a Nice musical-antiques shop. It was a bit of a challenge smuggling it aboard our easyJet flight home. I've connected it to a sound-recording kit purchased at Maplins, and a snippet from one of very many tango CDs borrowed from Edinburgh City Libraries.'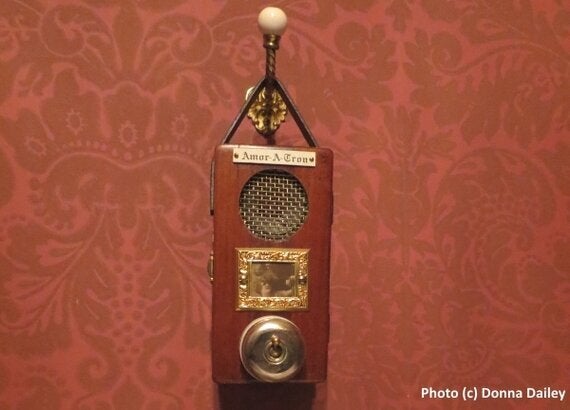 Press the button and the tuba plays a snatch of tango music, loud enough to summon him or Hélène from their own areas of their 1862 Edinburgh townhouse, which has been lovingly restored with period furnishings to create a cosy and romantic feel. In fact our room has another of Erland's inventions above the bed, an Amor-A-Tron (above), which plays a piece of suitably romantic French music, or you could press the Zen-A-Tron (below), which plays some relaxing Eastern music.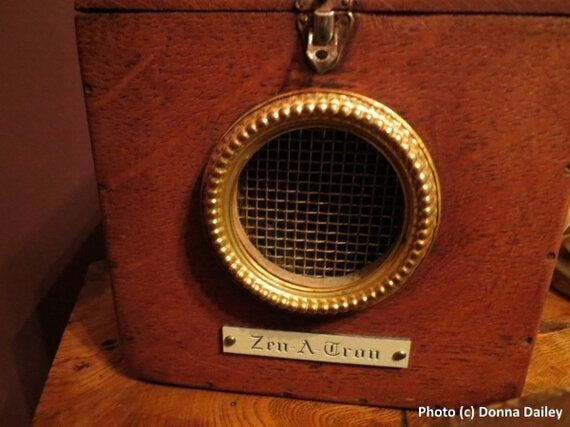 On the mantelpiece was a mix of postcards, old photos, books, and a vase of flowers. These are all the owners' own possessions, not things that were bought in order to furnish a guest bedroom. You're welcome to browse and get drawn into the stories behind them, like looking at old photos in an antique shop and reading postcards written a hundred years ago. It was definitely getting us into the mood for the Storytelling Festival.

In the hallway a micro-movie theatre is fixed to the wall and shows a 1905 black and white movie of a Scotsman's Visit to London, with a running gag showing the porter repeatedly holding out his hand for a tip, and repeatedly being ignored. Nearby another micro-theatre plays a sequence of clips of people screaming.
Erland explained. 'This is my tribute to the Wilhelm Scream. It was a sound effect used in many Hollywood movies, and became a standing joke among sound engineers. They would all use this same scream whenever someone was being shot or stabbed or falling off a cliff, in a western, in the jungle or wherever. Just do a search for Wilhelm Scream on YouTube.'
The scream was used not just in old westerns but in Raiders of the Lost Ark, Toy Story, Batman Returns and many more. Clearly, 2 Cambridge Street is no ordinary guesthouse, and staying there is an education... and a lot of fun.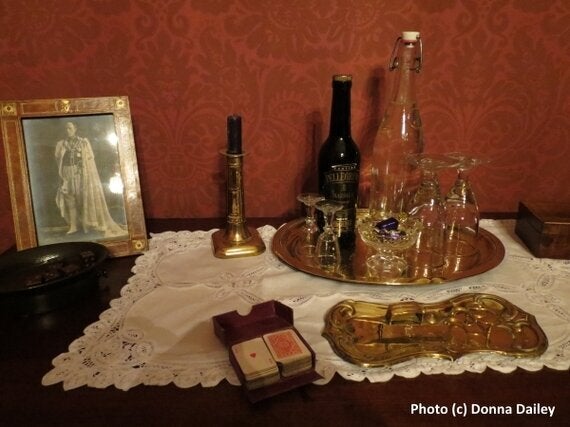 The two guest bedrooms both have private bathrooms, and there's use of a guest lounge/library, where breakfast is served on willow-pattern plates in the morning. There's no set menu and Erland asks the night before if you have any likes, dislikes or allergies. 'And are you happy to try the Mystery Starter?'
We were happy to try it and were glad that we did, but of course won't reveal the mystery. As well as fresh orange juice, toast and good coffee, one of us had a poached egg topped with an eggy-cheesy soufflé served in a ramekin with fried chorizo on top, and the other tried sourdough bread with gruyere cheese, a poached egg and red chili pepper slices on top. It looked as good as it tasted, and it tasted amazing.
For all its quirky character, 2 Cambridge Street is comfy, homely, friendly, and does all the things good accommodation should. It's a place that's impossible to describe. It isn't a guesthouse or a conventional b&b, it's not really a hotel, and not a private apartment. It's quite simply wonderfully itself, though The Sunday Times called it 'one of the best 100 hotels in the world'.
For more information on the 2015 Storytelling Festival, see:
The theme of the 2016 Scottish International Storytelling Festival is The Right to Dream, which takes place from 21-30 October 2016. The 2016 theme will explore our ability to dream something different into existence, acknowledging the power of storytelling to lift you out of time and place with the liberating power of imagination. Great stories well told have the ability to evoke indelible images in the mind of the listener. The best of Scotland's storytelling talent will merge with invited guests from Spain, Portugal, Central and Southern America offering a plethora of dreamscapes and myths in a ten-day celebration of live storytelling, oral traditions and cultural diversity.