Stephen Boswell Produces Gourmet Meals for Passengers Cruising the Inner Hebrides off the West Coast of Scotland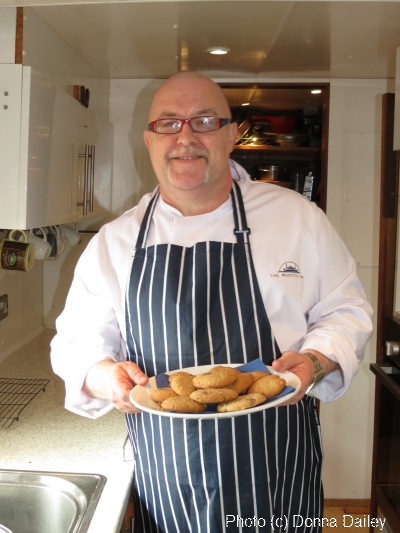 'If you can eat it, I'll prepare it,' chef Stephen Boswell tells me as we sit together and gaze out at the passing landscape of Skye. 'I've never failed to serve a meal.' The challenge facing this chef is that he is on board the Glen Tarsan, a converted fishing boat which now takes up to 12 passengers on wildlife cruises off the west coast of Scotland, where the weather can occasionally be, well, challenging.
Challenging, that is, if you're working solo in a tiny kitchen and having to serve up three different cooked meals every day, including a 4-course dinner, to guests who have paid a lot of money for these intimate cruises, and expect the best.
'The only real challenge,' he says, 'is having to get used to the fact that your kitchen moves. I've worked in smaller kitchens than the galley here. I'm sure every chef has, but you have to get used to the movement. Fortunately I don't suffer from sea-sickness. Some chefs do and they can't do the job.
'One chef the company took on couldn't get used to the lip on the edge of the working areas. He couldn't get used to using the chopping board with the lip there, so he removed the lip all the way around. He had some movement from the boat one night and lost every plate.'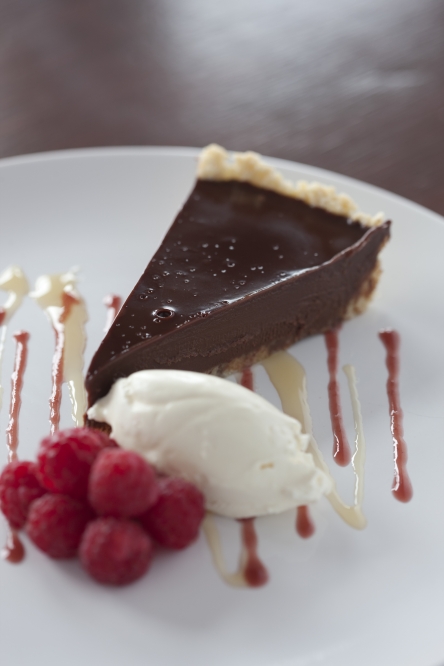 We never lost a plate but during my own six days on board the Glen Tarsan we had seas that were so fierce one afternoon it was like riding a roller-coaster. The chairs and table in the lounge were tied down, and a crash from the galley was the microwave breaking loose from its moorings and hitting the floor. Wine and beer bottles rolled around, but the only other damage was a solitary broken wine glass.
As the choppy seas continued into the late afternoon, the Glen Tarsan's skipper, Iain Duncan, had to change his plans and instead of heading for Rum sought a more sheltered anchorage off Eigg. Stephen's menu that night, serving nine people and prepared in rough seas, was Great Glen smoked venison with redcurrant and cassis syrup, pan-fried Argyll salmon with Mediterranean vegetables and a vermouth and anisette sauce, a cheeseboard with four different choices (Loch Arthur cheddar, Shropshire blue, Caboc and a Rosary goat's cheese), followed by tea or coffee with apricot and vanilla truffles.
It was an astonishing feat, the more so as the menus - even for the cooked breakfast - were different every day, and Stephen keeps almost all his recipes in his head. He doesn't have set menus, as the cruise company, the Majestic Line, gets large numbers of repeat bookings.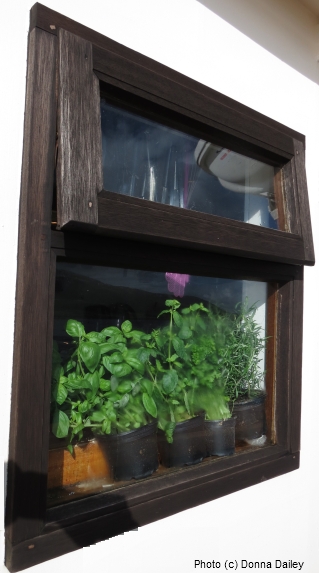 'Some passengers have come back five, six times and more, so it would be boring for them - and for me - to have set menus,' Stephen says. Indeed, on the cruise I was on one couple had already booked another trip for next year before this one had ended.
The chef gets the passenger list, with notes of any allergies, diets or food preferences, ten days before the cruise departs from Oban. That's the day he plans the menus.
'But I may change them as the cruise goes along,' he says, 'depending how people react to the dishes. I'll buy the supplies in on the day the cruise departs, so that everything is fresh. I'll then stock up on a few things perhaps once during the cruise, like maybe fresh milk, but that depends on where and when we stop. You can't really plan that as the weather can change the plans.
'I've got used to most of the allergies and diets. The most challenging was a fruitarian. Can you imagine three meals a day, six days, and only fruit? Next week is going to be a challenge too. I've got someone allergic to pepper, and she's 80 years old so I can't take any chances there. I've someone with a nut allergy, and there are two Jewish passengers who don't eat pork or shellfish. But I've worked something out.'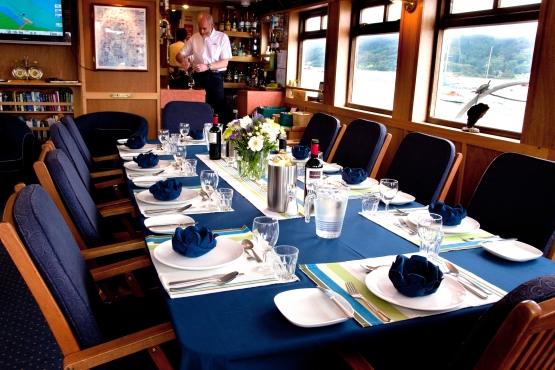 Wouldn't life be a lot easier if he worked in a regular restaurant kitchen?
'I worked in a regular kitchen not long ago and it drove me mad. It was boring, doing the same things over, night after night. On the boats I have to come up with three meals a day, for six days, every one different and with a different set of people every trip. And I love meeting people. In a regular kitchen you see the same staff every day, and you don't get to talk to the customers.'
As for owning his own restaurant: 'I've never owned my own restaurant and don't want to. I wouldn't put the money into it. The only cooks making money these days are the guys with mobile burger vans - no huge set-up costs, very few overheads, no staff problems. Even many of the top restaurants in London are not making money. They're living off bank loans. But working a burger van would drive me mental!'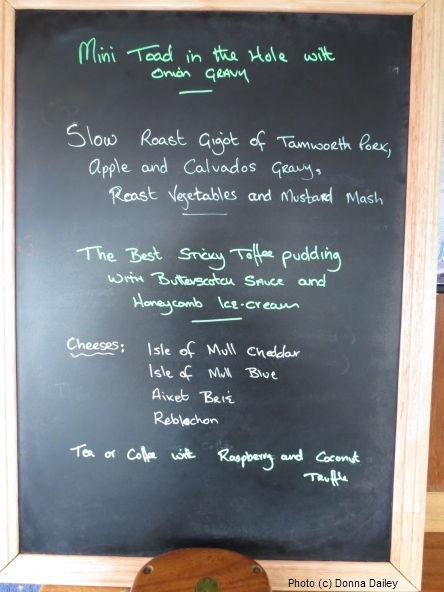 It's clear as we both stare out at the slowly changing landscape, and watch the cormorants racing over the waves and seals basking on the shoreline, that Stephen Boswell has found his perfect job. He grew up in western Scotland, in Lochgilphead.
'My father used to work on the old puffer ships. Every summer I'd go out with him for a month on the ships, up the west coast and around the islands, and I loved it. I still do.'
He excuses himself as he has to go and start writing out tonight's menu on the blackboard. Haggis and malt whisky cups, fillet of lemon sole with smoked mussels and prawns, herb potatoes and seasonal vegetables...
INFORMATION
The Majestic Line runs cruises of between three and thirteen nights on the Glen Tarsan and the Glen Massan from April to October. Most cruises sail out of Oban, on the west coast of Scotland. There are daily train and coach services to Oban from Glasgow.
Mike Gerrard has won many awards for his travel writing, and also publishes the website, Beyond London Travel.