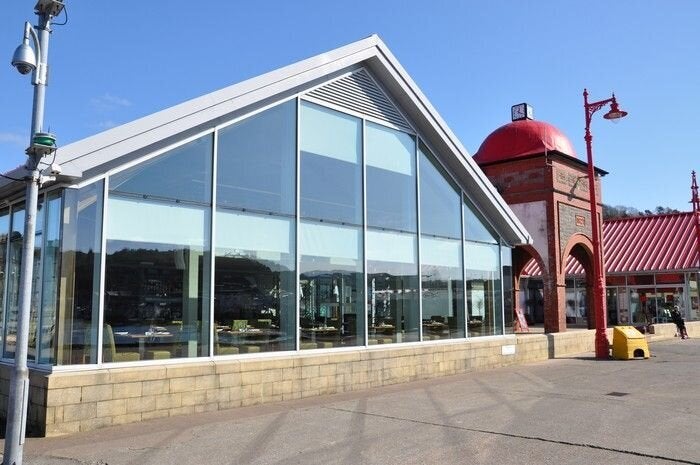 Somewhere off the west coast of Scotland is a fishing trawler called the Crimson Arrow, and on the boat is a fisherman called Toastie. He brings his scallops into the harbour at Oban, and they are the best scallops in the world. How do I know? Because I've just eaten a plate of them, and the menu at Eeusk, which is by the harbour in Oban, credits Toastie as their supplier. They were the lightest, tenderest and sweetest scallops I've ever eaten, and as a confirmed carnivore scallops are one of the few seafood dishes that will tempt me away from meat.
Eeusk - the name is simply the Gaelic for fish - sits overlooking the water in this appealing mix of fishing harbour, ferry port and low-key resort town in Argyll and Bute. Spend even a few hours here and you get used to the sound of the CalMac ferries coming and going from the Scottish islands, with the noise of a choir of gulls never far away. Shops here sell fishing tackle and walking boots, though there's also a chocolatier and a handful of top-class eating spots, including Eeusk.
It sits at the end of the North Pier harbour, with some spectacular sunset views, as I discover from following the restaurant's twitter feed as we work up an appetite for our visit. No sunsets tonight, though, as the day has been blowy and showery, but that hasn't stopped the diners, who are blocking the doors. 'About thirty minutes,' the ones who haven't booked are being told, but fortunately we have and despite the place being spacious and spreading over two floors, it's as tightly packed as a tin of sardines, though rather noisier.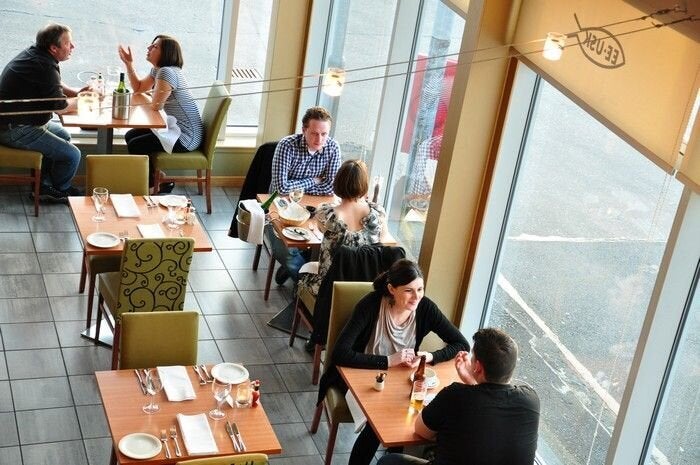 The décor is modern and simple, the tables with nothing much more than cutlery and salt and pepper shakers. The wine list is wide-ranging, from affordable house wines to special occasion treats like Puligny Montrachet. There were plenty of options by the small glass, large glass or half-bottle too, and recommendations for different wines to try with different fishes. We each choose a glass of Albarino wine from Galicia, Lagar de Bouza, which is said to go well with their scallops, and scallops always go well with me.
Saving those for later, I start with an Eeusk fishcake. This mix of regular salmon, smoked salmon and potato has a tartare sauce that is light and clearly freshly-made. My wife's scallops come with an equally light and fresh-tasting Mornay sauce, and some tomato rice.
My sublime main course scallops are served with mashed potatoes which aren't whisked into a creamy froth but are more solid, with spring onions mixed in, and with an earthy taste to them. Yes, mashed potatoes that actually tasted of potatoes. My wife's lemon sole is cooked to that point that is so hard to get right at home - brightly white, not a flake undercooked, but still moist and not starting to get dry.
It's a short dessert menu but they are all home-made, and it shows. I have a lemon cheesecake that would wow them in New York, while my wife's vanilla crème brûlée brings to life a dessert that can sometimes be bland. Ah yes, you think, it's a crème brûlée, wishing you'd ordered the chocolate mousse instead. Not here, though.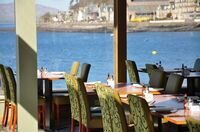 As we finish off the wine at the end of the meal, Alan McLeod comes over to our table and introduces himself as the restaurant's proprietor. This isn't because we're VIPs, as I'd seen him stop at numerous tables over the course of the evening. 'How was your meal?' he wants to know. Our praise for every dish comes tumbling out, praise he must be used to receiving.
'We're the only restaurant in Oban,' he tells us, 'that buys all its fish fresh from the boat. I had 12 lemon sole off one of the boats this morning, which looked beautiful. We put them on as a daily special, and they've all gone.'
'I know,' said my wife, 'I had one.' He leaves us to finish our last sips of Galician wine, and drink a toast to Toastie the fisherman.
Mike Gerrard is an award-winning travel writer who divides his time between Arizona and the UK. He frequently writes about Scotland on his Beyond London Travel website.