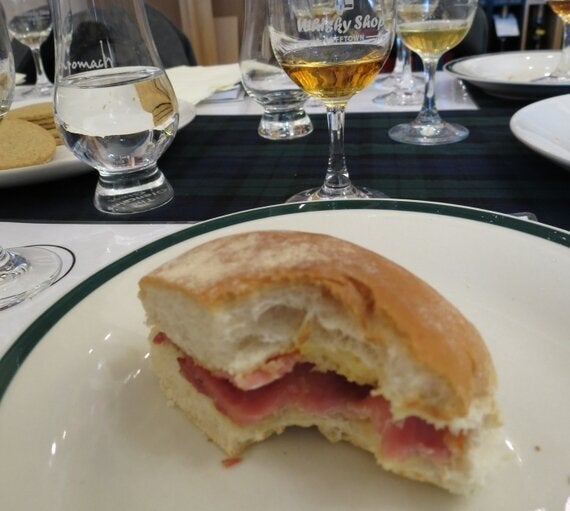 I never knew whisky could be so much fun. The previous afternoon I was pairing whisky with chocolate truffles, and now here it is, 11 o'clock in the morning, and I'm with a small group trying to decide which whisky goes best with a bacon roll. I've already toured the beautiful Victorian Gardens at the Glen Grant Distillery - with a wee dram, of course - but it's all part of the roller-coaster of over 400 whisky-related events that make up the Spirit of Speyside Whisky Festival.
The Bacon Roll Challenge takes place in the Whisky Shop in Dufftown, on Speyside in the Scottish Highlands. Oh yes, all this happens amid the most glorious Scottish scenery, but at the moment I've only got eyes for a bacon roll. It's been three hours since I had my full Scottish breakfast at the Craigellachie Hotel (Kate Moss, Sadie Frost and Noel Gallagher were recently there for a Burns Night birthday party), but even that wears off after a while.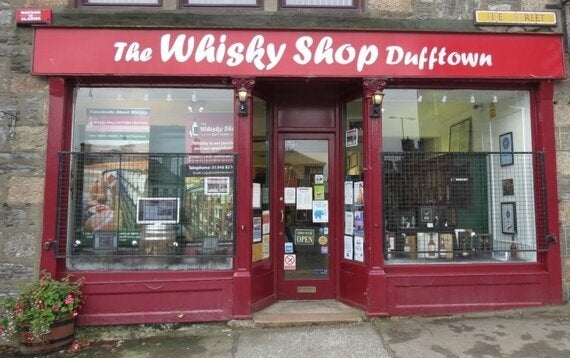 Whisky Shop owner Mike Lord is clearly passionate about whisky, so when did that start?
'When I first drank it. My parents were blend drinkers. I bought a bottle of Macallan 10-year-old in an off-licence when I was a student because I liked the box. And that was it. The start of a love affair. Before buying this shop I worked in Canary Wharf in financial services. So a bit of a change.'
Mike's shop stocks about 650 different whiskies ('at the last count'), all of which can be bought online and about 300 of which are open for sampling. He carries a wide selection of Scottish gins, too, thanks to the recent boom in Scottish gin-making. He also specialises in whisky pairings, and does the Bacon Roll Challenge for special events and for the Whisky Festival. He pairs whiskies with other foods too, like cheese and haggis, and says that fish is the hardest.
'The latest one I had to find a match for was cod with a hazelnut topping. It took a more robust whisky than I thought it would. Still, it's always fun trying!'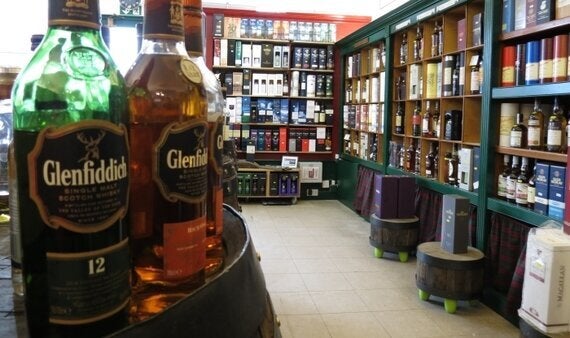 So, what about a bacon roll?
'With bacon you're looking for a whisky with an oily mouth-feel, heavy on the sherry. I think whisky pairings are more difficult than wine pairings as the flavours are more complex. What I suggest is that you have a bite of bacon roll, a sip of whisky, then another bite of bacon roll. And the first whisky we're going to try is a Balvenie 14-year-old Caribbean Cask.'
The Balvenie is matured in regular American oak whisky casks for 14 years, and then finished in casks that had previously been holding rum. It does have that fuller mouth-feel that Mike Lord was looking for, which complements the taste of the bacon, but the hint of sweetness from the rum sugars also acts as a pleasing contrast, like that drooling combination of savoury bacon with sweet maple syrup.
This is going to be tough, and it's serious business. We all have to independently rate each of the four whiskies, which include the current Bacon Roll Challenge Champion, deciding which goes best with the bacon roll. The Balvenie is really good, but I can't give it 10/10 in case a better match comes along.
And it does. The second whisky, a Cardhu 15-year-old, is even better. Or is it the whisky talking? Or even the bacon roll improving as the juice soaks into the bread more? Our first two whiskies are both from Speyside, but for the third one Mike brings in an Isle of Arran whisky, which he reveals is the current Bacon Roll Challenge Champion.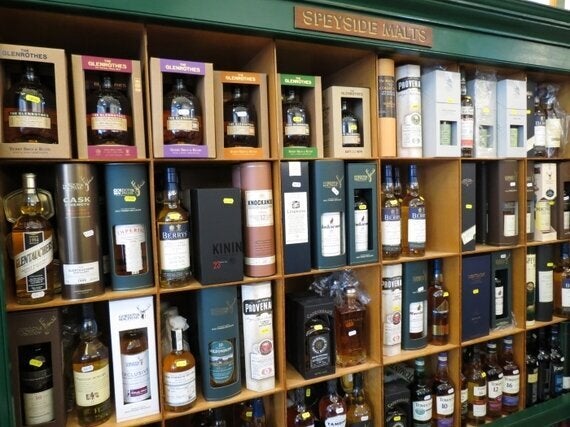 'I always include the winner from the previous Bacon Roll Challenge,' Mike says, 'and introduce three new ones to set alongside it, in the belief that one day I'll find the ultimate whisky to enjoy with your bacon roll.'
It's not my champion, though, as I cast my vote for the fourth whisky we try, a Glenrothes Vintage Cask, and when the votes are handed in and counted up, it turns out to be a tie between the Glenrothes and the Cardhu.
With the serious business over and the bacon rolls demolished, Mike clears the table and offers us two bonus tastings.
'Every year,' he says, 'we do two of our own bottlings. The first one I'd like you to try is a Mannochmoor 21-year-old, which is matured in bourbon casks and bottled at cask strength. We only produced 196 bottles, and you can only buy it here at the shop, for £65.65.
'The second is a Glenfarclas 1991, which is from a first-fill oloroso cask, so you get those sweeter sherry notes coming through. This one is 53.8% and sells for £199.95.'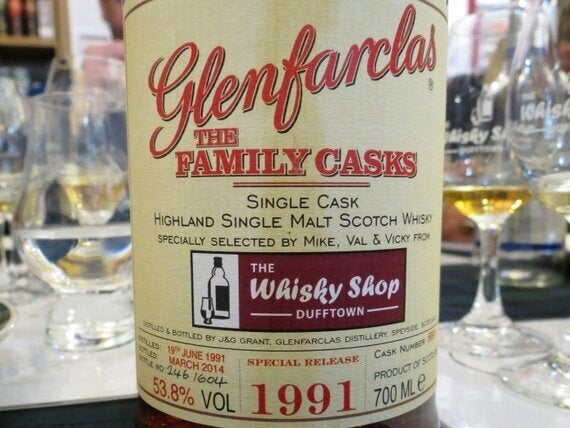 The Bacon Roll Challenge was so much fun that we all agree it's the perfect way to start any day, festival or not. We reluctantly drag ourselves away, but only because we see what's next on our personal Whisky Festival schedule... a tour of the Glenfiddich Distillery.
The 2016 Festival takes place from April 28 - May 2. Information about the festival can be found on the website www.spiritofspeyside.com from 28 January, where tickets will be on sale from 2 February at 12 noon GMT. The Bacon Roll Challenge usually sells out immediately.
For more information about The Whisky Shop in Dufftown see their website:
Mike Gerrard is an award-winning travel and drinks writer who recently wrote for The Huffington Post about a whisky blending session which also takes place at the Spirit of Speyside Whisky Festival. See Blending Like a Master.