Visiting the USA's Literary Landscapes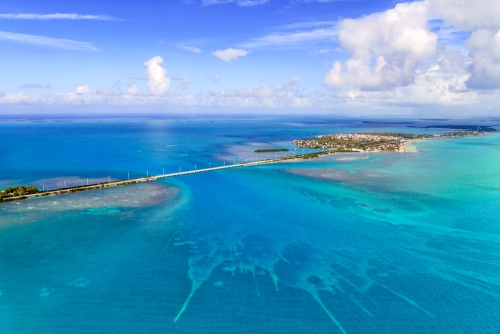 The Florida Keys, Home to Hemingway
From the frozen north to the steamy south, and from the buzz of New York to the Pacific Ocean, America's landscapes have always inspired its authors. The country may have a reputation for being at the forefront of innovation - think Apple, think Amazon - but it is also big on literary tradition.
You can visit the birthplaces and homes of a whole host of writers, including Emily Dickinson, Edgar Allan Poe, Margaret Mitchell, Herman Melville, Eudora Welty and Walt Whitman. Literature lovers might want to check out some of the following holiday options.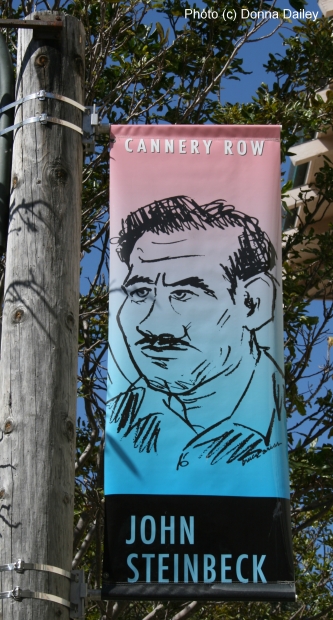 John Steinbeck's California
The Nobel Prize Winner's greatest novel, The Grapes of Wrath, shows the lure of California, the state where he was born. His birthplace in Salinas is now the National Steinbeck Center (www.steinbeck.org), while a few miles away in Monterey is Cannery Row, which inspired several of his funniest books, including Tortilla Flat (his first major success) and of course Cannery Row itself. Visiting today you can still see the old wooden laboratory of Steinbeck's friend, Ed Ricketts, which features in the books and where the author used to hang out.
How to Visit: Black Tomato has a fly-drive holiday allowing you to explore Steinbeck's California in a convertible or on a Harley Davidson: http://www.blacktomato.com/country/usa/classic-cali/
Further Reading: A Journey into Steinbeck's California by Susan Shillinglaw (Roaring Forties Press).
Hemingway's Key West
Another of America's Nobel Prize Winners, Ernest Hemingway, was born in Oak Park, Chicago, where his birthplace can be visited (www.ehfop.org). Although Michigan inspired several notable early stories, it was the sunshine that drew him and he made his home in both Cuba and Key West, which is as far south in the USA as you can get. Here you can visit the Ernest Hemingway Home and Museum (http://hemingwayhome.com/). Hemingway lived here from 1931-39 and wrote a number of major works in the house including To Have and Have Not and Green Hills of Africa.
How to Visit: Exsus offers a Florida fly-drive holiday letting you visit Key West in a Mustang convertible: http://www.exsus.com/destinations/usa/florida/florida-itineraries/miami-and-the-florida-keys-luxury-self-drive-holiday
Further Reading:Hemingway's Key West by Stuart McIver (Pineapple Press).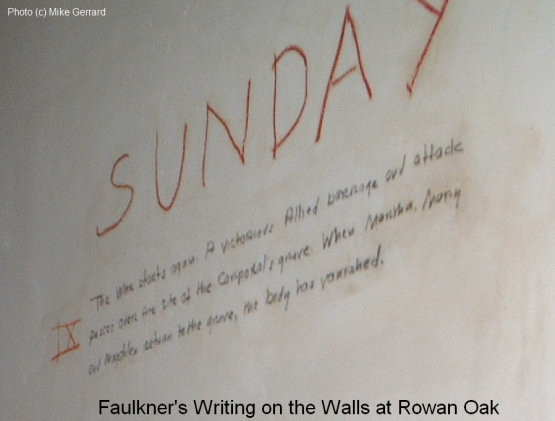 William Faulkner's Mississippi
William Faulkner also won the Nobel Prize for Literature, for his books set in the fictional setting of Yoknapatawpha County, Mississippi. Faulkner was born and spent most of his life in Mississippi, and classic novels like The Sound and the Fury and As I Lay Dying are set there. A driving tour taking in rural Mississippi shows that not a lot has changed since Faulkner's day. You can visit his home, Rowan Oak, in Oxford, Mississippi (www.rowanoak.com), where he lived for over forty years and where he frequently wrote notes and planned his novels on the walls (above).
How to Visit: Take a fly-drive holiday with North American Highways:
http://www.northamericanhighways.co.uk/showpackage.asp?packageID=31
Further Reading:Becoming Faulkner by Philip Weinstein (Oxford University Press).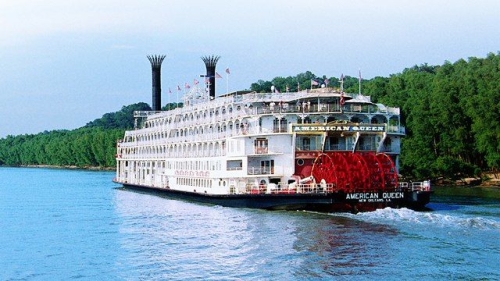 Mark Twain's Mississippi River
Samuel Langhorne Clemens was a Mississippi river boat pilot and his pen name, Mark Twain, was a common call when marking the depth of the river, Twain was two fathoms (12 feet). You can visit his birthplace in Florida, Missouri (http://www.mostateparks.com/park/mark-twain-birthplace-state-historic-site), his boyhood home in Hannibal, Missouri (http://www.marktwainmuseum.org/), and his adult home in Hartford, Connecticut (http://www.marktwainhouse.org/), where he actually wrote most of his best-known books including Life on the Mississippi, Tom Sawyer and Huckleberry Finn. However, for a real feel of the man, pack these books and take a cruise down the Mississippi River itself.
How to Visit: Book a Mississippi River Cruise with Avalon Waterways:
https://www.avaloncruises.co.uk/cruise/music-city-big-easy-2014
Further Reading: The Autobiography of Mark Twain Volumes I and II (University of California Press).
Flannery O'Connor's Georgia
The American south has produced more than its fair share of outstanding writers, and no-one did Southern Gothic better than Flannery O'Connor. Novels like Wise Blood (memorably filmed by John Huston) and short story collections such as A Good Man is Hard to Find, are strange, haunting, powerful and unique. You can see the author's childhood home in Savannah (http://www.flanneryoconnorhome.org) and the home where she was living when she sadly died at the age of 39 from the disease lupus in Milledgeville, Georgia (http://andalusiafarm.org/).
How to Visit: A Georgia and South Carolina tour with Archers visits Savannah:
http://www.archersdirect.co.uk/holiday/jewels-of-georgia-and-south-carolina
Further Reading: Flannery: A Life of Flannery O'Connor by Brad Gooch (Little, Brown).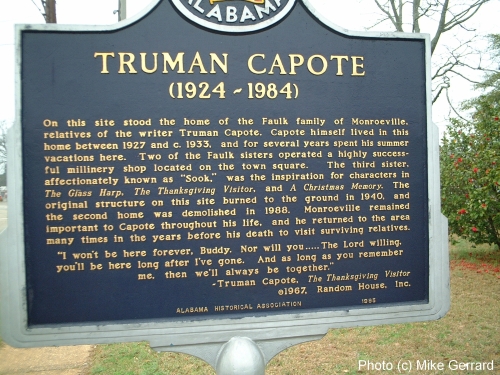 Harper Lee's Monroeville
Harper Lee's novel about racism in the south, To Kill a Mockingbird, won the Pulitzer Prize and she used her home town, Monroeville, as the basis for the fictional setting. You can visit the charming but tiny town and see the Old Monroe County Courthouse, where Harper Lee's father practiced as a lawyer, and if you're there in May you can see the annual performance of a dramatised version of the novel. Lee's childhood friend Truman Capote appears in fictionalised form in her novel, and a plaque (above) marks the house where he lived for a time in Monroeville.
How to Visit: Take a fly-drive holiday in Alabama with Key to America:
http://www.keytoamerica.com/fly%20drive.asp?id=sweet%20home%20alabama&section
Further Reading:Mockingbird: A Portrait of Harper Lee by Charles J. Shields (Owl Books).
Mike Gerrard is co-editor, with his wife Donna Dailey, of the 101 USA Holidays website.