And Other Romantic USA Locations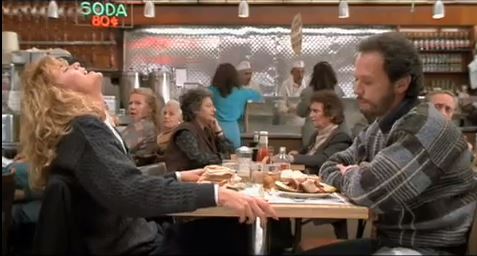 Where Harry Met Sally: in Katz's Deli
The USA is full of romantic locations, from California's beaches to New England in the fall and the rim of the Grand Canyon - a popular spot for marriage proposals. But not all the romantic spots are obvious, whether they're real locations or made famous by the movies. Find out why a methodist church, a Los Angeles airport, a hotel fire escape and, yes, a New York deli are among the most romantic locations in the USA.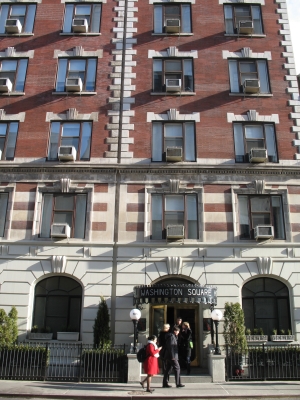 1) The Washington Square Hotel, New York. Once cheap, now chic, this hotel in New York's Greenwich Village has been home over the years to many rock and folk stars playing at the local music clubs. Bo Diddley jammed with the Rolling Stones here, the Mamas and Papas had a whole suite, but most famously, Bob Dylan and Joan Baez lived here when they were having an affair. Baez describes both the affair and the hotel in none-too-flattering terms in her song 'Diamonds and Rust,' where she calls it 'that crummy hotel over Washington Square'. It's definitely more yummy than crummy these days.
2) Hacienda del Sol, Tucson, Arizona. This low-key and laid-back place dates back to 1929 when it was built in Moorish style as a school for the Tucson elite. In 1948 it was turned into a guest-ranch resort, and it immediately attracted Hollywood stars while they were filming westerns in the Arizona desert. You can still book the Casita Grande, where Spencer Tracy and Katharine Hepburn had secret assignations. John Wayne and Clarke Gable also stayed there - though not together.
3) San Ysidro Ranch, Santa Barbara, California. This ultra-luxurious discrete retreat is outside Santa Barbara in the foothills of California's wine country. It's been regularly voted among the top few hotels in the world, so it's no surprise to learn that it's where John F Kennedy took his bride Jackie on honeymoon (ask to stay in Kennedy Cottage), and is where Sir Laurence Olivier married Vivien Leigh. You can get married there too, if you like.
4) Aladdin Resort and Casino, Las Vegas. Elvis Presley married Priscilla Ann Wagner in Las Vegas on May 1st, 1967. You might think Elvis + wedding + Vegas = tacky showbiz, but the ceremony was in fact a low-key private affair from which all but the happy couple's closest friends and relatives were excluded. It took place in a private suite at the Aladdin. Today in Vegas you can get married in a hundred ways, both tasteful and tacky: including a ceremony conducted by an Elvis impersonator.
5) United Methodist Church of La Verne, California. Say that again? The Church is the location of the final scenes in the 1967 movie, 'The Graduate', where Dustin Hoffman as Benjamin Braddock bangs on the church windows to disrupt the wedding of Elaine Robinson, played by Katharine Ross. The couple flees the church and jumps on a bus, though whether this provides a happy Hollywood ending is open to debate. The church is in La Verne, 30 miles east of Los Angeles. If you prefer the scene where Benjamin is seduced by Mrs Robinson, too bad. It was filmed at the Ambassador Hotel in Los Angeles, which was torn down in 2006.
6) Van Nuys Airport, California. The movies, eh? The ending of one of the most romantic films ever made, 'Casablanca', was shot at Van Nuys Airport, to the North West of Los Angeles. The rest of the movie was made at Warner Brothers Studios in Burbank. 'We'll always have Burbank'? No, it just doesn't work.
7) Central Park, New York. New York's large and leafy Central Park has been seen in countless films, including many romances. But its most romantic movie moment must surely be the carefree scenes when Kermit the Frog and Miss Piggy enjoy a sunny day in the park, in 'The Muppets Take Manhattan'.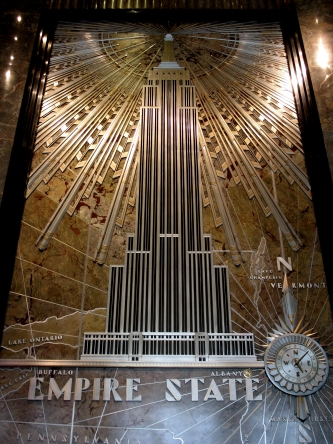 8) Empire State Building, New York. It's hardly romantic at the top of the Empire State Building, but you do get fantastic views and it is where Meg Ryan had a Valentine's Day meeting with Tom Hanks in 'Sleepless in Seattle'. She was inspired by the 1957 film, 'An Affair to Remember', where the lovers fail to meet at the top of the Empire State in tragic circumstances worthy of a Thomas Hardy novel. It's also where King Kong gazes longingly at Fay Wray before (spoiler alert) falling to his death.
9) Las Palmas Hotel, Hollywood Boulevard. It's the fire escape at the rear of this building that Richard Gere (playing Edward Lewis) climbs in order to declare his love for Julia Roberts (Vivian Ward) near the end of 'Pretty Woman'.
10) Katz's Delicatessen, Lower East Side, New York. The climax to our list, naturally. This is where Harry met Sally in 'When Harry Met Sally' and Meg Ryan and Billy Crystal created one of the most memorable movie moments ever. You don't need to ask which table it was. There's a sign hanging above it saying 'Where Harry met Sally... hope you have what she had!'
* Mike Gerrard is co-editor of 101 USA Holidays and writes and publishes the Pacific Coast Highway Travel website.