Say the word Beaujolais, what springs to mind? Light and easy fruity red wines, Beaujolais Nouveau or Beaujolais Villages no doubt! What about the unknown? What about Beaujolais Blanc...? Not ringing too many bells eh!
This is understandable really as white Beaujolais represents only 1% of wine production from the region. There is a chance though that you may have already tried some without realising. Supermarket or chain store outlets often have a wine in stock labelled as White Burgundy. The wine would have been produced in the northern part of Burgundy but the grapes, more than likely, have come from Beaujolais.
The total area of Beaujolais - Villages Blanc is tiny with only 68 hectares under vine, all of which is Chardonnay. Compare that figure to the rest of Beaujolais which occupies a further 17932 hectares.
Two white Beaujolais that grabbed my attention recently were from Domaine Arnaud Aucouer and Jean-Paul Brun.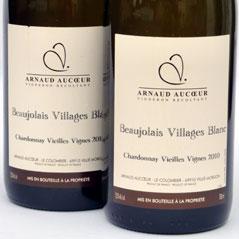 Beaujolais-Villages Blanc, Vieilles Vignes, Domaine Arnaud Aucoeur 2011
The nose delivers instantly recognisable apricot aromas and stoned fruit characteristics whilst the palate delivers elegantly subtle fruit flavours. A fresh feel gives the wine a very clean and easy dry finish. Good value for money wine that doesn't over complicate. One example why the general public need to rediscover Chardonnay, not a lick of oak in sight!
Good summer drinking for summer foods.
Mike's rating 7.5 - 10
£10.95 from Yapp Brothers Wine Merchants
Beaujolais Blanc, En Fût, Jean-Paul Brun 2010
As Homer J Simpson might say "mmmmmmmmmm forbidden doughnut" or in this case forbidden fruit! I love wines that keep the senses working overtime. The bouquet alone is worth paying the money. Big and bold pineapple, orange blossom, light marmalade fragrances. The flavours are more refined but the depth and complexity mirrors the nose. Unlike the previous wine, it's a bit more serious nevertheless, superb!
Drink with good old traditional roast Chicken dishes.
Mike's rating 8.5 - 10
£14.40 from Savage Selection LTD
Prices correct at time of publication. Subject to availability.
All reviews are my own. I'm not being paid for any reviews I write. I will always give an honest assessment of the wines I taste and review.