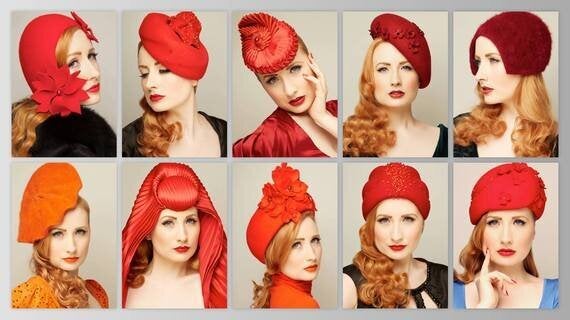 Recently I had the great pleasure of modelling the Valeria Marquisa Millinery AW15 collection Rotkäppchen. As each piece was placed and tilted on my head it had me wondering what had inspired her to create these fairytale adornments in all shades of cinnabar.
Whilst studying Theatre design at Wimbledon College of Art, Valeria was lucky enough to meet the inspiring Sean Barrett, one of London's most respected milliners for film. Previously she had experimented with making headpieces from metal and wire for photo shoots and stage shows but it was through Sean that she was first introduced to the craft of Millinery.
Valeria then worked several years as a stylist and performer and only with the birth of her daughter 5 years ago did she embark on proper millinery training. She studied at Kensington and Chelsea College for 2 years and did several master classes with leading milliners and underwent work experience in the business before setting up her own label, Valeria Marquisa Millinery. She soon started to get commissions for weddings and the Ascot. She found it exciting and hugely rewarding to see her creations worn by women.
The collection Rotkäppchen, (The German word for Red Riding Hood) is inspired by German folklore, romanticism and the fairy tales of the brothers Grimm. Why did you choose these themes as stimulation for your AW15 collection?
I grew up in Germany with an Eastern European heritage and have always been attracted to folklore and fairy tales. My childhood in Bavaria was much of dark woods and the Brothers' Grimm fairy tales. The stories were for kids but sometimes they were so cruel which I found fascinating. The red cap or hood is also very chic in a modern context. With berets and turbans and pillboxes I found myself immersed in a beautiful romantic tale of symbolism, cultures and the shades of red.
I also like a hat to have a story and give some character to its wearer, maybe there's also my background in theatre design that plays a part when I choose a theme to design from.
Did the designs materialize from a vision in your head or did they evolve as you crafted them with your hands?
I often start with an idea or a feeling in my head, but the magic happens when I start crafting with the materials. It is incredible to see the shapes coming together to form a hat and come to life when worn.
What kind of a woman would wear this collection?
I like to design for a customer in mind who likes to look good and wear something special. Her own style can be a mix of current fashions and vintage. She likes good quality hand crafted statement accessories like a good hat, great shoes or beautiful leather gloves. She's sophisticated, confident, fun, romantic and a little bit extravagant and likes to dress up. But she's also practical and has a bad hair day sometimes and then she prefers to fling on a beret and still look chic.
Do you have a favourite piece from the collection and why?
In this collection my favourite pieces are the pleated hood veil 'Isra' and the pillbox 'Zita'. I get so excited about all the different pleating techniques applied to these two hats, and how they've come together when modelled by the wonderful Millicent Binks! They frame her face so nicely. I love pleating ribbons and fabrics and there's always some of it in my collections. It has become my trademark.
Do you have any advice to women for choosing the perfect hat?
Choose a hat that makes you feel good. Take time to try on lots of different hats, even ones you wouldn't expect to suit you. Start planning an outfit with your hat in mind. A statement hat teamed with a classic dress will look amazing, timeless and effortless.
Where is the Valeria Marquisa Millinery studio based?
My studio is based in the trendy East London where I meet customers for fittings and consultations and where they can see for themselves the work going into a hat being blocked, sewn and trimmed by hand.
This collection is Valeria Marquisa's first seasonal collection and she is now working on SS16 which is going to be mostly white and dramatic using outlandish and exotic materials. With the racing season and the Royal Ascot coming up, Valeria will be very busy with exciting custom orders.
For more information please visit: