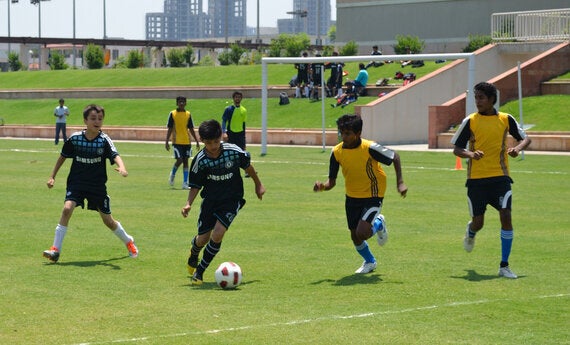 Boys play football at the Bhaichung Bhutia Football Academy in Delhi in May, 2012. Photo by Monica Sarkar.
Okay, granted, it is a cricket-crazy country. But that's not the only sport that Indians are fanatic over, but the one that is overly documented.
Indian football is not something new - it dates back to the 19th century, when British soldiers introduced the sport to the country. An Indian team even ended up beating them in a tournament in 1911.
The national team grew to be one of the best sides in Asia, but the game hasn't been able to keep up with the times, with deteriorated facilities, as well as the focus of those who manage the sport. Today, Indian football is positioned at a very low 158 in FIFA rankings.
Indian football has an intense rivalry between two teams: Mohun Bagan A.C., originating in Kolkata, capital of West Bengal, and East Bengal F.C., which finds its ardent supporters in migrants to the city.
The derby reaches its 90th anniversary in May next year and as my mother hails from Kolkata and dad from East Bengal, I have never heard the end of it.
It even has an effect on signatory dishes, which are consumed in celebration: the price of Hilsa fish goes up if East Bengal wins and prawns become pricey if Mohun Bagan is victorious.
Which match can pack a stadium with a capacity of 120,000? A friendly between Argentina and Venezuela in Kolkata, featuring Lionel Messi, of course.
A friend who went to this match told me there was uproar as soon as the Argentinean star got the ball between his feet and mayhem when he scored the winning goal.
Argentina is one of the most popular teams in India and Messi is undoubtedly among the most venerated players in the country.
India's infrastructure has often faced much criticism as a major drawback of Indian football. But the increased international focus on the sport is spurring renovations.
It's not just about the ISL, where veteran footballers such as Alessandro Del Piero and Robert Pires will take part alongside Indian players. India will be hosting, and subsequently playing in, the FIFA Under-17 World Cup in 2017. It's the first time the nation has ever had a presence at football's most sought-after tournament, even though it is the youth version.
However, the country came close to participating in the 1950s World Cup in Brazil. But it's reported that India declined because of the cost to travel to Brazil. And that their custom of playing with bare feet meant they were unable to fulfil the requirement of wearing football boots.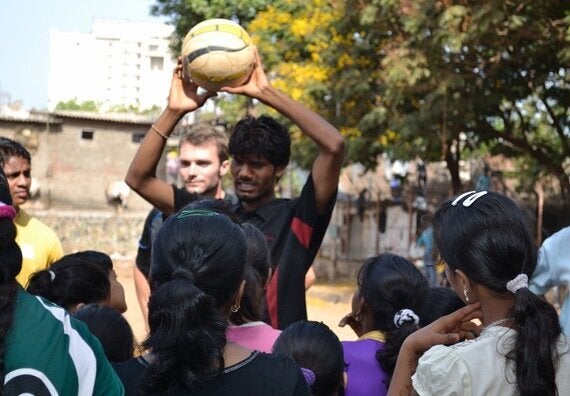 Franz Gastler, co-founder of Yuwa, stands alongside a football coach as they train girls from Dharavi Slum, Mumbai in May, 2012. Photo by Monica Sarkar.
The Indian national women's football team actually has a higher FIFA ranking than the men's, standing at 53. Both teams had also qualified for this year's Asian Games in South Korea that ended on October 4.
NGOs such as Yuwa even use the sport as a tool of empowerment for girls from poor areas of the country. With this unconventional method, the charity has managed to reduce the number of under-age marriages in the impoverished state of Jharkhand.
Hockey, Archery and Boxing
India's not just about football either. The Indian men's hockey team took home gold at the Asian Games this year, beating arch-rivals Pakistan 4-2 and securing entry into the 2016 Olympic Games in Rio, Brazil.
In addition, celebrated sportswoman Mary Kom became the first Indian woman boxer to win a gold medal at the tournament. She also won the bronze medal at the London Olympics in 2012 and a Bollywood film released this year documented her life story.
Popular in the Community