The final stop exploring and photographing cultural cuisine across the UK finds me in New Malden. This quiet suburb in South West London is at the centre of an emerging food trend of traditional Korean cuisine. Despite a slower start compared to Chinese, Vietnamese and Japanese food in the UK, Korean cuisine has its own unique tastes and methods. It's loud, it can be pungent and it's packed full of stronger flavours compared to other Far Eastern fare.
A former home to the Korean ambassador to the UK, since the 70s New Malden has been settled by over 20,000 North and South Koreans, making it the largest Korean population in Europe. Long before trendy (and often expensive) eateries opened in areas like Soho and Holborn, authentic Korean food could be found in a handful of restaurants on this unassuming high street.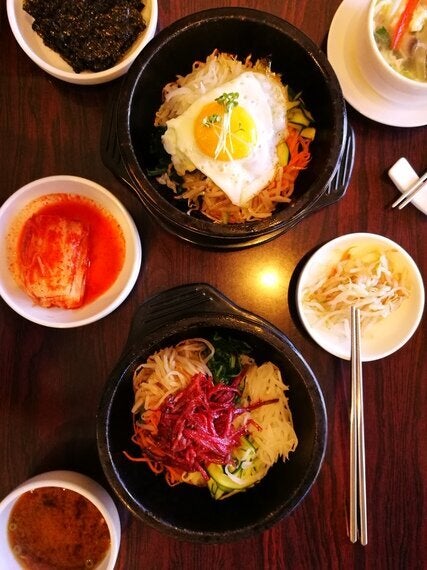 Lunch at Sorabol shot on a Huawei P9
The scene in New Malden sees restaurants regularly sitting on Most Recommended lists for Korean food in the UK. With traditional cooking methods and unpretentious ambiance compared to its central London counterparts, could New Malden (just 28 minutes by train from Waterloo) be a surprisingly worthwhile foodie excursion?
Yami, a popular lunchtime spot, and Sorabol, a small restaurant at the end of New Malden high street, deliver honest and authentic menus to explore. The first dish was bibimbap, a traditional rice, meat and vegetable dish served in a sizzling hot stone bowl.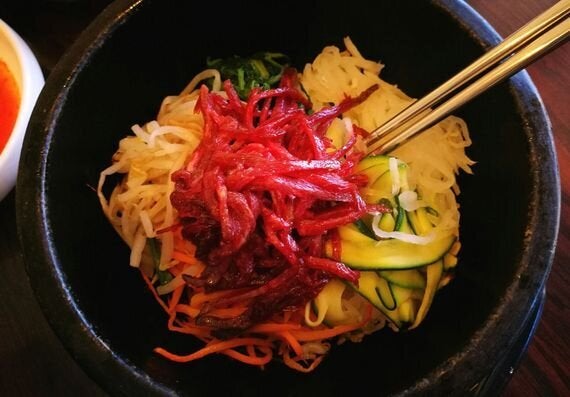 Bibimap at Sorabol shot on a Huawei P9
The beauty of a bibimbap is that the stone continues to cook the rice, raw egg and meat long after the dish arrives at your table. While Sorabol's version was topped with a pan-fried egg, the flavours at both restaurants were strong and the kimchi (fermented vegetable) side dish is a perfectly balanced combination of sour, spicy and crunchy.
Combined with endless little cups of jasmine tea, a bibimbap is a cheap and tasty option for lunch or dinner.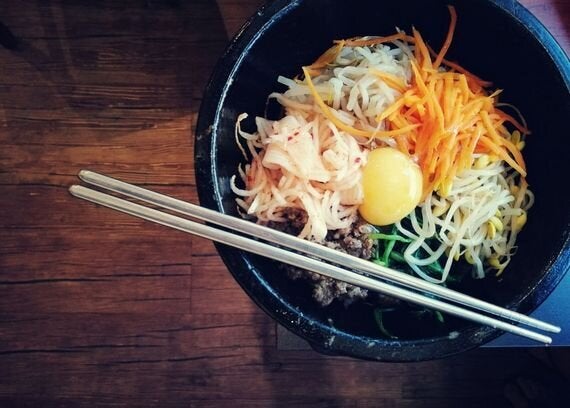 Bibimap at Yami shot on a Huawei P9
If there's one Korean dish more mouth-watering than bibimbap, it's the Korean barbeque: sizzling beef cooked right in front of you on a personal hot plate, and served with an abundance of tasty sauces and garnishes. I couldn't help getting my Huawei P9 out and capturing the process on camera. The Butcher Korean BBQ, a humble restaurant close to New Malden station, has glowing reviews for good reason. Within a few minutes a rib eye steak sizzles on your table while you indulge on fried dumplings to start.
Cooked in this traditional Korean style the barbecued meat is melt-in-your-mouth delicious and needs little more than a simple sesame oil dipping sauce. To complete the authentic experience, the meat, sliced with scissors on the grill, is then wrapped in lettuce leaves, topped with spring onions, garlic, vegetables and eaten in one mouthful.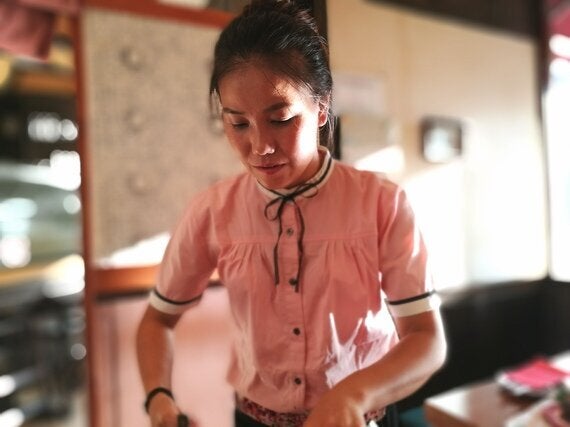 The Butcher Korean BBQ shot on a Huawei P9
New Malden is well worth the short journey out of London for authentic, affordable, memorable and, most importantly, exceptionally tasty Korean food.
I've loved the opportunity to try some of the amazing culinary delights of the UK and have managed to fill my Instagram with some great foodie snaps. There is so much more on offer than the usual curry or Chinese choices. So put down the takeaway menu and explore these foodie trends for yourself.
This post has been published on The Huffington Post's blogging platform. The views and opinions expressed in this blog are those of the author and should not be taken as those of The Huffington Post. The Huffington Post does not allow bloggers to acquire products, access or accommodation for review in the site's name.