Until recently, I was brain-dead about beauty. It might be stereotypical to assume that if you have ovaries, you know your Nars from your Nivea but, alas, I did not. Recently I over heard by girlfriends talking about toners and cleansers and genuinely thought they were talking about a new workout that incorporated cleaning and muscle definition. To me, Mr.Muscle was no longer a fantasy. But remember I said 'recently'? I'm 25.
My mother was a singer and I so wanted to be just like her. In all her sequins and eye-lashes she'd saunter off to what I thought was a West End theatre but what I've come to realize was more likely a working mans club in South End. Nevertheless she was such a beauty. I used to gaze longingly at her, putting on her creams, her make-up and a small spritz of perfume (far more Ab-Fab than it sounds), all the while taking meticulous mental notes before pulling her feather boas from her mirror, smearing my face with lipstick and singing along to Liza Minnelli. I certainly had the teacher and the tools from day one.
All that mental note-taking clearly didn't compute because by the time it was my turn to play around with cosmetics, I wasn't all that interested. Sure, I experimented with blue eye shadow and excessive blusher, but one morning I woke up with massive boobs and that was the only cosmetic enhancement I needed. Boys'll be boys and they were definitely more interested in what I was trying to hide under my Nick Carter T-shirt then whether I knew where my T-Zone was.
Over the years boobs kept growing (to an eye-watering GG) and so did the attention that eventually became sincerely unwanted and increasingly unpleasant. After an unfortunate meltdown in a Tammy when I could actually find nothing to wear/fit for a friends party, the boobs had to go. A lovely surgeon changed my life overnight and the reduction was the best decision my parents' wallets ever made.
Suddenly, I couldn't rely on the testosterone magnets for attention but that didn't make me turn to creams or make-up. I just wasn't that interested in pampering myself. My mum use to have to literally have me exorcised in order to get me to have my nails done, and if a friend suggested having a facial I would pretend I had no money. What is so ridiculous is, I enjoyed it, all of it, I just think the giant boobs had made me feel like I didn't deserve to feel good about myself. That, plus I knew so little that it was just embarrassing. When a beauty assistant asks you what kind of skin you have and you say 'skin-like'- HUSTON, WE HAVE A PROBLEM.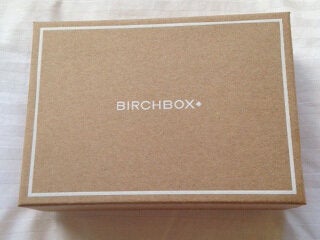 I recently heard about Birchbox from my sister who mentioned in passing that her assistant gets a lovely box of samples delivered to her desk every month for next to nothing. A box filled with everything from moisturisers to lipsticks to tiny slithers of chocolate. I did a little research. As I work in Advertising a good line will get you everywhere with me and Birchbox have a cracking one that says (to borrow another great Ad-line) exactly what it does on the tin- 'Discover your next everything'. I signed up straight away.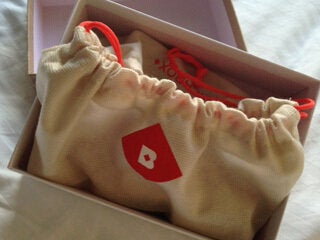 I'm on my second month with Birchbox but I am completely in love with them. I am in love with their customer service, I am in love with their online presence, I am of course in love with their products. But the clincher for me is their attention to detail. It's the Ad-woman in me that appreciates anything that looks like someone cared about it. That they used their brain and thought 'how do we get people to love what we're selling?' And there's nothing that doesn't scream 'well-thought-out' about every part of the Birchbox process.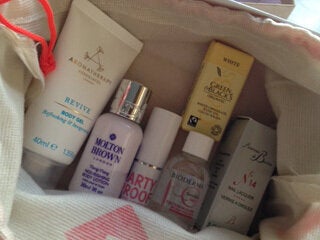 The box your goodies arrive in is so beautiful I want to knit it a little hat. ASOS- take note, your boxes are offensive cardboard crimes compared to these beauties. Once you've gotten past the box (which even has details on the underside), nestling inside the box is a super-soft and totally reusable cotton drawstring bag that houses all your little treasures. What is probably coincidental, but still such a pleasure, is that the whole thing always smells divine because of course the samples themselves, are delightful. As well as a tiny brochure, there's also a little card handout, which tells you about your samples as if Molton Brown or Bioderma (from this month's box) were telling you themselves. It's all just so human and, in my opinion, exactly the way forward.
A few days ago, I found myself googling 'the healing powers of juniper' and 'micro circulation rituals' before realising, it's finally happened, I care about me. I suddenly use hand cream. I have an opinion on the nail colour pallet choices at LFW. I no longer look like Charlize Theron in Monster. And the best bit for me? I suddenly give a... Sephora, Stila and Shu Uemura.
Birchbox have made me care, they've made me care about cosmetics and for that, I am so grateful.
N.B. Birchbox haven't asked me to write this article, neither have I received anything for writing it.