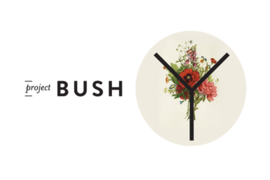 You may have called October 3rd 'Thursday' but to me, it was 'The day my Bush got photographed'. Last week, I bared my lady-garden in all its glory for Project Bush, a campaign by Advertising agency Mother London born out of conversations with Elle Magazine who are currently attempting to 'rebrand feminism'.
In order to highlight the very current issue of women feeling obliged, nay, pressurised, to shave, wax or laser their pubic hair to be sexy, Mother commissioned photographer Alisa Connan to run a 'Bush Booth' at the agency for the day.
For 12 hours, Alisa sat and photographed every 70s bush, every fire crotch or black box, every landing strip or shaven haven, all the short and curlies, the beavers, the muffs... in short she photographed every Bush that came through the door, including mine.
Now, I am Scandinavian so nudity is in my blood. I really don't mind getting my kit off; my family photo-album reads like a nudist colony guest-book. I also have no fear. So the mixture of a laissez-faire attitude to my body and the call of the feminist cry meant I was totally up for braving the Bush. Jane Martinson from The Guardian asked, 'Do you want your pubic region photographed by an ad agency?' my response- pubic region? IT'S CALLED A BUSH, LADY and yeah, why not.
I mean, it's just hair, down there. It might be attached to my aptly named 'private parts', but nothing 'private' was on show. If anything the most private thing I disclosed was my thighs. Jesus, no one should have had to see those in such full-on lighting. I looked like a giant pale slice of orange peel. At no point did I want to excuse the state of my crotch-whiskers, all I wanted to do was issue a disclaimer for my thighs that read "I'm 25 and I've only just discovered exercise'.
Before I took part, I told some friends about the project and that I was going to do it. Most of them thought it was hysterical. One asked if I thought it was sexualising women's bodies to which my reply was simply four words, 'Miley Cyrus' and 'Wrecking Ball'. Then I told my ex-boyfriend about it and the look of disgust on his face made me feel like a 50s housewife who had asked to use the lawnmower.
For a second I thought I'd call and cancel. I didn't want him to judge me. Then my mind raced and I thought if he was disgusted, every man in the world was also going to be disgusted. In one second and with one look, my ex honestly made me feel that I'd be judged and alone forever and that I'd end up marrying a polaroid of my muff. Then I realised that's what this whole project was about. It's my Bush, My Choice.
Two women, Alex Holder and Katie MacKay, a Creative and a Strategist were the brains (and beauty) behind the Bush. I was lucky enough to pin down Alex for a chat (once I'd put my knickers back on) to talk to her about the project and I found that my feelings did generally match up with her hopes for the project. She explained that in a best-case scenario, if any one thing could come out of Project Bush it would be that a young girl somewhere in the country comes to believe she has a choice.
A great many women feel pressured by society, by men and by porn and they come to believe they don't have an option. They think pubic hair is perceived as dirty, ugly, gross, slack, political, uninviting and/or unfeminine but it needn't be that way. Alex went on to say that that girl, whoever she is, needs to know that making a decision about her Bush is her choice. In the same way that you wouldn't let a man choose your shoes, why let him dictate how your lady lawn should look?
Before I was photographed my flatmate text me to ask if I'd 'Dressed-Up' for the occasion but I told her I was going to let my carpet speak for itself. While chatting to the photographer Alisa after my shot, I said it was a shame they'd decided they will present the photos 'anon'. I explained that my Bush mirrors the current state of my life so I would have titled mine, 'Just Been Dumped'.
So, if you happen to ever get the chance to see all the Bushes on display (at either the exhibition at Mother or the website they intend to make which they forgot to mention to me until after I'd been snapped) and you see a Bush that looks like it would cry at a sofa advert (they're all just so damned happy!) and eats a tub of Ben & Jerry's every night, that would be mine.
But matching Bush to face of course will never be the point of Mother's campaign. As Alex also said, to a naïve audience it might seem like the project is all about Bush and nothing but the Bush, but luckily it has elicited a far wider conversation about Feminism and its current standing. Feminism unfortunately, seems to have become a 'dirty' word that's taken on unearned connotations which is such a shame because calling yourself a Feminist really just means you're someone fighting for the same political, social and economic standing as a man. What on earth is dirty about that?
Feminism needs to shake off the stereotype. Feminists are no longer just a bunch of angry women who don't shave their armpits and wear dungarees; you wouldn't realistically be able to pick one out from a line-up of women unless you chose all of them. I think a (metaphorically) subtle campaign like Project Bush shows that stereotypes have no place in feminist society anymore. But there's always a place for a lot of Bush.