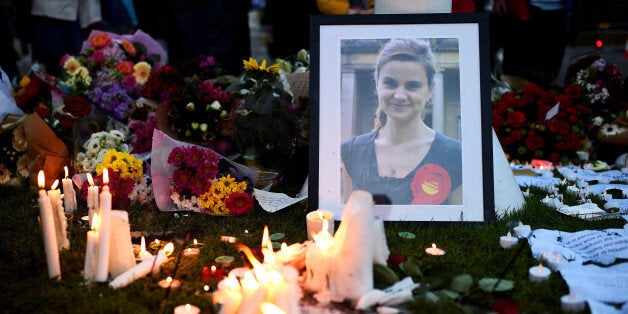 It is the 29th time that Parliament has been recalled since 1948. When I looked through the list of reasons they on the whole reflect a national or international crisis situation, chemical weapons, Iraq, Bosnia, Northern Ireland, Kuwait, other wars and deaths of the Her Majesty Queen Elizabeth The Queen Mother and the Late Baroness Thatcher... the list goes on.
Today is no different. This is our crisis. The sad loss of my colleague who I knew for just little over a year signifies so much it is difficult to know where to start so here are some of my own memories of Jo Cox.
I remember seeing Jo stood talking to Stephen Kinnock in Portcullis House once, not something you'd remember usually, only that this conversation was happening whilst Jo's daughter - who was I think two at the time - was in a pushchair with her older brother running in rings around the push chair and Jo watching out for his safety like us mummies do. Those moments for me epitomised the picture of a working mother, stood having a conversation about work, perhaps a policy, an urgent question or business in Westminster with children in tow! It was so lovely, I remember taking a picture telling Jo I'd remind her when she was in government as a minister, or even prime minister, how she had to juggle children and work.
Another time we both met in the lobby and we'd both missed a vote, me because I was at the Policy Exchange and unusually the vote came earlier than we'd both expected and Jo because she cycled home to put her children to bed. She explained how she did that often as Monday voting doesn't usually finish till after 10pm and she snatched every minute she could in and amongst trying to change the world and make it better for not just her family, her constituents, but also for her country. As my colleague and close friend of Jo Stephen Kinnock said, she was truly an internationalist.
For a woman of Jo's age to leave the legacy in the Palace of Westminster and beyond, in such a short space of time, is what legends are truly made of.
Coming into Portcullis House this morning and looking at the screens dotted around which inform us of the business of the day, has such a different meaning today.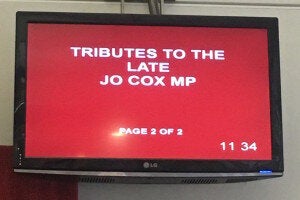 The atmosphere is sombre both internally and externally. The walk into work in the drizzle of the rain through the busy roads surrounding parliament was longer than usual.
Out of the corner of my eye I can see lots of young children, probably in their first or second year of schooling, being shown around parliament and their questioning eyes with their inquisitive natures shining through. And this picture of innocence, innocent faces brings home the reality of what's at stake for the future of our country.
What will define their childhood and youth? How are we preparing them for their future and that of our country and indeed our world?
It is now up to us what we learn from and do with the legacy of our Labour sister Jo Cox.
Her death is a tipping point for us, for our nation our country. It tells us how much hatred has seeped into the hearts of our fellow humans. People who in Jo's own words have more in common than differences that divide us.
None of us came into Parliament expecting to witness history as we are doing today. We must go back to the politics of hope not fear, not just for the legacy of Jo Cox but for our own future, the future of our children and that of our country.
Naz Shah is the Member of Parliament for Bradford West