I usually try to stay away from that old chestnut 'the size zero' debate but a model came into my agency this week after having been turned away from another agency for being 'too fat'. For our agency however, she was absolutely perfect and to be honest I offered her a contract on the spot!
As I'm sure you know another London Fashion Week has just passed and with it the usual comments about skeletal models with eating disorders taking to the runway. Of course, to balance it out plus size retailer Evans put on their own LFW show with fuller figured ladies strutting their stuff on the catwalk... just to prove a point if nothing else.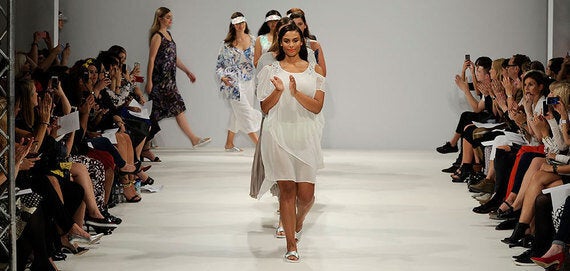 The problem I have with all this is that it seems like the only way anyone ever responds to this constant size zero complaint is to bring out plus size, or often just overweight, women to try and counteract all the lack of fat on the other runway models. Of course, Evans was greeted with a big hooray because apparently the only type of model that isn't a size four is a size eighteen.
What nobody seems to mention is stick thin bony runway girls - and for that matter plus size models - are a tiny microcosm of the modelling industry. The girl who walked into my agency was a healthy size 8/10 which is what 90% of my clients are looking for. In all the drama over super skinny vs super size models nobody mentions the thousands of healthy girls that earn good money modelling for magazines, catalogues, TV commercials and online stores every single day of the week.
In fact, the whole 'size zero' vs. 'plus size' argument is a total contrivance and one that will always give journalists something to complain about and designers something to speak up against. And while I do understand the irony of using a Huff Post Blog to complain about the media focussing on the argument the point I want to make is simply that this argument is never going away.
Instead of focussing on something that is never going to change why not realise that the majority of working models in the UK are healthy, happy people who probably work out less and eat worse than most of us. They happen to be born with great figures that they don't have to work for... the lucky swines!