In Oct 1967, a 16 date UK package tour with Jimi Hendrix, Pink Floyd, The Move, Nice and Amen Corner kicked off at the Royal Albert Hall, London. The tour presented two shows a night - and at each gig, the headlining Hendrix was allotted exactly 40 minutes. The Move, who preceded him onstage, had just half an hour - and Pink Floyd were allowed between 15 and 20 minutes. Tickets cost from seven/ six to 15 shillings (37.5p to 75p).
31 shows in 16 Cities, all between 14 November - 5 December 1967 - can you imagine such a tour, taking place today? No is the answer. Which is a shame, what a great way to see five or six happening acts, all on the same night. Yes, we do have tours like this now, but they tend to be nostalgia tours, which can be a bit sad. I remember going to see one such show, which on paper look good but in reality was a big disappointment. Blondie, INXS and... I can't even think who the other acts were, but it wasn't a good night.
Touring the UK in 1967 would've been no picnic. Forget the luxury sleeper bus or five star hotels todays stars are accustomed to. These guys would've been traveling in small vans or cars with inadequate heating, (we didn't have air-con in British cars then), and staying in basic city hotels.
Hendrix was on his way to becoming a major star, his first three singles Hey Joe, Purple Haze and The Wind Cries Mary had all been top 10 hits. His debut album released in May of this year was sitting in the top 20 where it stayed for 33 weeks. Pink Floyd had also seen chart action with both Arnold Layne and See Emily Play reaching the top 20. The Move had also had three top 10 hits including Flowers In The Rain and Amen Corner were just about to score what would become their biggest hit so far Bend Me Shape Me. These were top acts!
The tour was faced with some interesting challengers. After the two performances in Blackpool, the equipment of all the bands, including guitars and amplifiers, were left on the stage overnight. When they returned the following morning to pack it away, they found intruders had broken into the venue during the night and had smashed some of guitars and amplifiers.
Pink Floyd were having a few problems with their founding member Syd Barrett who was not enjoying the tour. Arriving in a new town, Syd would go for a walk, and not get back to the venue until just a few minutes before Floyd were due onstage. He'd play the show, go off again, come back hours later, in time for the second. But one night, he didn't turn up at all resulting in Davy O'List (of The Nice) to stand in for him.
During the tour Hendrix commonly wore a glimmering pale-blue crushed-velvet suit with flared trousers. His set was packed with dynamic numbers, enabling the guitarist and his band to show off not only their amazing playing skills but deliver a show full of great showmanship. The set included Hey Joe and Purple Haze as well as a version of the Beatles' Sergeant Pepper's Lonely Hearts Club Band and The Troggs' Wild Thing.
During one performance at the City Hall, Newcastle-Upon-Tyne. Jimi Hendrix was having equipment problems and in his frustration rammed his Gibson Flying V into his speaker cabinets. Like an enormous arrow, the guitar became stuck in the amplifier, which the audience greeted as all was part of the act.
Reviews from the tour were all focused on the headline act. A review in the Coventry Evening Telegraph said: 'More than 3,000 youngsters attended two houses at the Coventry Theatre. He (Hendrix) can play guitar with his teeth, lying on the stage, or behind his back - and do it better than most in a more conventional position. The result was a stunning, completely individual performance, which included hits like Hey Joe, The Wind Cries Mary and Purple Haze and the wildest version yet of Wild Thing. But the teenagers who stood on their seats for Jimi Hendrix were unmoved - and I guess somewhat bewildered - by the Pink Floyd, a group for whom the new wave is more of a spring tide.'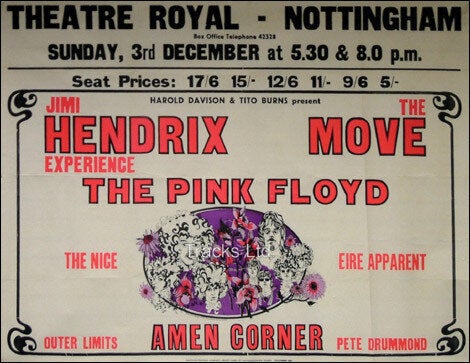 The 16-date tour took Hendrix to Belfast for two shows at Whitla Hall, Queens College. It was Jimi's 25th birthday and before the shows the guitarist was given a birthday cake by the promoters. This was to be the only concert that The Jimi Hendrix Experience ever played in Ireland.
The following month, on the final night of the tour at Green's Playhouse, Glasgow Jimi Hendrix had the curtains closed on him halfway through his set, after the management at the venue regarded his movements with his guitar as having sexual overtones. And that was it, tour over, the end, of what undoubtedly must rank as one of the best ever package tours to tour the UK.
Related