Altruism, philanthropy and charitable ethos are characteristics that define our society throughout the years, allowing individuals or groups to help people beat any kind of difficulty. Fundraising is one of the key results of having such feelings and elements in your character that generate a valuable and fruitful outcome for those in need.
The truth is though, disappointingly, that nowadays, asking people to directly donate to charities sounds most of the times as a burden and tends to be less effective, especially for students and young people. Students have a relatively low disposable income so they expect to be really persuaded about donating money or fundraising for charities.
Fortunately, fundraising societies in most of the UK Universities have recently come up with a plethora of genuinely creative and entertaining ways to raise money for charities. Doing something that you enjoy, and at the same time supporting someone in need, is a win-win situation, it acts as a great motive for you to be part of this.
From my personal experience as a fresher at the University of Exeter, I am amazed by the incredible opportunities that students can enjoy by being a part of such a society, and i will support this through depicting the work of the "Raise and Give", or RAG, society at the University of Exeter.
Exeter RAG is the Students' Guild's student fundraising arm, entirely run by students. Last year was really successful for them, since Exeter RAG won the Guild's award for Best Student Group and the National RAG Award for Best RAG Event for its student photo exhibition last year in the Exeter's underground passages. RAG's fundraising total for last year was around £169,000. RAG prides itself on offering students very unique and thrilling opportunities including this year's two major international challenges, Climb Kilimanjaro for 'Hope for Children' (this challenge alone raised over £100,000 last year), and trek to Machu Picchu for Worldwide Cancer Research.
Another remarkable event, in which Exeter RAG is an active participant, is "Jailbreak", a nation famous charity campaign. In terms of Exeter's Jailbreak, on Friday 27th of February, participating teams will embark upon a 30-hour journey without using their own money for transport, traveling as far away from Exeter as possible. They wholly rely on the kindness of strangers. Their only personal supplies will be their passports and their determination. This year the event has around 155 students signed up, their biggest Jailbreak yet.
Did you find this exciting already? How about tracking all the teams online during the day of the Jailbreak, this must be really addictive. Here is the link for the tracking page: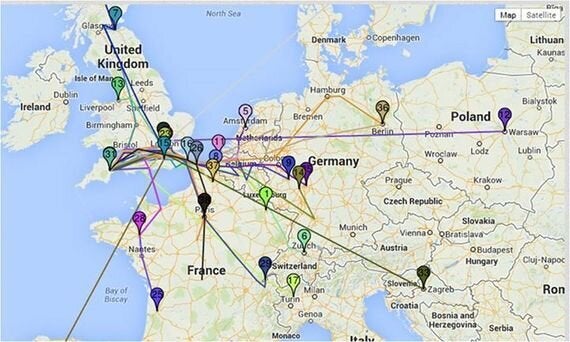 Last year's Exeter Jailbreak destinations, as shown in last year's live tracking.
I am happy to reveal now that the title of the article is not only a challenging question for every reader that should enhance his self confidence and give him food for thought, but is also the slogan of Exeter's Jailbreak, which challenges students to actually go as far as possible for charity and display their dedication, sense of responsibility and commitment to the eugenic cause of philanthropy.
Me and two fellow students, Monica Matassa and Saskia Craine, were intrigued by the concept of Jailbreak and decided to take part as the "Ready Set - Woah!" team, determined to succeed. We are so passionate about it that although our first target, and each teams' target is £300, we managed to raise within the first 5 days £373 and as a result we set our target even higher, expecting to exceed this one too. We are also hosting a series of friendly parties and bake sales in order to raise more money, and simultaneously asking people to help by donating in our fundraising page or by funding our tickets to any destination, far, far away from Exeter!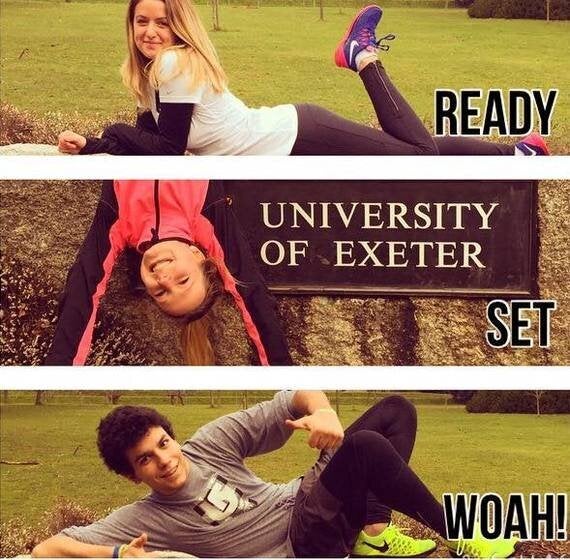 Our Jailbreak team, being creative!
All Jailbreakers are fundraising for three nominated charities, Exeter Student Volunteers, Exeter Food Bank and Mind in Exeter and East Devon. My team chose to focus on Mind, which is a brilliant UK-based charity that promotes better mental health and we are trying to raise as much awareness as possible for the importance of mental health and wellbeing by being active and promoting healthy lifestyles as students. That said, for our Jailbreak, we can run to the edge of England, but we will need help to get off the island.
I undoubtedly believe that Students and youngsters should grasp every opportunity provided and more specifically explore this extraordinary, new arena of fundraising. Given all that, how far will you now go for charity?
Feel free to check my team's fundraising page:
If you think you can contribute to our charitable mission by donating, sponsoring or funding, even by using your positive influence, you can contact me at nm348@exeter.ac.uk.
I would like to deeply thank my dear friend and mother of my three best friends, Eugenia Chandris, for believing in me and giving me motivation to share my inspiration with you.
I would also like to thank Exeter RAG's President, Harry Calvin Williams, for providing me with insight to the society.