My sister tells the story best. She lived in Manhattan for a year and, during her one and only trip to the dentist, she was having her molars examined - as you do - and then the dentist suddenly broke-off into a Woody Allen-esque rant about the joys of KFC... No, not the Colonel's ubiquitous fried chicken takeaway. This guy was in love with the Korean hybrid.
"Oh my god. I mean, OH MY GOD. Have you tried Korean fried chicken yet? It's like the closest thing to food crack I've ever known... I CANNOT get enough of this stuff... I mean, have you tried it? You've gotta try it... No, you really gotta try it. OH MY GOD..."
Not able to respond, as she had some sort of sharpened dental instrument in her mouth, my sis nervously agreed to check it out, nodding her approval by blinking her acknowledgment... And, well, as it turns out this manic dentist was absolutely right. As she told me... "It's amazing. Have you tried it? You have to try it. Seriously. You HAVE TO!"
I have to confess that I have a bit of a thing about fried chicken. Even the cheapest nastiest variety, I will eat. You know, the stuff that's so inexpensive it can't be good for you. It's the thing I would always look for after a late night drinking. More so than a kebab or even chips in pitta bread, or chips and meat in pitta with chilli sauce - which really does take the prize for the dirtiest of dirty late night snacks.
Fried chicken done well is a thing of pure joy. If I didn't care about my health, I could eat it every day, no problem. I also love fiery, hot sauce. So the fact that it's taken me this long to discover Korean fried chicken is really something of an embarrassment. Especially if you consider that I grew up living about a mile and half away from the largest Korean community in the UK, in New Malden, southwest London.
The origins of the Korean version of this American classic can be traced back to US influence in South Korea. Although it is thought the first fried chicken restaurant was opened in Seoul in the mid-1970s, the arrival of KFC in 1984 certainly drove the popularity of this form of fast-food into over-drive. The locals developed their own distinct and delectable variation of the original. And, today, Koreans are utterly devoted to it. There are an estimated 31,000 deep-fried chicken shops across the country and it's now being exported around the world.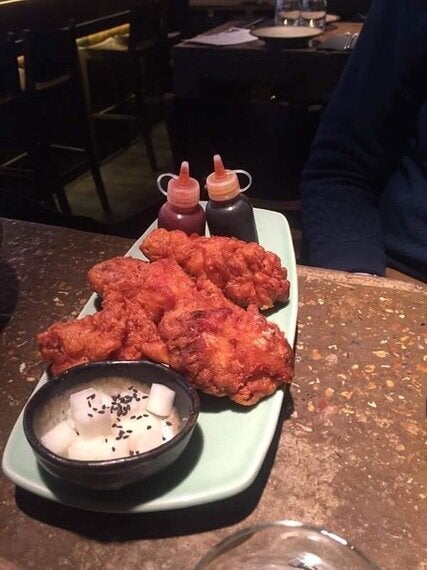 The secret, according to those in the know, is a combination of the Korean frying technique - they use a very thin batter to develop an extra crunchy crust - and the fact that the seasoning is applied after frying. A rich, sticky, garlicky layer of spicy sauce is coated on at the last minute - giving the Korean KFC it's unique, Asian-spicy flavour. Typically, it's served with cubes of sharp pickles on the side and the ever-present Korean staple - kimchi (spicy pickled cabbage).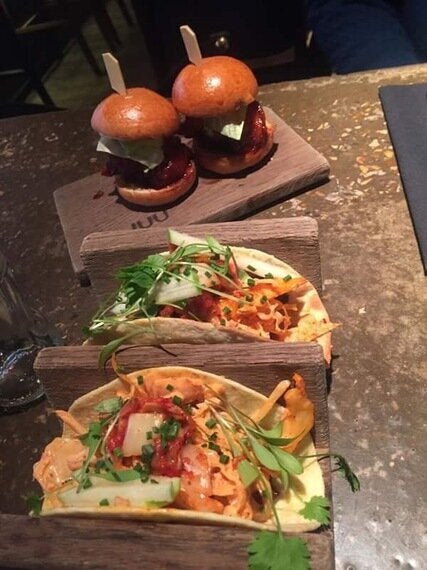 Korean street food has been available on our doorstep for some time and is fast growing in popularity. Understandably so, as it's absolutely delicious. Taking on influences from around the world, from Mexico to Tokyo. My long overdue initiation came at a visit to JinJuu on Kingly Street in Soho. I was treated to an array of amazing fusion flavours, including pork belly tacos, mini-sliders and, of course, the much vaunted Korean fried chicken. It really is simply the best fried chicken I've ever eaten. Crispy, crunchy, hot and spicy - perfect with a cold glass of beer. Food heaven.
You can also get yourselves acquainted at a number of outlets around London, including On the Bab, Bibimbap and a growing collection of Korean street food eateries up and down the country... I mean you GOTTA try it. No, seriously, you really GOTTA!