For many years I had been sold the virtues of a camping holiday by various friends and acquaintances. They told a tale of tranquillity, surrounded by nature. Of happy children's faces with no technological distractions, bubbling brooks, romantic green open spaces and evenings sat toasting marshmallows on an open fire.
Until this year, I had diligently resisted these voices. Neither my wife nor I are outdoorsy types, having been brought up in the city, and I could never really rationalise all the hard work involved when setting up for survival in the great outdoors. I don't enjoy putting Ikea furniture together, so why would I want to put up a tent?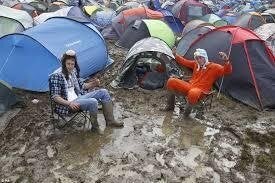 (image: totaldistortion.net)
That said, the idea of an idyllic break in the countryside, with no digital technology or noise pollution to poison our brains, did sound good. It's just we weren't altogether sure how sleeping in a field and washing outside would be tranquil enough to give us the 'break' we really (desperately) needed.
So then the concept of 'glamping' came up. By paying a premium price, we would get all the supposed benefits of camping, but do it with a touch of luxury. There would be toilets, an outdoor kitchen, hot showers and superior 'bell' tents already put-up and waiting for us. This way, we wouldn't have to do all the hard work and we would still get the bubbling brooks, the green open spaces and, of course, the toasted marshmallows... there's always toasted marshmallows.
Fast forward a few weeks, and, thanks to the power of technology, we had found a location not too far from home - and there we were, sat miserably in the middle of a field, huddled together in the dark, in front of a pitiful fire, burnt marshmallows on sticks in hand... what on earth were we thinking?
Sleeping in a tent all squashed up, wearing jumpers, coats and socks, holding on to each other for dear life because it's so f'ing cold, whilst sharing a port-a-loo with showers with several other families, is not glamorous. I don't care if I sound like a pampered pooch.
Sure, the outdoor kitchen cooking is quite good fun, if you like cooking as I do, but the fact that it's a communal kitchen means you have to not only wash-up, but dry up, directly after use. This is hardly what I call a holiday activity. I can wash up after everyone at home, I don't want to pay for the privilege of doing it on holiday... and outside!
We should have trusted our instincts. Two painful nights later and we left as soon as dawn broke, resolving to get back to our natural environment as soon as possible. As soon as we returned to civilisation, I was back online faster than you can say "toasted marshmallows are overrated" looking for some real luxury, somewhere right in the heart of the metropolis.
Where better place then, than the still relatively new InterContinental Hotel next to London's O2 arena, just a stone's throw from the prime meridian on the North Greenwich peninsula. This part of London, overlooked by the heaving cityscape of Canary Wharf and dominated by the O2, has been completely transformed in the recent years.
The old dockyards have made way for a huge scale urban regeneration and much of it is still being redeveloped. In many ways it is the antithesis of the countryside. The only bits of greenery you'll get here are severely manicured snippets of lawn on a roundabout, with perfectly clipped hedges for company. It's a bit like London meets Dubai; everything is tidy and convenient - if not exactly genuine. But after two days stuck shivering in the middle of a field, it was the perfect destination.
The hotel is a good reflection of the area and a welcome addition to a part of town that had previously lacked any upmarket accommodation to complement the O2 - arguably the UK's premier entertainment venue these days. With a superior city spa, a couple of swish metropolitan bars (including one on the 18th floor with spectacular views) and a brace of smart restaurants, there's plenty here that falls into the category of luxurious. The service and surroundings are five star... oh and they take care of the washing-up, so you don't have to worry about that.
With the reassuring, barely audible hum of our air-conditioning and the twinkling lights of London's skyscapers soothing us via the fabulous view from our 17th storey bedroom window, the painful memories of that hideous tent were soon, thankfully, fading fast. The next morning, there was no wake-up call from an over eager rooster to spoil the tranquillity - just a discreet knock at the door from one of the staff with our breakfast in bed and the morning papers.
It all goes to show that if you want to do something genuinely stylish and relaxing on your holidays, you'd be well advised to head to the city. And don't ever fool yourself into thinking that you can find anything truly 'glam' on a camping holiday... there's absolutely nothing glamorous about it.