"Everything changes when you have kids", that's what my mum always told me. Of course, having had four of us she undoubtedly meant that it changes for the better. And since the safe arrival of my first child, Elisabeth, or 'Betsy' for short, I now know what she meant.
Of course, there is a fair amount of compromise involved with becoming a parent for the first time. All night parties, lie-ins and quiet meal times are all soon a distant memory. But to be honest this is a small price to pay for what you get in return.
One thing that my wife and I have certainly taken our time to adjust to is travelling. Before Betsy came along we regularly took impromptu trips away. As I was writing plenty of travel articles at the time, we were lucky enough to visit some fabulous spa hotels across the country - and this is something which has had to take a backseat now that we are a family.
In the 'old days', we wouldn't think twice about stuffing an overnight bag and whisking ourselves off for a long weekend somewhere, but once you are a 2 + 1 the logistics are a little more complicated, to say the least.
Betsy is now nearly 18 months old and since her first birthday we've been getting more confident at taking trips away again. This year she's been to Dorset, Holland and Spain as well as two family weddings in the North West, and although the travelling hasn't all been plain sailing, on the whole we're very lucky to have such a calm and collected passenger on our hands.
Monarch airlines tried their level best to rattle her with a 6 hour delay, including an unscheduled 'emergency' landing in France, on the way back from Mallorca this summer. But while others were understandably kicking off all around us, adults and children alike, our little tourist didn't even complain a jot.
Having got through that, I decided that a long weekend away at a luxury spa hotel in North Yorkshire was entirely doable. If she could handle the Monarch drama, a few hours drive from one end of the country (we live in Surrey) to t'other, as the locals would say, should present no real problems for our travelling trio... You would think.
Several traffic jams and some seven hours later, the strain was beginning to show - both parents and child were wondering whether Daddy had been a little ambitious. As we made our way through the endless series of undulating roads, the tension was palpable. Fortunately, what has to be Yorkshire's finest hotel was waiting for us on the other side of the moors.
The Raithwaite Hall Estate is a 'country retreat' in the true sense of the meaning. Set in 100 acres of stunning North Yorkshire countryside on the edge of the moors and a few hundred yards from the sea, the hotel has an elegant and luxurious warmth running throughout, which was most welcome after our marathon drive.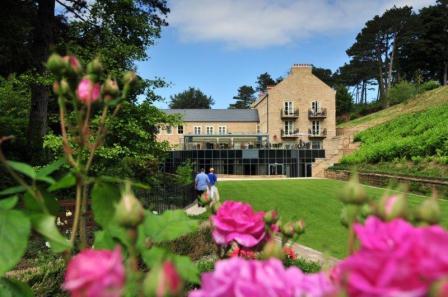 However, what was more important to me was how they handled our tired toddler. Betsy was treated like the guest of honour. We ordered her some food and for pudding asked if there were any strawberries. When they brought out a platter of the plumpest, most carefully prepared specimens she'd ever seen - Betsy cast me a glance as if to say 'I could get used to this dad', before devouring most of them with relish and chucking a few on the floor for good measure.
After finally getting her down to sleep in our room (the bed was like a giant cloud and she was very tired, it didn't take as long as usual) we were concerned that we would miss out on our evening meal at the award-winning Brace Restaurant. However, the restaurant manager was having none of it and arranged in-room dining, bringing three decadent courses up one by one - whispering his descriptions of the dishes, so as not to wake the sleeping baby who was tucked up a few yards away.
Even the hotel spa was happy to accommodate children - something which I had doubted - albeit at set times. This allowed my wife and I the opportunity to take turns in the steam room, sauna and hot tub, while the other one splashed around in the main pool with the little one.
When travelling with a toddler you need to use the relay technique quite frequently. There's no need for either of you to miss out on anything, but you have to come to terms with the fact that you might not get to do everything concurrently.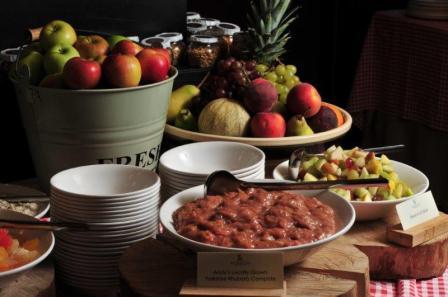 Breakfast is another good example. The breakfast at Raithwaite Hall is worth the trip alone, I'm struggling to remember ever seeing a better spread. And my wife and I were able to take full advantage of the plethora of local produce on offer. There was Yorkshire rhubarb compote, local bacon, black pudding and sausages, the creamiest muesli I've ever tasted and magnificent omelettes cooked to order by a chef in a very pointy hat. Not to mention fresh home-made bread sat next to a glorious lump of real honeycomb, minus the bees, and a fine selection of local cheeses. We just had to be patient and take it in turns to go up and get stuck in, while the other sat with Betsy and tried to persuade her to eat more than she threw overboard.
We could have stayed in the hotel all weekend, but the splendid North Yorkshire coast needed exploring. The thriving picture-book seaside town of Whitby is well worth a visit - boasting some of the best fish and chips in the UK. And the quaint fishing village of Staithes was also on our radar, as it is the location where Betsy's favourite CBeebies programme, 'Old Jack's Boat', was filmed. When we got back to Raithwaite Hall we discovered that the star of the show, the legendary Bernard Cribbins, had stayed there during filming - which only endeared the place to us even more.
After a fantastically relaxing weekend, we set off back down south. Fortunately, this time we were lucky with the traffic and made it back in just the five hours. I knew we could still do luxury spa breaks in style as a three, and now I have the proof. You just need to find the right hotel.
For more information about holidays in the North Yorkshire Moors visit www.northyorkmoors.org.uk
For more details about visiting Raithwaite Hall go to the website www.raithwaitehallwhitby.co.uk