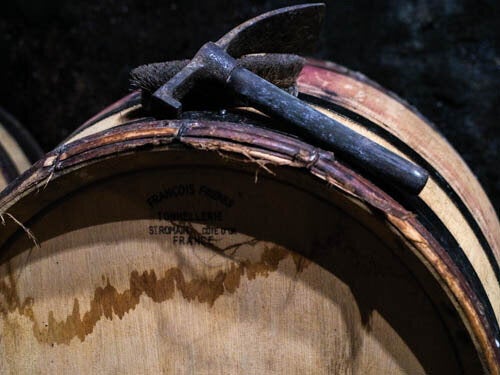 2013 is shaping up to be a fine vintage among those producers who are the most assiduous in their vineyard work. The best 'cultivateurs' - those who spent their time 'hands-on' in the vineyards up to the very last days - coaxed their grapes to an acceptable level of ripeness in spite of the awful hand dealt by nature and picked a very small crop of good classic potential.
The harvest was very late, fruit being picked around mid October under a weak autumnal sun. The fermented wine struggled to reach 12 degrees and all producers we spoke to chaptalised to increase the alcohol in their grape juice to 12.4-12.7 degrees. Some chapitalised by little as 0.2% whilst others added a whole degree.
Back in January 2015 at the London 'En Primeur' tastings the vintage was hard to taste. The wines by and large took exception to being bottled as cask samples and did not show terribly well.
Yields were miserly, which it now seems with the benefit of a year in bottle, is shaping wines of attractive intensity and character. The best are fresh, mouthwatering, full of red fruits and with excellent persistence of flavour. They show lovely texture, are light on their anthropomorphic feet, and give the impression they will continue to evolve into very fine wines. For the producer it was one of the toughest vintages ever. However if you like Burgundies in a bright, energetic style with plenty of red fruit (possibly in the style of 2001 with a bit more freshness?) you will love these. The wines are 'digeste' - appetising. One sip invites another.
The 2013 whites don't have the approachability of their superb 2014 counterparts - yet. But don't bet against 2013 ending up providing just as much pleasure a little further down the road. The 2014s seem to have it all, being approachable already with a rich mid-palate threaded with acidity and excellent length of flavour.
2014 deserves to be one of the most lauded of white vintages based on current tasting, with plenty of acidity, intensity, breadth and finesse. But whites have a habit of not conforming to critics' predictions in the medium to longer term. Supposedly great vintages called so at the outset have not lasted their intended course. For now they are presenting beautifully.
The best red wines in 2014 have good balance, nice structure and succulence. Those already out of barrel in stainless steel tanks, resting for a few weeks ahead of bottling, have the most expressive aromas, and show appealing richness, suggesting the wines may put on a bit more weight by the time we re-taste from bottle next year.
It's far too early to taste, but suffice to say it's a hot vintage, with comparisons drawn with 2005 perhaps with slightly fresher fruit. Yields were down on 2014, some say due to the vine stress of previous years (in Cote de Beaune), whilst everyone also attributes the low yields to heat stress. The Santenay appellation received an extra 20mm of rain ahead of the harvest, in addition to the more generalised 20mm of rain across the Cotes in August, and will be especially good as the second downpour relieved the vines' hydric stress.
2 'ares' of Le Musigny has been sold to Faively, at a price of €1.8M. 1 'are' is 100 sq metres. Just to give you a practical sense of the size of this area, it is equivalent to 10 metres x 10 metres square (or since we are talking about vines here, 50 metres x 2 metres). So we're talking about 2 rows of vines of that sort of length.
A hectare is 10,000 sq metres, so this transaction values Le Musigny at €90M per hectare. Surely one of the most expensive land values in the world?
Importers are apparently asking producers to do less punch-downs of the grape must cap per day during fermentation, in order to produce wines that have less immediately obvious structure and therefore drink earlier. I don't pretend to be an oenological expert, but when the commercial boys start to dictate to gifted vignerons who know infinitely more about how to make great wine than they do, I am wrong in thinking this doesn't feel right as far as the fine wine end of the market is concerned?
Diam is a guaranteed TCA taint free composite cork for wine. They are made out of tiny pieces of crushed cork and glue. They are excellent value, being roughly 20% of the cost of the very best real corks for the finest wines (which come in at roughly €1 per whole cork). I keep my fine wines for a very long time. I care about my bottle closures and at a personal level will try to avoid buying wines with Diam corks because I worry about the very long term performance of new products that contain synthetic substances, and potential health risks associated with anything that's yet to be proven over decades. I appreciate the importance of avoiding the incidence of corked bottles, but this is also an economic question, since natural cork can be tested before bottling for TCA, and in 2016 the most expensive natural corks have a lower incidence. Some large shippers are understandably asking for their producers' wines to be sealed using Diam closures.