For 5 years at DesignMyNight, I have only ever worn jeans, t-shirts, and the odd garish jumper, no matter how important the meeting, and have never thought twice. Coming from a corporate background where a suit or smart attire was compulsory for "important" meetings, I didn't want to bring that to my company. Even when pitching to our investors I couldn't bring myself to de-robe myself of my jumper and trainers.
It wasn't until 2 weeks ago that this decision came front of mind: Walking into a client meeting, wearing jeans, t-shirt and trainers, I got the full once over from every suit wearing handshake. For the first 20 minutes I really felt that I had to prove myself and my company to these people; did they really not take me seriously because I wasn't wearing a suit, or at least a shirt? Not even a shirt?! God help us all.
As I walked back to our Shoreditch office, through the City, I was on red-hot fashion alert all of a sudden. The 100 metres between Liverpool Street and Shoreditch High Street are as dramatic business shift in London as you'll ever see. Suits, waistcoats, large shiny watches and charcoal grey, giveaway to skinny jeans, checked shirts and colourful jumpers.
It had never really dawned on me but do we all judge each others business acumen based on what we wear? This can work both ways; do we think a suit represents someone who works in finance and is uncreative and does wearing trainers mean you aren't a serious businessman? Of course they shouldn't, but perhaps these stereotypes do really exist in people's business psyche. Wouldn't it be great to see a contestant on the Apprentice wear jeans and a t-shirt, and what would Lord Sugar say to this?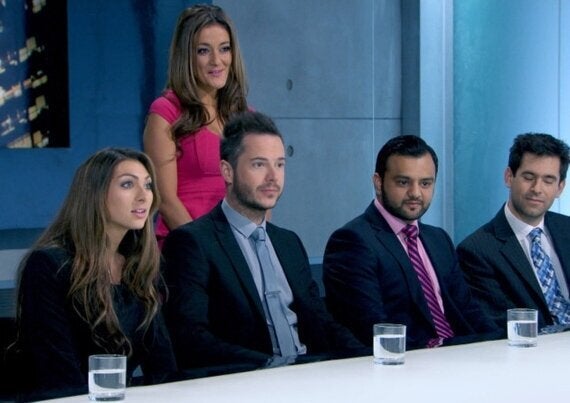 Mark Zukerburg is known for his trademark jeans and grey t-shirt as he doesn't want to waste his energy on the frivolous decision of what to wear every day and one of the world's best ever entrepreneurs, Steve Jobs, also became known for his trademark black turtleneck. This suggests that, quite correctly, vanity shouldn't have a place in the mind of an entrepreneur as there are other, more important issues to think and worry about.
I don't have the answer here apart from knowing that judging a person's business credentials on what they are wearing should be a big no no, but is it culturally inherent in the business world still? Perhaps.
[Oh, we won the deal from the suited handshakes and I will continue to stride confidentially through The City and into boardrooms; in my t-shirt, jeans and trainers.]
Popular in the Community