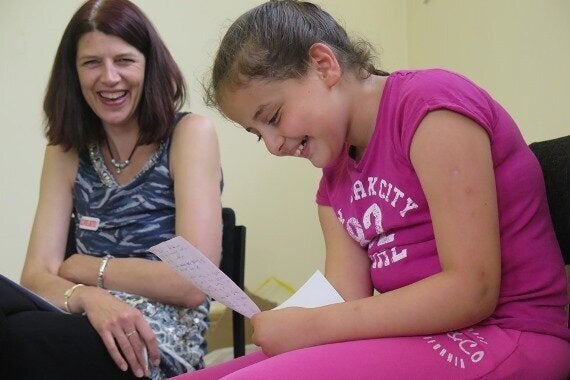 Nicky Goulder working with a participant during a Create project
Earlier this month it was inspiring to see high-profile and widespread recognition of many amazing and influential female artists as part of International Women's Day. But the need for raising the profile of female artists was demonstrated by the National Museum of Women in the Arts' #5WomenArtists campaign (mine were Diane Arbus, the Guerrilla Girls, Sylvie Guillem, Barbara Hepworth and Frida Kahlo) - which highlighted that it is a challenge to name female artists. This is indicative of the gender inequalities in the arts industries.
The Artfinder Gender Equality Report 2017, released in February, laid bare the gender inequality at the top of the art industry. The report shows that just one out of the 100 top lots at auction in 2015 was a work by a woman. In 2004, when MoMA in New York opened its new building, with a reinstallation of the permanent collection spanning the years 1880 to 1970, of the 410 works on display in the fourth and fifth-floor galleries, only 16 (4%) were by women. By April 2015, still only 7% of the works on display were by female artists.
These statistics are specific to visual art, but are replicated across the cultural spectrum. A quick Google search will lead you to reports and articles on gender inequality in any artform you can think of, for example music, film and dance.
There is a massive disparity between the evident inequality at the top levels of the arts industries and the findings of Arts Council England's Every child: equality and diversity in arts and culture with, by and for children and young people report (published December 2016) found that. This shows that girls are more likely than boys to engage in almost all arts activities, both inside and outside school, a pattern that becomes stronger as they get older. This is reflected in employment data, which shows women outnumber men across the cultural sector workforce as a whole.
Create, the charity I co-founded and of which am Chief Executive, runs a programme to support emerging artists called Nurturing Talent, the 2016/17 pilot year of which is just reaching its conclusion. Through Nurturing Talent five graduate artists have been given the opportunity to apply their professional practice in a community setting. Across 12 months, artists on the programme work as a supporting artist alongside Create's professional artist(s) to plan and deliver three or more creative arts projects (circa 18 days) with different community groups and attend five professional development training days that focus on leadership skills, workshop planning and delivery.
The three female artists who completed the Nurturing Talent programme (Camilla Greenwell, photographer, Sara Macqueen, dancer and Cecilia Knapp, writer) told me about their experiences as young women building a career in the creative arts industries.
Camilla said her female peers are supporting and inspiring each other while men still feel the need to explain to her how a camera works: "I think the main thing that crops up when I speak to other women, in any career, is a faltering of confidence and a wariness of asserting ourselves, lest we seem bossy or 'difficult'. I also work alongside some amazing women who have taught me strength, patience, resilience and humour - which you need plenty of in this profession!
"I do get people coming up to me whilst I'm working, questioning me about my kit and technique, and then telling me that they know better, which always feels patronising and unnecessary. In these cases it's hard to tell if it's because I am female or just a random comment, but it's never women who come up to explain shutter speed to me!"
Sara thinks the auditioning environment in the dance industry leads to gender inequality: "The irony of dance is that women are, for a change, overrepresented compared to men, but the numbers rising to the leading positions and opportunities are significantly lower. From my observations in the auditioning environment, a contributing factor to this inequality is confidence and security of self. From a young age dance classes would usually only have one token boy, a position which can't help but strengthen resolve and endorse an entitlement to individual progression. For female dancers, there is a culture that they are replaceable and this, unsurprisingly, has a marked effect on their performance in such a personal art form."
Cecilia has seen progress in the writing industry but agrees that attitudes towards women asserting themselves are a barrier to equality: "I think that women, and I include myself in this, often find it uncomfortable promoting themselves or their work for fear of being labelled aggressive or arrogant. I think society teaches girls to be quiet and easy and not to celebrate their potential for actively pursuing their desires.
"I feel that we still live in an unbalanced society and that there are still more successful male writers than there are female. It's getting better: there are now female only poetry nights; and collectives working to redress the balance and celebrate and champion female voices and experiences; but historically, writing is a male dominated world."
It's frustrating that we're still having these conversations and it seems little has changed since I was Chief Executive of the Orchestra of St John's when, in 2003 the Guardian interviewed me about male-dominated orchestras. But, the more young artists we can empower and support who are determined to redress the balance, the sooner we'll all be able to say the arts was, not is, a male dominated world.