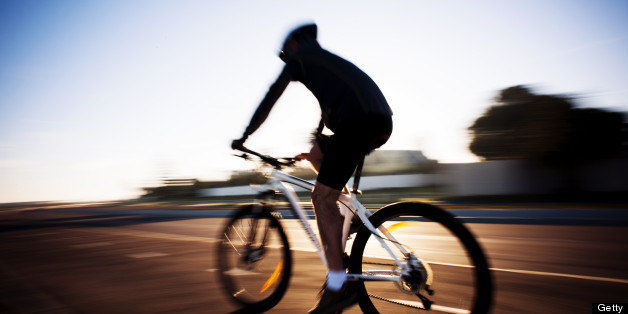 Getty
Time to cycle the 100 miles for real - a day of drama, excitement and achievement. I know I can go the distance, but can I hit my target time?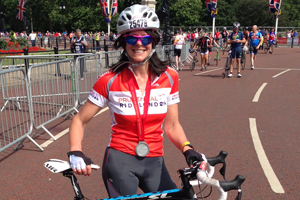 Standing beside the road, just 20 miles into the RideLondon 100-mile sportive, with a bleeding elbow, shredded front tyre and therefore unusable bike, I feared my day of cycling was over before it had barely begun.
It was barely 9am and my husband Piers and I had already raced through the empty streets of Canary Wharf and central London along with 15,000+ other cyclists before tackling the first (gentle) hill of the event in Richmond Park. But it was on the streets of Kingston that I came a cropper - thanks to a jaywalker.
A woman decided to try and cross the road as hundreds of racing cyclists sped past. 'Get off the road!' my husband bellowed as she started to step out as he cycled past. No good. She carried on. I was two bikes back, so when the cyclist ahead of me couldn't avoid a collision and piled straight into her, there was nothing I could do - he hit her, I hit him, and the three of us ended up in a pile on the road, wheels and limbs interlocked.
Miraculously, no other cyclist was involved, although plenty stopped to check we were OK and express their incredulity at the pedestrian's breathtaking stupidity. She seemed OK too - at least, she managed to flee the scene pretty damn quick. I don't blame her for that, there was a lot of shouting going on at that point.
Physically I was just a bit grazed. I had, however, trashed my front (tubular - swanky, but uber impractical as much harder to repair) tyre, presumably on the other cyclist's chainwheel. A couple of massive slashes meant it was unfixable, despite my husband's best efforts to repair it with sealant and then replace the whole tyre. Neither worked and by now we'd been roadside for almost half an hour. I was resigned to waving him on his way while I abandoned the ride and caught the train home.
Read more about my Airstreeem Triple E bike here
Gutted. All that training wasted. The chance for a day out cycling with my husband gone in an instant because of that stupid pedestrian. I felt like crying.
'Take my wheel, you're going to carry on. You've done the training, this is your event. Go,' Piers said. A bit of persuasion - I was loathe to rob him of this day either - and I was back on the road, on my own. I assumed he would get the train back home to Wimbledon and we'd agreed to meet at the finish.
The accident had cost me 30 minutes roadside so I was now cycling to make up the lost minutes, worried I would miss my eight-hour target finish time. I pushed myself against the headwind, suffering now I had no big husband to shelter behind, drafting my way behind anyone I could find as I pedalled my way back into the race.
I had been looking forward to day of cycling a deux, but Piers was right - this was an event I'd been preparing for big time and I did want to finish. So I cycled and cycled, and 28 miles later I pulled in at Newlands Corner, Hub 2 on the route and the summit of the first big ascent.
I checked my phone - miracle! A text from Piers, 'Am chasing you. Have new wheel.'
He pulled into the hub about 20 minutes after me, panting and pouring sweat. My superhero husband had effectively sprinted the last 28 miles in time-trialling mode to catch me. His biggest worry? Being caught by the broom wagon that was sweeping up stragglers from the back of the field to ensure the course was clear for the pros Classic race taking place later on.
His story? After I'd left him, Piers had walked the streets of Kingston looking for a bike shop that was open at that time on a Sunday, eventually found an electric bike shop that happened to have a suitable front wheel, left my trashed carbon fibre wheel with the shop, popped the new wheel on his own bike and sped off. No money, no fuss. HUGE shout out and massive thank you to Tom Saunders at The London Electric Bike Co for that.
I can't tell you how pleased I was to see Piers when he rolled up at Newlands Corner. We were back on course. A couple of bananas and a water bottle fill-up later and we were speeding our way along a massive descent towards the next milestone of Leith Hill.
From there on in, everything went according to plan. We cycled all the hills, absolutely killed the descents - I topped 40mph on one downhill stretch, thanks to my Airstreeem superbike - and it was a joy to cycle on traffic-free roads where there was no stopping for red lights and no worries about other vehicles. It was a day of joy and I cycled the whole way round with a big smile on my face.
High points:
RideLondon 100 organisation was superb. The start went off without a hitch, marshalls were super-helpful, signage was perfect, hubs and drinks stops were regular and efficiently run. There were even toilets en route. Special thanks to the Leatherhead hub for handing out left-over food (Piers was very pleased to find mini pork pies) that hadn't been consumed by volunteers.
Getting a cheer from our children who were roadside with their grandparents in Wimbledon as we swept through on the final 10 miles of the course.
The camaraderie of other cyclists - everyone was so chatty, friendly and encouraging.
Seeing Piers roll up at Newlands Corner 48 miles in after I'd resigned myself to cycling the event on my own.
Sprinting through Esher and Kingston just two inches from Piers' back wheel in pace line formation with a tailwind to speed us along. I felt like a pro!
Feeling fit and capable through the whole event - at no point did I suffer an energy slump (thanks to my nutrition training) or doubt my ability to finish. All that training paid off.
Racing along crowd-lined, traffic-free streets up Whitehall, under Admiralty Arch and down The Mall to roaring cheers and the boom-boom rhythm of spectators beating on the hoardings either side of the route. It makes me come over all emotional just thinking about it!
Low points:
The crash
Thinking I would have to cycle the whole way on my own. I would have done it, obviously, but it would have been so much less enjoyable with my husband - and slower too without him to draft behind for the flat bits.
So how did I do?
I was confident I could cycle a sub-eight hour course, and would have been pleased to come in at seven and a half hours. Well, I'm delighted to say I totally smashed that goal. My chip time across the finish line was 7 hours 17 minutes. And that included half an hour faffing about with a trashed tyre, plus waiting for Piers to catch me up.
My Polar Tour de France training watch recorded a cycling time (including four stops to refresh water bottles, grab a snack, go the loo) of 6 hours 34 minutes. Which I am totally delighted with.
Average speed (including crash and all stops): 13.7mph across 100 miles
Highest speed recorded en route: 40mph
Average speed over 6hrs 34 minutes: 15.4mph
Average speed over the final nine miles (when Piers and I were in pace line formation much of the time): a stunning 24.29mph
In-race fuel: 4 Vooma gels, 1 Powergel, 1 banana, a Bounce bar, a bite of Nakd bar, 2 big bottles of water with sports hydration tabs (1 contained caffeine) plus 1 big bottle of water with energy drink dissolved in it.
Would I do it again? The RideLondon 100 was by far the most enjoyable sporting event I have ever taken part in, so without hesitation - yes!
I cycled the Prudential RideLondon-Surrey100 cycle event
I was riding an Airstreeem Triple E bike with Di2 electronic gears