The workplace can be fraught with tension, with intense hours staring at screens or sitting in windowless conference rooms for hours on end, and many of us do not even take a lunch break. When I see that a new boutique spin studio, Psycle, has opened up a few doors from our offices I gather the women of Carlton's PR & Marketing department to cycle it out in a lunch hour.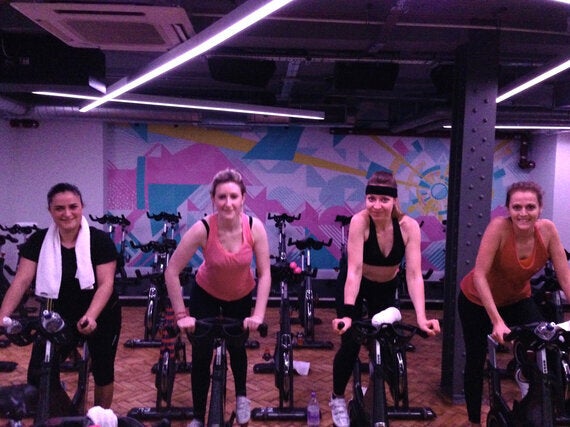 The entrance is cool, minimalist and bright white - I feel as if I have walked into the future. We are given cleated shoes and ready to experience a biking revolution in a dark room with florescent lights that will change colour throughout the session. The 30 bikes are taken by men and women, united on a mission to escape the corporate world for 45 minutes. Uptempo music starts and the instructor, Tameka Small, invites us to cycle fast to the beat and follow her groove - stand up, arms in the air, clap to the beat. The music slows down, and we slow the cycling down... then fast again, faster, faster, faster... I look around and we are all synchronized, alive and happy. You would never know that this was the middle of the working day but we are in the midst of a cycling rave.
Tameka asks us if we're having a good time and so we cheer. As some of us start to lag, she revives us with her electric energy and reminds us that we are burning calories fast - around 1000 in the 45 minute workout - and so we keep our legs moving and follow her effortless dance moves. By the end I have completely lost myself to this underground psycle and I am disappointed when it is time to return to the real world.
I feel energised and refreshed after a steaming shower in the plush bathrooms. On the way out I quench my thirst with raw carrot, sweet potato and apple juice. We stride back to the office, an empowered team, glowing and ready face the rest of the working afternoon.