In need of a holiday, yesterday I visited all seven of the Canary Islands under one roof! Seven illustrators from across Europe were each sent to travel one of the seven islands for seven days, during July of this year, to illustrate whatever inspired them. The work they produced has formed a captivating exhibit in Shoreditch, #ONTHEDRAW.
Prior to visiting the exhibit, my knowledge of the Canary Islands was limited, and I mainly associated them with all inclusive budget holidays in Lanzarote or Tenerife, designed for the lazy British tourist. What these artists show is an exploration of hidden wonders that you can discover if you venture off the beaten track. When you see the work of the seven illustrators in one room, what immediately becomes apparent is that each island is wonderfully unique, and each of the illustrators had their own personal experience. They powerfully illustrate their journey through the landscape of the islands.
French illustrator, Malika Favre, travelled Fuerteventura; her images are bright and bold, with a stillness and silence to them. We are drawn into a simple world of inviting blue skies, gentle breezes, soft sloping mountains, desert, the sea....One of the illustrations features a tiny figure of a woman wandering up a huge mountain.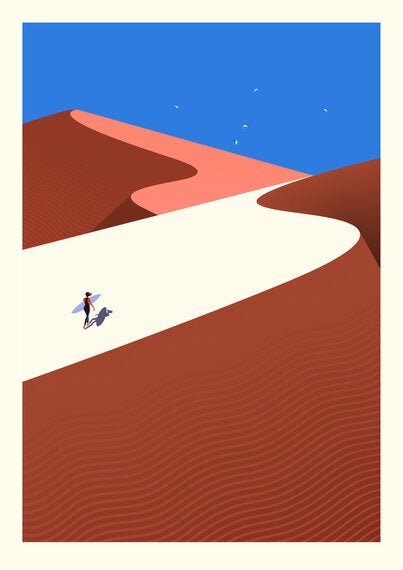 Favre skilfully conjured up a scene of serenity, a sense that she, the traveller, was at peace in her solitude and the magnitude of the landscape.
"What I found in Fuerteventura was an impressive sense of space and freedom..... There are so many different landscapes and moods all around the island and each turn holds a new surprise." Malika Favre
Danish artist, Mads Berg travelled El Hierro and, like Favre, created images that reflect a scene of tranquility, of being at one with nature. There are never more than two people in his images and they always have a powerful but relaxed presence. Berg's images are inspired by vintage posters. When looking at his work, I wonder what is real and what is imagined. At the opening, as we discuss each of his images, I try to guess which of the characters he has drawn into his landscape exist and which are part of legend. I don't get it right. We stop at an arresting image of a cowboy with a mystical white horse in the mountains and I ask what inspired this character.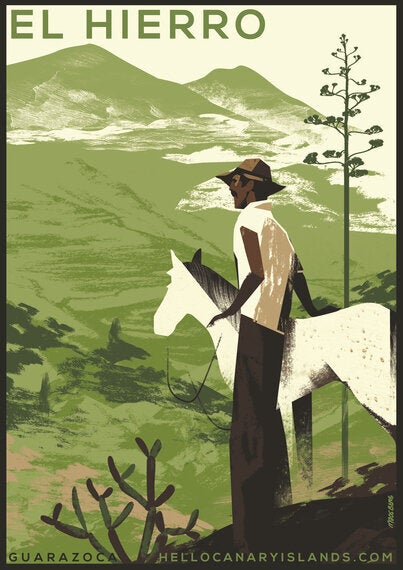 Berg tells me that he did not invent him but he met the cowboy in a tiny village, Guarazoca, set deep in the mountains - he brings him to life for me; his name is Nicanor, he is 60 years old, he doesn't work but spends his days riding the white horse through the mountains, fishing, collecting herbs and fruit....An idyllic existence with no troubles, I think. I ask Berg to sum up his seven day journey and he says without hesitation, "a great encounter with nature and a dream assignment."
The artist who's work intrigues me the most, is Spanish illustrator Paula Bonet. Her illustrations provide a stark contrast to those produced by the other six illustrators - where they mostly draw on a wonderful sense of freedom of travelling though natural scenery, Bonet adds something surprising to an exhibit on "sunny" islands. She travelled Gran Canaria - her illustrations are plagued with dark imagery and complexities, giving the impression that she had a deeply intense emotional and physical journey. All of her illustrations feature a haunting image of a woman's face being taken over by the landscape, as if the island had possessed her.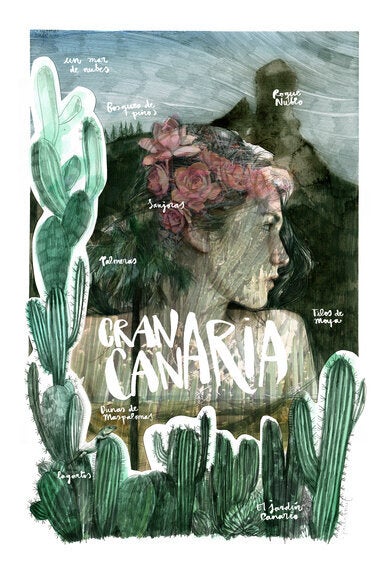 In one of the images the woman's head is surrounded by dark skies, threatening mountains, cacti and fading roses. She evokes a scene of external and internal chaos. Bonet powerfully illustrates, through her art, the capacity of the mind to turn the landscape dark. I have many questions I would love to ask about her journey in Gran Canaria, but she was not present at the opening. So I am left wondering where the golden sand dunes and the blue sea are.
To experience the full journey through the Canary Islands, head to Canvas Studios in Shoreditch, or better still, to one of the actual islands. I'm already planning a trip to El Hierro to ride through the mountains on a white horse!
#ONTHEDRAW, Canvas Studios, 31 New Inn Yard EC2A 3EY, 3rd Nov to 9th Nov 2014
http://www.onthedraw.travel