Just over one year ago a storm of epic proportions devastated the Philippines.
Typhoon Haiyan, thought to be strongest storm to ever make landfall, took the lives of more than 6,200 people and affected over 14million people across 44 provinces. This included some five million children, out of which 1.7million were displaced.
A matter of weeks after Haiyan had wreaked havoc across the country I went to visit the affected areas on behalf of Plan International. Driving out of Tacloban airport, the scenes left an indelible and vivid impression.
Lorries were loading up corpses that were still being discovered in shattered houses. In the small rural settlements of Eastern Samar, huge chunks of the coastal roads had been ripped away and houses had been flattened, leaving little protection when the roaring tsunami-like wave tore the towns apart.
With schools left inhabitable, coconut trees felled as far as the eye could see and the whole physical infrastructure shot to pieces, I vowed that Plan would commit to rebuilding these communities - ensuring we would still be there, working with communities, long after the TV cameras and pop-up non-governmental organisations had left.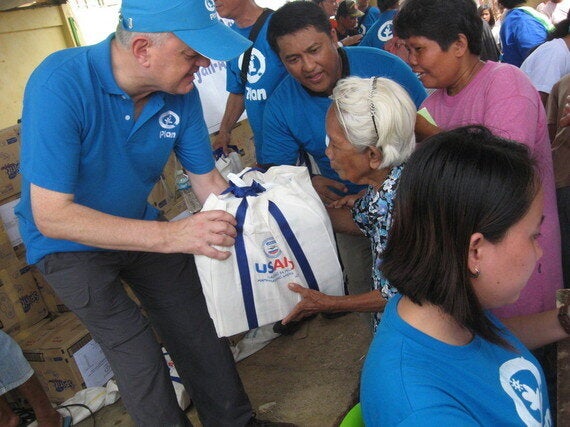 Nigel Chapman assists with a food distribution during the emergency response. Credit: Plan
Child protection priority
One year on, Plan is still embedded in the communities of East and West Samar, delivering aid and supporting Filipinos to recover and build back better, stronger and together.
Of course, the task of rebuilding this country will take far longer than a year, but I can safely say that progress has been made. It has to, as this archipelago constantly lives between disasters.
For me and Plan, our priority is protecting children and vulnerable communities. Why? Children are among those worst affected by a disaster - and among the most vulnerable afterwards.
To help, 'child-friendly spaces' were set up, providing a safe space for 21,000 children to play, learn and get much-needed emotional support, while nearly 10,000 parents, children and community members were trained on how to avoid violence, abuse, neglect and exploitation.
Every child deserves the right to an education and, for Plan, it is one of our priorities, so to see so many schools washed away or left in a crumbled, shell-like state was heart-breaking.
Over the past year, Plan has supported more than 44,000 children to return to school through its 'back to school' kits or by rebuilding classrooms, training teachers and supplying school equipment.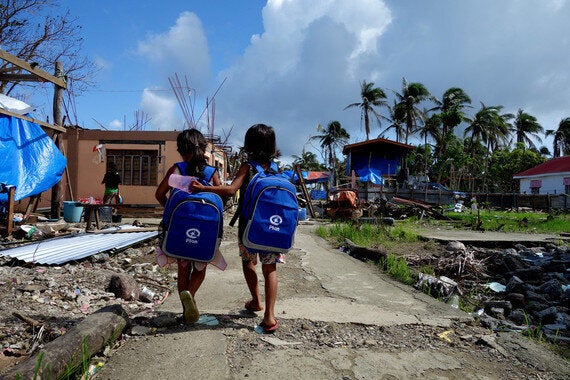 Plan supplied 'back to school' kits to children in the aftermath of Haiyan. Credit: Plan
We have also ensured that teachers in typhoon-affected communities are better equipped to support children after an emergency and to help children develop and learn.
One of the ways in which we equipped teachers was by training them on how to create toys and learning materials from recyclable materials.
I remember meeting a teacher by the name of Bienvenito Globio, 48, from Balangkayan. His classroom was destroyed by the storm. "All of my educational materials were washed away by the typhoon. My daycare centre was too," he said.
When I met him, Bienvenito was teaching in a tent, but he was committed to holding classes whatever the weather. "This experience was bad for everyone, people lost their houses, I lost my learning materials. It's difficult to teach outside when it's raining, but at least this restores a sense of normality."
In the year passed, progress has been made in other ways, too.
Water, sanitation and hygiene kits were among the life-saving items Plan pre-positioned in communities in the typhoon's path, which enabled us to distribute safe drinking water kits to support 20,000 people, eventually reaching a total of 225,000.
More than 32,800 people received critical medical care through 'one-stop-shop' mobile health clinics and the construction of new permanent, disaster-resilient health clinics.
Emergency food supplies were distributed to over 1.5million typhoon-affected people in the immediate aftermath and as communities began to recover, Plan focused on ensuring that children and mothers at risk of malnutrition were screened and supported in a region where malnutrition levels were high even before the typhoon.
Plan also assisted 195,000 people whose homes were damaged or destroyed with temporary shelter or support to rebuild their homes, while another 87,000 received cooking equipment, blankets or sleeping mats to help with their recovery.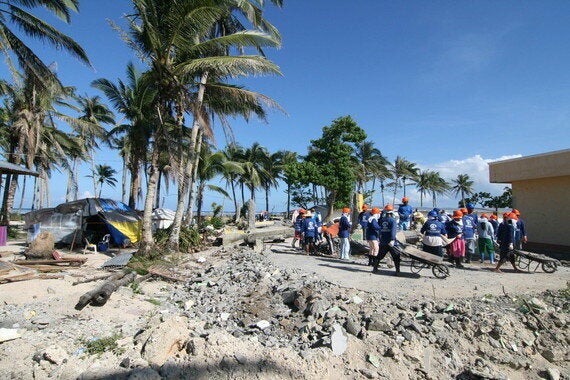 Plan's 'cash for work' programme is reconstructing schools. Credit: Plan
As part of Plan's response, a 'cash for work' programme was introduced, providing paid work for more than 61,000 people as part of the recovery process. This income helped families meet their basic needs and stimulated the local economy, while the work rehabilitated and rebuilt communities.
Although we've come a long way from scenes I and my colleagues were faced with a year ago, work still remains.
That's why we are committed to helping the people of the Philippines build back better, stronger, safer and most of all together.
It is imperative to work with communities to ensure they are prepared to deal with a disaster and this means ensuring buildings are more resilient, stronger roofing is in place and schools are safer.
Our humanitarian team is committed to taking this seriously and Plan's 'Building Back Better' project in Tacloban City (one of the areas worst affected by Typhoon Haiyan) is working with government partners and 6,000 community members to build a disaster-resilient community that can serve as a model for other reconstruction efforts.
'Building Back Better' means that community recovery efforts result in safer, more resilient buildings and infrastructure, access to safe drinking water and other services.
Most importantly, it means working with communities on their recovery journey, involving them as partners in the recovery process, providing emotional support and building knowledge, community spirit and resilience.