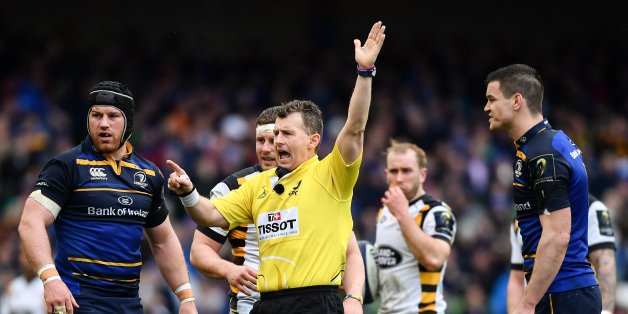 Ramsey Cardy via Getty Images
This week, being Mental Health Awareness Week, is particularly important to me. Having suffered with mental health issues in the past, I am aware of just how difficult they can be to cope with and the impact they can have on day-to-day life. Through my experience, though, I have found that being open about these issues and honest about the effect they are having on you, and then finding the help you need to make things better, allowed me to address the depression I was experiencing.
It wasn't until I agreed to write an autobiography that I felt confident enough to talk about my mental health problems publicly. From my late teens to my mid-twenties, I suffered when trying to accept my sexuality, constantly fighting against becoming someone I thought I didn't want to be. It took a lot of persuading for me to write a book, as if I was going to do it, I wanted to be completely open and honest - but I was halfway through my career as a referee and wasn't sure I wanted people to know everything about my personal life. I soon realised, however, that I had to talk about the difficult times in my life when writing openly about my past, including when I tried to take my own life, so my story became public.
What I realised when this happened is that many other people suffer from mental health issues, but they aren't always willing to speak out about them and ask for help. Unfortunately, there is still such a stigma attached with openly discussing your mental health that lots of people are in this position - but really we should feel as free to talk about it as we would a physical injury or issue. Working as a rugby referee, I've seen the benefits of a team environment first-hand, whether it's a squad of 30 or 40 players or the group of referees assigned to each match. Everyone is working together towards the same goal or outcome, and this is the same as a workplace environment.
It doesn't matter if it's an office, a shop-floor or a warehouse; everyone is performing and working as a team. If you have individuals in that team who are not working to their full potential, or that you know aren't happy within themselves, it's going to have an adverse effect on the team and the workplace environment as well. Legal & General's campaign is about encouraging conversations about mental health in the workplace. Many people spend most of their time at work, so it should be a place where they feel able to discuss issues which are affecting them. Spotting the signs of a mental health issue can be difficult, but colleagues and managers should feel confident enough to have those discussions and provide support.
I want to encourage people not to be afraid, feel ashamed or embarrassed to talk about mental health and dealing with an issue you have. That is the only way you're going to get through it, by speaking to someone or accepting yourself. It's a sign of great strength when you do decide to deal with a mental health issue, not a sign of weakness, and no matter how trivial or small you think they may be, if it's something that's worrying you, it's important to address it. Discussing mental health is not a red card offence, and hopefully through this campaign and the work that charities such as Mind are doing, we can break down those barriers and encourage more people to be open about mental health issues.
Useful websites and helplines: