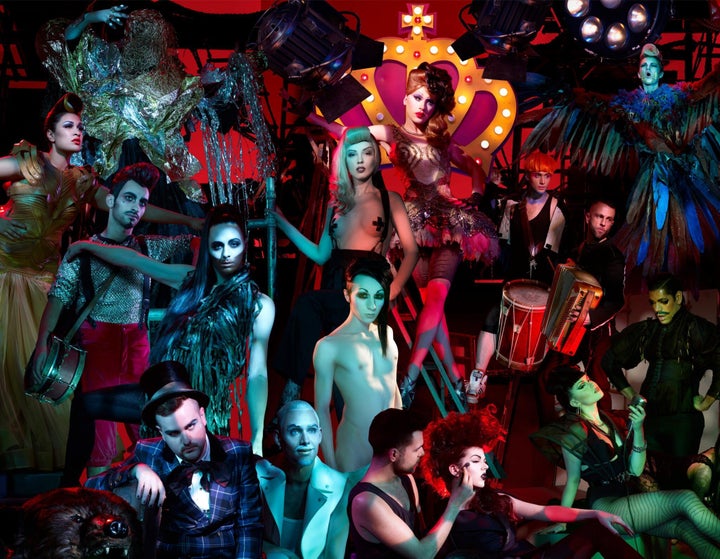 This week sees the launch of This is...Circus, the exhibition to celebrate five years of the rather legendary club night Circus - pioneered by Industry icon Jodie Harsh.
Harsh's brand growth over the last few years has been incomparable, from hosting a one-off club night at the Soho Revue Bar, to being the face of Google's Chrome campaign this year, what Harsh has achieved is unparalleled. This time around, she has collaborated with photographer Tim Bret-Day on a groundbreaking photographic project bringing together over 100 characters from the club's evolution in a multi-faceted fantasy world set in the interior of a turn-of-the-century theatre. Yes, one of the faces does include yours truly.
From musicians and DJ's, to actresses and performance artists, models, dancers and star-studded clientele, the multi-platform exhibition includes image and video content featuring the likes of Jaime Winstone, Lisa Snowdon, Sadie Frost, Margo Stilley, Mika, Matthew Horne, Daniel Lismore, Jonny Woo, Immodesty Blaze, Alexis Knox, Scottee, Kris Di Angelis and Jodie Harsh as ring leader.
To add another multi-dimensional layer to the Circus cake, throughout the run of the exhibition, there will be performance art pieces live on site. Check out the incredible preview image above and teaser video (by Thomas Knights) below.
This Is... Circus runs at Bond, 24 Kingly Street, from Thursday 29th September until Saturday 1st October, and is free to enter. For up to date information, you can follow This is...Circus on Twitter @thisiscircus