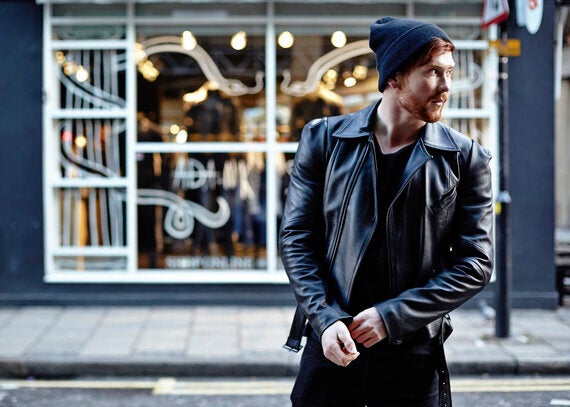 Seven months ago, Ada Zanditon and I unveiled Ada + Nik, our vision for a rebellious British menswear brand. We co-designed a Spring / Summer 2014 capsule collection, and revealed campaign and film that we shot in collaboration with Rankin/The Hunger Magazine at London Collections: Men in June 2013.
Barely four weeks ago, following what can only be described as significant brand growth, we showed our first full collection The Dark Wolf for Autumn Winter 2014/15 via a runway show at the ME London Hotel and launched a brand new film directed by Oz Thakkar.
Throughout our creative process (which was also supported by Philips, Samsung and Snow Queen Vodka), we've always made the conscious decision to partner with rebels and pioneers; for example every model cast was (and will always be) chosen on account of their personality, creative attributes and character - as opposed to solely their appearance.
One such rebel is Team GB Olympic Athlete, Tom Brady. Tom walked for us at our show in January and it is with great pleasure that we had the chance to work with him again this week to celebrate the launch of the Spring Summer 2014 capsule at progressive menswear boutique Q Men in Covent Garden. We took to the street of London to shoot a series of exclusive images for the Huffington Post featuring Brady photographed by the brilliant Adam Tannous (photographer famed for his book 'London 100, A Gentleman's Guide' in collaboration with style icon Matthew Zorpas) wearing Ada + Nik Spring Summer 2014.
Tom also fronted the recent and globally viral RED HOT campaign by my good friend Thomas Knights. This essentially marked the turning point which sky-rocketed Brady into the spotlight, since RED HOT. He's been a runway model, a fashion and style muse and inspiration to red haired boys around the world because of this - a true ginger hero.
So what is it exactly that makes Brady a rebel? As someone with the exact same name as a globally recognised American football quarterback and husband of the highest earning model in the world right now, Brady has to fight even harder to truly cut through the noise. In my personal experience, watching (and to an extent supporting) Brady on his "Road to Rio" is not only a pleasure and honour but an inspiration. He understands the importance of building and recognising the need to be the best in his field whilst maintaining credibility throughout the process.
The public definition versus the dictionary definition of the word 'rebel' differ somewhat. A rebel as far as the Ada + Nik man goes is someone who stands up for their own personal opinions despite what others says. They stand up for what they believe is right, not necessarily against what's right. Our rebel is the love child of James Dean and Sid Vicious. The purity versus the anarchy. You don't need to smoke crack or drink until you pass out. You rebel with your creativity and entrepreneurial attributes. Be an individual, carve your own path, stand up for what you believe in, embrace your inner outcast and make it into something powerful that makes you stand out for who you are. Don't compromise your individuality for others and stand by what you genuinely believe in. Break boundaries and exert yourself beyond the norm. It takes time and dedication, but it is what we believe in.
It's this exact symbiotic relationship that makes us who we are - nurturing creativity to the maximum. The shots feature Tom wearing Ada + Nik SS14 - Caesar leather jacket which was inspired by Greco-Roman Punk culture with a nod to the minimalistic classic aesthetic of James Dean or Marlon Brando.
Brady is currently in Dubai training for the 2016 Olympics. Make sure you follow Tom on his road to Rio 2016 on Twitter and Instagram.