Looking at the runway reports it's clear that liquid eyeliner is the lynchpin to many of the beauty looks on show.
Mastering the perfect cat eye or winged out graphic liner is something that manages to elude many of us. As the famous meme states never ask a girl with winged liner why she's late! Matching up the flicks; finding symmetry in the lines and ensuring colour is neither too thick or thin makes liquid eyeliner a challenge. But once you find the eyeliner that works for you and your lifestyle it's easy to embrace the look. Let's start off with a favourite and utterly mistake-proof liner look, tightlining!
AKA the invisible liner. This is my daily go-to for thickening up the lash line. It takes seconds to fill in your upper waterline with inky black colour and dot between lashes to create instant definition and a seamless finish.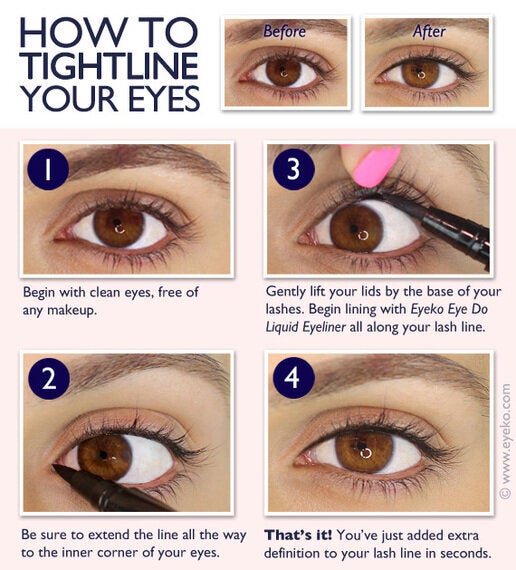 Choose a waterproof formula to ensure it lasts a good while like Eyeko Eye Do Liquid Eyeliner or alternatively pencil in or push colour in with a brush and gel liner.
4 Liquid Eyeliner Looks We LOVE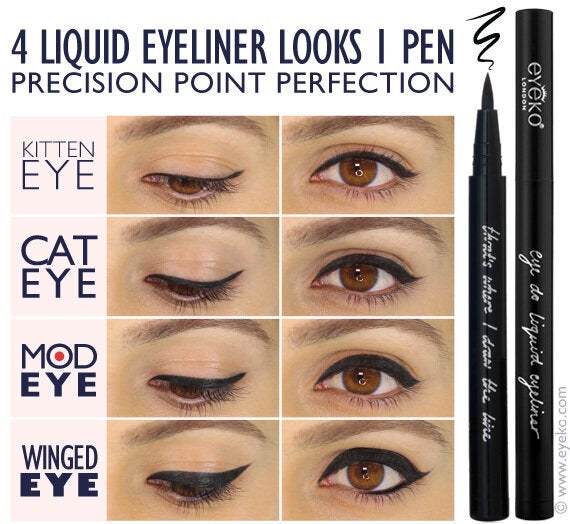 So you've tight lined and nailed it, now take it up a notch with a fine line on the upper lid. Balance the sponge tip or brush of your liquid liner to rest on top of the lashes as you draw short dashes as close to the lash line as possible, again make sure there are no gaps by dotting between lashes to close these up. Do not try to thicken it up as you will battle with uneven eyes at this stage, let your lashes be your guide for the perfect fine line to enhance your eyes. To add an elegant flick rest the point of your liner on the last lash and flick upwards, your line shouldn't extend past the length of your lashes to keep this look subtle and chic!
From kitten to cat! Just thicken up the line, take your time and don't attempt this in one stroke! Even the pro's have a dot-dot-dash technique gently teasing the line into the perfect cat eye.
A desk to party favourite as you can build up your kitten flicks and cat eye into something more dramatic and if you're feeling extra confident this can lead to a full on winged eye.
Map out a triangle on the outer corner of your eye. Looking straight into the mirror and mark the end of your wing tip with a dot, then trace a line to join up to your liner forming a triangle which you then fill in. Repeat on the other eye for perfect symmetry.