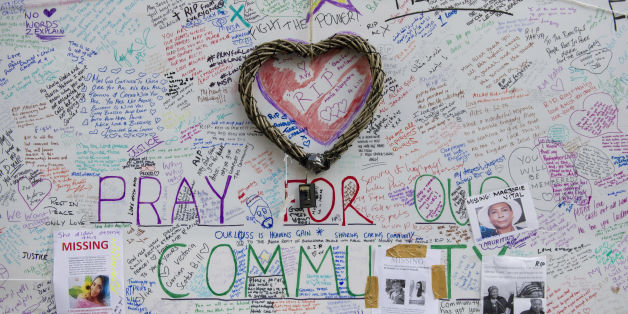 PA Wire/PA Images
Six people heading towards East London on the tube with their heads buried in newspapers - everyone obeying the cardinal commuters' rule specifying zero eye contact and human interaction. The scene felt abnormally normal.
To be honest, these are the rules I play by too. But after spending the day with the Grenfell Tower community, where people were on standby ready to give whatever was required without agenda and without limit, sitting in total isolation to my fellow passengers, who seemed so close but yet so distant, seemed odd.
Earlier that day, I had walked past the skeletal remains of Grenfell Tower towards Westway centre. I heard the hustle of what turned out to be an army of volunteers distributing a mountain of donations.
Around 50 metres away, outside the Westway sports centre, a table with pastries, hot coffee and fruit. One of the ladies asked my colleagues and I if we needed breakfast or coffee. We weren't the ones in need, which made it all the more humbling that she had even thought to ask.
As lunchtime neared, the volunteers formed a human chain in an effort to distribute food and supplies more quickly, keeping up the relentless effort to help whoever, whenever.
The chain of volunteers forming near #GrenfellTowerpic.twitter.com/DchaYUsOzl

— Nitya Graciana Rajan (@NityaGRajan) June 15, 2017
Amongst the bustle some residents stood quietly, watching and waiting for news of loved ones.
"She was a good girl, always waved at me," a teary-eyed Habeeba told me. The 47-year-old was still waiting for news of a teenage girl who was close to her son.
As her voice shook and she took a moment to compose herself, I reached out and touched her shoulder. I didn't have too much to say. Anything I could have said would have been meaningless in the face of such raw loss.
"All we can do is hope," she said with a smile.
Another local, 50-year-old, Entisar, who was also searching for a family friend told me "we're just waiting for good news."
"I'm a teacher and we're from the Sudanese community," she proudly stated. When I asked her about the search efforts, she said everyone had helped.
Charlene Reed, searching for her friend's daughter Jessica, also echoed the same sentiment, saying "the community has been helping."
Charlene is looking for her friend's daughter Jessica. "authorities are not doing anything to help, it's the community" #GrenfellFirepic.twitter.com/SxBLEKjtvm

— Nitya Graciana Rajan (@NityaGRajan) June 15, 2017
In the past few days, various words have been used to describe this community and I would like to add one more: wealthy.
I'm not talking about the kind money can buy. The Kensington borough is, according to data, a "tale of extreme rich and poor" as described in this HuffPost UK article.
And when you walk around the area it's plain to see the physical manifestation of the stats. But this community's wealth lies in its people, their indomitable spirit and their pursuit of each other's wellbeing.
It's the kind of wealth you can't quantify with reports or statistics. It's the kind of wealth, I wish I had more off. It's the kind of wealth the world needs.