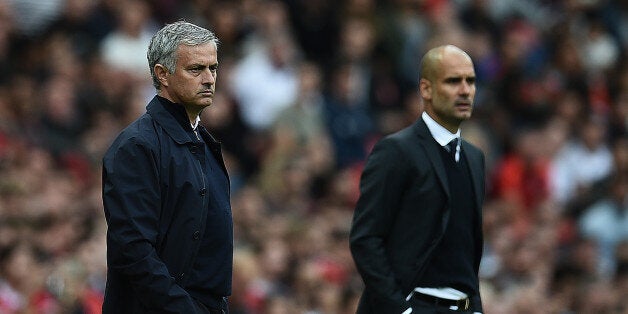 ​Pep Guardiola is sitting at a table waiting to be served the Premier League title on a large plate held by maître d' Jose Mourinho.
That image could still be rewritten but that's the way things look to be heading after two consecutive Premier League defeats, three in all competitions, and one inflicted by the former Barcelona chief himself.
A £150million expenditure of towering Swede Zlatan Ibrahimovic, promising centre-back Erik Bailly, midfield architect Henrikh Mhkitaryan and show-stopper Paul Pogba pinpointed United as dominant title favourites pre-season, but the signs on the pitch have looked far from dominant at all. Three wins in their first three fixtures painted a hopeful picture, but Mourinho's men were ultimately found out in the biggest test of their credentials against his former La Liga counterpart.
Only a gaffe from newboy Claudio Bravo gave United any real sniff of goal as only three of their 18 shots hit the target, and it spoke volumes about Mourinho's approach in his apparent redemption trail from his nightmare at Chelsea last year.
Memories of that turbulent period came to light in the aftermath of the game, with Mourinho blasting refereeing decisions instead of addressing reality that his team had been played off the park at home without really threatening. When all hell was breaking lose at Chelsea 12 months ago, a similar trend had surfaced and it was the ego of the Portuguese boss coming before the good of his team.
The issue here is that Mourinho will throw all his toys out of the pram when things don't go his way, and it does nothing but detriment to his players. It's a referee. It's one of his own players. It's even one of his own physios before he takes the blame. That ridiculous saga with Dr Eva Carneiro last August, where he sacked her for running onto the field of play to treat Eden Hazard, was alleged to have been the root of the distrust between the manager and the rest of the team, with many of the Blues stars holding a good relationship with her.
There was no bucking Groundhog Day when Mourinho rolled in for his post-match interview after losing 3-1 to Watford.
"I can't control their mistakes." He said.
"The third factor is luck, we didn't have it. We were the best team when we lost."
The best team that had two shots on target against a team that finished mid table in the last campaign. And luck? Champions don't need luck. Champions create their own luck by playing consistently week in, week out instead of winging it and coming up with excuses.
The former Real Madrid boss has had a successful career- granted. He's won more trophies than many managers could ever hope to claim, but part of being a great coach is to have humility and assess your faults to taste success on a consistent basis like Pep Guardiola has.
The man has never gone a season of his managerial career without lifting silverware and its because he's a winner through and through with a positive outlook. Mourinho will have only himself to blame if his continued childish behaviour and a reluctance to adapt his methods result in Pep lifting the Premier League crown next summer.
Aside from United, a real challenger I feel could be in the mix are Everton.
The Toffees are unbeaten with four wins and a draw thus far- racing into double figures for goals. Under Martinez they looked like a hopeless outfit without a clue of how to put a single team to the sword, which shocked many with the talented players the Spaniard had at his disposal.
With an ambitious new owner bursting onto the scene to unload his ambitious plans, it was clear Martinez wasn't part of it after fans lost patience with timid displays.
Now that Ronald Koeman has arrived, the confidence factor has returned. It's a mystery where it ever went in the first place after Martinez guided the club to fifth in his debut season, but it was only ever a question of helping his rough diamonds feel unbeatable, and that's certainly been the feeling after five games.
Eyebrows were raised at Koeman when he opted to depart St Mary's in the summer for a team not considered to be at a significantly higher level, but who can blame the Dutchman after watching the club sit back and turn the place into a footballing vending machine.
The likes of Luke Shaw, Adam Lallana, Morgan Schneiderlin, Victor Wanyama and Sadio Mane have all been poached by bigger clubs, with the board even allowing two top class managers to move along. He's now at a club where owner Farhad Moshiri means business and is ready to take Everton back into contention for the Champions League, although Leicester City have shown how far a little desire can take you.
The addition of born leader Ashley Williams, steel of Idrissa Gueye and guile of Yannick Bolasie gives the team more to play with in a thundercloud of attacking prowess. All Koeman has to do now is set his players on the right track and its full steam ahead to another shock title challenge.
For more fan views or to join the conversation visit www.90min.com