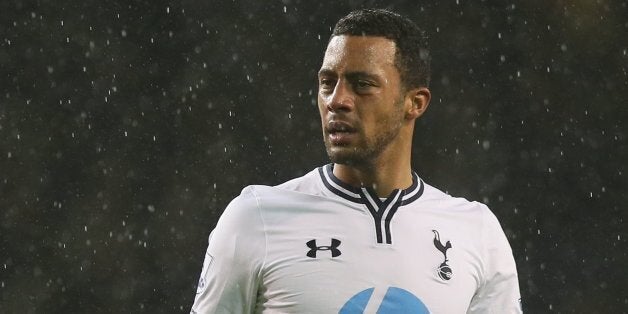 Eric Dier and Victor Wanyama are not cutting the mustard- as a midfield partnership anyway.
After a season of sweeping teams away with their relentless attacking display for the majority of last season, there was great intrigue into how Spurs might fare in 2016/17 without the services of Mousa Dembele: a fundamental puzzle piece of the team's success in the last campaign. So far the signs are not looking too good.
While the Lilywhites have put a stop to their dismal run of form from the tail end of last season- seeing them surrender their title hopes to Leicester and additionally squander the runner-up spot to bitter rivals Arsenal- that irresistible nature to their play has somewhat vanished and it doesn't require a detective to find out why.
In a moment of madness in the title-defining clash against Chelsea at Stamford Bridge last season, Dembele lost his marbles and poked Blues forward Diego Costa in the eyeball, and was deservedly dished out a six-game ban that carried over to the current campaign. He's got one more game to serve out under that punishment, and while boss Mauricio Pochettino recruited well by signing up Southampton midfielder Victor Wanyama, he should never have been a like-for-like replacement for the Belgian.
It's played three, drawn two and won one for Spurs thus far in 2016/17, with just one goal scored in each game. Wanyama has impressed on his maiden Tottenham season, but partnering him with the similarly combative Eric Dier is a massive mistake on Pochettino's part- that is unless the gameplan is to sit deep and frustrate. With two strong defensive midfielders like Dier and Wanyama, teams will certainly find it tricky to break through the midfield, but this layout also enacts a crippling effect on the Spurs team's ability to break through the opposition's.
The reason Dembele worked so well with Dier last year was because he was given the licence to bomb forward and provide that link to the lethal attacking foursome of Erik Lamela, Dele Alli, Christian Eriksen and last season's golden boot winner Harry Kane, who scored 24 of his 25 while Dembele was in the starting line up with him. In his absence the team now possess a fully loaded gun with no one to fire it. Wanyama has competent passing ability and is strong on the ball, but he isn't capable of those winding, darting runs forward that leave opposition players in his wake befuddled out of position.
Spurs have a real problem on their hands because there are a real shortage of players that do what Dembele does. In terms of options they have been linked with Turkish midfielder Hakan Calhanoglu, plying his trade for Bayer Leverkusen, and while the free kick expert would add bags of creative vision, he is most effective playing higher up the pitch rather than box to box. Youngster Ante Coric, who has unfortunately been dubbed 'the next Luka Modric', is another target, who may not be like-for-like cover for Dembele but would be a step in the right direction- a bright prospect future with technical excellency.
Tottenham's reliance on Harry Kane and Dele Alli was pinpointed by many last season, but two outings in the Europa League were all that was needed to highlight the gaping hole left in the team when Dembele was absent. Ryan Mason and Tom Carroll, the next best options Pochettino had at his disposal, were given an opportunity to impress, but instead their poor touch and lack of experience was seized on by the world class German giants, who simply passed the duo to death and subsequently pinned the North Londoners in their own half for most of the game.
That wasn't the only time Spurs were punished for a lack of creativity and spark, as the 10 games Dembele missed last season they took just nine points from- 0.9 per game, whereas the team were undefeated and claimed 53 points in the 23 games he started since recovering from an injury last October.
Dembele suits Tottenham's high-pressing and attacking raids perfectly, allowing the team to adjust from recovering possession at the back and quickly transition to the other end of the pitch. Luckily for Spurs fans, they face just one more game without him, but his return doesn't solve the problem in the team.
Spurs must be prepared with a quality option to step up to the plate. With the boost of Champions League football and the resurgence of their rivals high up the table, mediocre cover for a great player will undoubtably result in mediocre results.
For more fan views or to join the conversation visit www.90min.com
Related