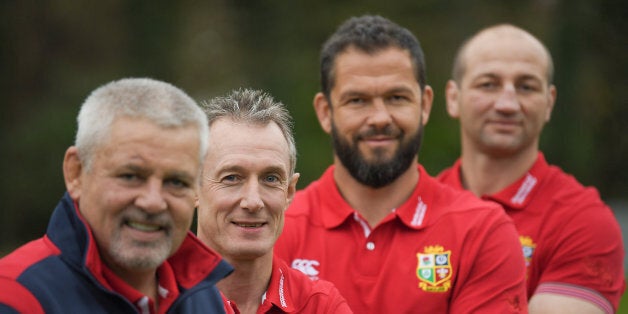 Selection for the British and Irish Lions is "the pinnacle of your career", according to Rob Howley, who on Wednesday was confirmed as Warren Gatland's backs coach for next summer's series in New Zealand, where the world's most-famous rugby-playing tourists have won only one previous campaign.
The Welshman, 46, excelled as assistant coach in 2009 and also the last time around four years ago, when the Lions succeeded in Australia, winning a series for the first time in 16 years, since triumphing in South Africa in 1997.
And former scrum-half, who won two Test caps in the 2001 tour Down Under, believes that in order to better the All Blacks, the perennial world No1-ranked country, precision in attack is paramount.
"To win a modern Test match you need to score between 20 and 30 points," said Howley at the press conference in Dublin, noting that when Ireland defeated the All Blacks 40-29 in Chicago last month - their maiden victory ending an 18-match unbeaten run - they crossed five times.
With the Lions coming together in May, from all corners of the Home Nations, and with little time to gel, the coaches' in-depth knowledge of players from different countries will help the team prepare. Undoubtedly Gatland, 53, had that in mind when selecting his core trio of coaches, with representatives from Wales (Howley - as well as himself), England (new boy Steve Borthwick, who will be forwards coach), and Ireland (Andy Farrell, in charge of defence, and veteran for the 2013 tour) offering friendly faces to those from those countries. It's a simple, and hopefully effective, approach.
The New Zealander, a no-nonsense hooker for Waikato in his prime (and never capped as an All Black with a certain Sean Fitzpatrick in his way), expressed his desire to add two more attack-minded coaches within the next "couple of weeks". A good bet would be that one of those berths will be taken by someone employed by the Scottish Rugby Union, with Gatland's countryman Jason O'Halloran likely to be offered a role (following Gregor Townsend's eyebrow-raising snub early this month), thereby ensuring all four Home Nations will have coaching assistants.
Having detailed knowledge of how all 35-plus players in the squad operate - on and off the pitch - will be vital if the Lions are going to roar to victory for the first time since 1971 years in New Zealand. Little surprise, then, that the latest official sponsor, Gillette, focused on 'precision' and 'preparation' in their recent announcement film, which is an emotive and exciting snapshot of what we can expect for next summer's tour.
John Spencer, tour manager for the 2017 trip, was a member of that glorious team, which won 2-1, 35 years ago. Commenting on Gatland's coaching picks he told Huffington Post: "Occasionally you need to bring in different voices and styles of coaching, and that is what Warren has chosen to do.
"For over 50 years the All Blacks have had the most incredible record - they have almost always been in the No1 sport. You have to be absolutely at the top of your game to beat the All Blacks, especially in their own country. That's a huge challenge, considering they are back-to-back world champions.
"That is why we have to have the best of the best - both in terms of players and coaches, too. Like players, the coaches have to be buzzing, on form and inspirational."
It goes without saying that the advent of professionalism in the mid-1990s has improved the athleticism of rugby, but Spencer insists that there are still many elements which remain the same in 2017 compared to 1971.
"There are a lot of things which don't change: precision; fitness; leadership," continued the 69-year-old former centre. "The things that change are coaching styles.
"When the Lions last toured New Zealand in 2005 for instance Sir Clive Woodward wanted to make a change and tried a bold new strategy, taking more players and coaching staff than previous tours. At least he had the courage to try it. He was innovative and there is no sense that it was wrong; it's just that later coaches wanted to change the approach. You have to keep changing to improve."
Spencer suggests that tackling the All Blacks on home soil should be motivation enough to be "desperate" to give their all to the cause. "The bigger the challenge, the bigger the opportunity to shine," he added. "Every player will want to play against New Zealand away. It would be the highlight of their career.
"We have to right at the top of our game to beat New Zealand anyway. By the time we play in the first Test in Auckland we have to have a team which can beat any team anywhere in any condition. You have to be precise, motivated, and supremely prepared to do that."
Popular in the Community