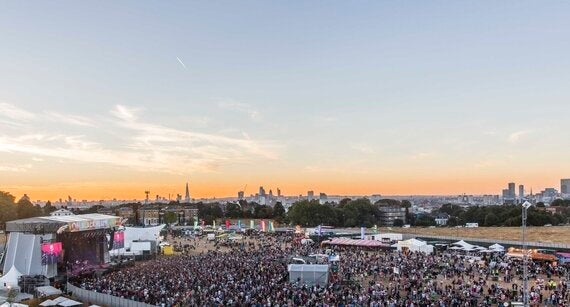 Ten years ago this summer I enjoyed my first full-blown festival in Britain. Aged 25, I excitedly packed my tent, wellies, and - argh! - a pirate costume (there was a nautical theme) before tripping to the Isle of Wight, where Bestival was, and still is, held.
It was an intoxicating, kaleidoscopic weekend, a joyous riot, although some of the details have been blurred over the years, understandably. While the memories may be sketchy now, as a consequence of that awesome experience, festivals - both in the United Kingdom and on foreign shores - came to punctuate every summer henceforth; at least every summer until the arrival of my first child three years ago, when everything changed.
The party didn't stop completely - and fatherhood brought with it new, unparalleled delights - but from that precise moment days-long revelling became hard to justify, with good reason. As a new father I soon found that being away from home for a weekend without my family was emotionally tough, regardless of the reason. To indulge in a music-and-mud fest while my wife handled childcare duties was guilt-inducing and, frankly, mildly selfish.
Back then, as new parents, we longed for the day when all three of us could dive into a festival. Now, with our little one nearing three-years old, we are now in a position to consider committing up for a family-friendly shindig without it being an almighty and stressful faff. And thankfully there are plenty across the country to choose from including OnBlackheath, the nearest to us in South-East London (and doesn't have overnight camping facilities, much to my wife's glee).
Indeed, the latest research by UK Music (which represents the collective interests of Britain's commercial music industry) found that there was a 12 per cent increase in audiences at concerts and festivals in 2016 when compared to the previous 12 months, with crowd numbers reaching 30.9 million (up from 27.7 million in 2015). That mass revelling generated a colossal £4 billion to the UK economy, the report, entitled Wish You Were Here, shows.
Me, my wife, and our maybe-future-rock-star son, will be doing our bit for the (gig) economy by participating in the fourth edition of OnBlackhealth on September 9 and 10 - dates that coincide with this year's Bestival, ironically enough, and stretch out the summer for as long as possible, pleasingly.
With headliners Travis, Metronomy, De La Soul and locally born Kate Tempest performing on Saturday, and The Libertines, Seasick Steve, Jake Bugg, Fun Lovin' Criminals, and KT Tunstall taking to the main stage on Sunday, the range of music on offer is impressively expansive, and is sure to inspire youngsters as well as the older crowd.
There is plenty more for the 28,000-or-so festival goers to enjoy besides the stellar music talent, too. Personally, I'm looking forward to heading to the Family Playground. It will have a storytelling and performance stage - featuring entertainment from Julian Clary and Basil Brush, among others - as well as craft zones, theatre shows and circus workshops. And then, as with any top-drawer family festival in 2017, there is a Food Village that will satisfy all tastes, and offers demonstrations from celebrity chefs (the programme has been curated by Masterchef finalist Tony Rodd).
OnBlackheath is certain to provide us, and countless other families, with plenty of magical moments (and hopefully, unlike 10 years ago, I'll be able to remember more of them). If you can't make it to the South-East London park this time around fear not as, if you act quickly, there are still a cluster of other family-friendly festivals to sign up for before the autumn; below is a list of three of the most-anticipated. Happy festivalling!
Larmer Tree Gardens, Dorset / Wiltshire border
NME's 'best small festival' last year, End of the Road has been running every year since 2006 and is extremely well catered for kids. Some 14,000 revellers are likely to attend this festival, which offers a lot of folky music. There is a dedicated children's section, as well as a comedy tent, cinema tent, healing retreat, workshops, art installations and even a Woodland Library.
Pippingford Park, East Sussex
Ah, the ancient woodland of Ashdown Forest. This is a perfect festival for families looking to re-engage with the great outdoors. All of the activities on offer or three-related, and include coppicing, trug-making workshops, climbing, foraging, bushcraft and slacklining.
Hawarden Estate, Flintshire
Cery Matthews, the BBC 6 Music DJ and singer, knows a thing or to about what makes a good festival, so The Good Life Experience, which she founded with her pals four years ago, is worth looking at. There is plenty of locally-produced food to tuck in to, as well as foraging classes, mass singalongs, a dog show, tree-climbing and a talented line-up of campfire cooking sessions with world-class chefs.
This post has been published on HuffPost's blogging platform. The views and opinions expressed in this blog are those of the author and should not be taken as those of HuffPost. HuffPost does not allow bloggers to acquire products, access or accommodation for review in the site's name.