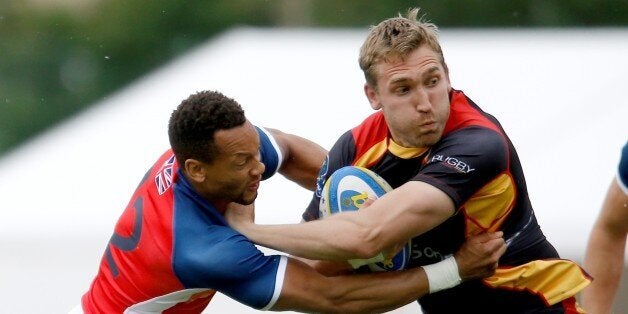 How fitting that the 2016-17 HSBC World Rugby Sevens Series, elevated by the sport's sensational Olympics debut in the summer, begins this week in Dubai, home of the world's highest building.
The women's competition kicks off on Thursday, a day before the men, as the 830-metre-tall Burj Khalifa tower looms above them. The symbolism is clear: following unprecedented interest and growth generated by inclusion at Rio de Janeiro Games, the sky is the limit for sevens, and excitement levels are high.
For Brett Gosper, World Rugby's Chief Executive, sevens at Rio was "a game changer", with almost 17 million new fans activated. "Dubai marks the start of the Tokyo 2020 Olympic cycle and building on last season, which was the most widely viewed and engaged series ever, we expect more fans from around the world to view and interact with the series," he says.
And what a campaign it was last term. In the men's competition Fiji - who went on to dominate in Rio - successfully defended their title, and yet in the 10 rounds there were six different victors (including maiden triumphs for Kenya and Scotland).
Australia, meanwhile, were crowned women's champions for the first time, managing to loosen New Zealand's vice-like grip on the trophy, and they too powered on to top the podium in Brazil. In all there were 2,622 tries scored by the men, and 889 in the women's five-stop season, underlining the blink-and-you'll-miss-it nature of sevens.
Since October 2009, when the International Olympic Committee announced sevens would be included in Rio, interest in the sport has been growing impressively, as evidenced by statistics released by World Rugby on the eve of the Dubai tournament.
Mind-fizzing figures include a record-breaking 60 million video views in the 2015-16 Sevens Series, while 39 per cent of 18-24-year olds in the UK watched sevens at the Olympics, and it was 36 per cent for the same age group in France. Additionally, growth in interest in rugby sevens saw the biggest increase (4 per cent) out of all the Games disciplines at Rio 2016.
Building on a solid foundation, and looking to entertain and inspire a legion of new fans, the new Sevens Series promises to be bigger and better than ever.
The action will be beamed to over 100 countries and territories, with American giants CNN and the Olympic Channel joining a long list of top international broadcasters. And there are various new bells and whistles, all designed to transport viewers closer to the action.
For instance, the player microphone footage trialled at the London Sevens in May will be a permanent fixture, and fans can revel in plenty more social media interaction - understandable, given that 50 million fans were reached in just six days across the Olympics through those channels.
As sevens continues to refine itself as a genre, which appeals to a younger, digital-native audience, as well as traditional rugby union fans and families, we can expect live interviews from the captains' photo shoots, pitch-side chats with key personnel, Twitter Q&As with star players, and behind-the-scenes access to gym sessions, and so on.
Further, there will be more data visualisation, and 'gamification'. For example, those lightning-quick, end-to-end sprints by America's former professional sprinter Carlin Isles will be tracked live, using a speedometer linked up to both GPS and Hawkeye technology.
In the men's competition, in particular, there has been a significant amount of post-Rio adjustment - not least in coaching staff. Defending champions Fiji, New Zealand, Samoa, Kenya and Canada all have new men in charge. Who will hit the ground running in Dubai?
"Dubai stands alongside Hong Kong as the top-end tournament of the circuit and is a great place to start the season," says Ben Ryan, who stepped down as Fiji coach following the team's fairytale victory and maiden Olympic medal. "It's a fast pitch with big crowds and often gives a good pointer to which teams are going to be the leading candidates for the World Series titles."
Perhaps surprisingly, the 45-year-old, currently working with HSBC to promote sevens globally, believes his former team will be pipped to the overall title by South Africa, bronze medalists in Rio.
"In the past four seasons South Africa have always been the bridesmaids but never the brides," Ryan continues. They now have an established squad, a great young coach in Neil Powell, and the best off-field set up and programme. For me, all those factors make them heavy favourites to win the series."
Time will tell whether South Africa can reach the Sevens Series pinnacle in May, and if Australia are able to successfully defend their women's title, in an enlarged six-stop campaign. For now, there is much to enjoy in the opening leg in Dubai, as interest in sevens continues its steep upward curve under the imposing Burj Khalifa.