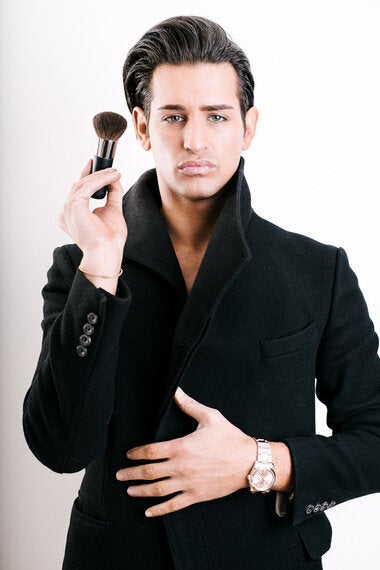 It would be accurate to say that I'm on speed dial with my girlfriends when it comes to male related dramas! Whether it's good or bad, they come to me for advice - not that I'm complaining, as I love being there for them. There has been a recently flurry of a lot of my girlfriends having issues with their boyfriends in the grooming department.I've noticed that my girlfriends often say that the men that they are dating are not groomed enough, or too groomed!
You can spot them from a mile off with their bed-hair, 5 o'clock shadows, and bitten nails! Not attractive in the slightest! For some, that's their dream guy, but the times are changing and men are becoming more and more 'metrosexual', but this can sometimes go off the scale and become overly groomed and using more products than their partners! With the beauty market getting bigger and bigger, there are more products on the shelf marketed to men to help them with their hair, wrinkles, tired skin or anything else in-between!
Now if us men are going to reach for the grooming cabinet and use a bit of help whether it be a bit of fake tan or perhaps shaping of the eyebrows we need to make sure it's subtle. I'm sure we have all been guilty of dodgy fake tan lines or going overboard with the tweezers! I've heard from experiences from my guy mates that they grab their girlfriend's fake tan and have ended up orange as a result! I would recommend taking a step back and picking products that suit your skin and hair type, you would be surprised about the results you'll receive if you choose the right products.
That is why there are experts to help us - it's ok to go for a spray tan and get your eyebrows done I just wouldn't advise a double appointment with the girlfriend in tow! I think the balance to this is trying to pull of the effortless chic look without looking like you have spent hours creating it! So if you want to be the man about town then you need to make sure that you're dressed smart, well groomed with that right amount of rugged! It's the age of the gentleman and the metrosexual, so put down your phones and get shopping for those perfect-grooming products for your man! I think buying the basics are perfect to slowly introduce your man into the world of beauty, maybe don't scare him off with complicated gadgets or multiple skincare products such as serums, masks and exfoliants! As that might scare him off!
A lot of my male friends really are not bothered about grooming and the more their girlfriends push them to care the less they actually do. What's the conclusion? Ladies, I say if the ground rules need to be laid down do it early doors! I think deep down we know you are all usually always right... although we certainly don't find it easy to admit!
Related