The festival season is just starting to take shape. Earlier than ever we are learning who will be ending nights on the grandest of stages across the nation to define the summer. This year in exactly the same way as the past 8 years it's a soundtrack to a summer that inevitably strikes a similar tune to years gone by. The debate on nostalgia bookings vs. proven headliners vs. risk taking on the sound of the future has been the meat and veg of many a music forum for quite some time. This year, not everything is exactly as it seems.
Blink 182's booking as headliners of Reading and Leeds 2014 is the most exciting prospect we, the festival going British public, currently have to look forward to. Festival Republic have already played the nostalgia booking card on several occasions with the 2010 performance of Blink fresh from reunion and last years decision to revive Eminem who judging by his setlist can't accept that he's 10 years past his sell by date. This time round it's the turn of a band who to many are also rotten fruit a decade after their last popular album. In fact they are faced with the greatest of challenges: to step up to becoming an actual headline band at a notorious UK festival they are well acquainted with. They've gone through the motions from buzz band to worldwide superstars, to the excitement of clawing themselves back from the abyss of 'personal and musical differences'.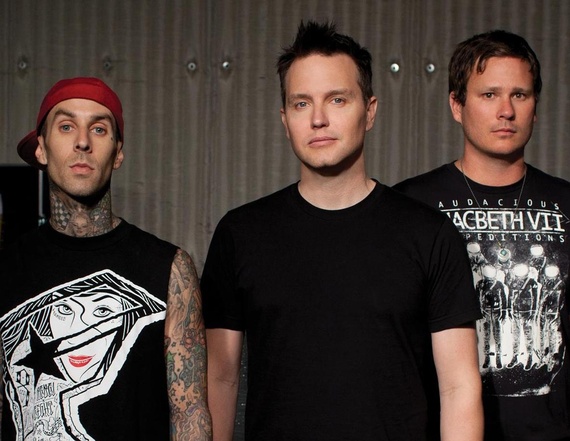 This time round in 2014 it's time for a band entering a decisive era, especially when festivals are tightening the belt and rebooking bands year in year out. If Blink 182 do nothing more than their last show in 2010 then this will probably be their curtain call at the top of a big festival bill. If they manage to produce some new music to make people care and stick in a performance that has more flair than simply a revolving drum platform this could be the reemergence of Blink 182 as genuine worldwide superstars emulating their success of 10 years ago. What seems a solid standard booking is in fact teetering on a knife edge and is the only thing that's getting me excited for the mud this summer. Here's to hoping Blink step up.
My increasing boredom of festival time is articulated in the 'metal' monotony. It speaks volumes towards the attitude (or age) of metal fans nowadays that both Download and Sonisphere have released large portions of lineup so prematurely. Realistically, who else is there for them to book. I'd be interested to see how well Download festival sells this year, what with taking a pop at promoting new headliner material in Avenged Sevenfold, and sticking all eggs in the warm cash cushioned embrace of nostalgia bookings. Whilst Hybrid Theory is an album that's popularity warrants an album show, Aerosmiths booking is painfully uninspired. I saw Aerosmith in 2010 perform a morbid set that paled next to the shows put on by Metallica and Rage Against The Machine. Two proven and worthy headliners even if the former have procured a live formula that is now a well oiled ( if a little rusty) crowd pleasing machine.
Sonisphere is back after a year off with Iron Maiden (who played Download last year) and Metallica ( who've not stopped playing festivals for the past 10 years) who along with the aforementioned played Download 2012. The dedication of these bands fan bases does mean they will probably manage not to cancel this year but that doesn't change the dull, predictable and lazy bookings that will see me swerving well clear of Knebworth. They failed at booking nothing but nostalgia once surely lightening can't strike twice.
Glastonbury has, to the surprise of two cows on Worthy Farm, announced Arcade Fire as the first headliner for 2014. As much as I love Arcade Fire, they've already proven themselves at this level. The meat and veg of this set, therefore, will be the performance of new album Reflektor. An album that is by all accounts the weakest of their 4 but also an album made to be played live, full of foot stomping danceable goodness. Predictable and potentially enjoyable but not the excitement a Glastonbury lineup announcement should inspire.
Elsewhere Isle Of Wight has Biffy Clyro only a year after their demolition of Reading and with no new music to speak of it's testament to how far the Biff have come and as repetitive as Miley Cyrus' publicists conception of controversy. Latitude has Two Door Cinema Club, who've played everywhere for years.
Who I'd like to see completing these festivals? Well if anyone manages to snag Kanye West, that would be the booking of the summer. Yeezus rose again and deserves a headline spot. David Bowie playing Glastonbury seems to be the the booking everyone craves, however, I have a feeling the Eavis duo might go for Adele to apply the reclusive British super star flavour if Bowie is busy. Daft Punk has also been a name on the lips of the masses for donkey's years now and would be the icing on any festival cake especially in a post Get Lucky world order. More predictably you'd expect Jay-Z to be somewhere (V is calling) and Arctic Monkeys, once they've sold out of tickets for their Finsbury Park shows, are an obvious headliner for Reading and Leeds contrasting well with the Blink 182 booking and fitting the Reading formula to a tee.
Even so I find myself struggling to get genuinely excited for a summer as surely if these festivals had huge coup bookings they would be screaming it from the rooftops. We can only hope that someone somewhere has some rather large, surprising and unpredictable cards up their sleeve ready to turn festival season 2014 upside down.