This is the first in a series of New Breed blogs introducing some of my favourite breaking bands that have passed by my radar in 2014. Every summer hails the emergence of a new breed of young, up and coming bands heading out on festival season opening up muddy fields and tents across the country ready to make their name known to the world. These blogs shine a light on some of the best bands I've seen fulfil their role as gatekeepers of massive festivals and the best tours nationwide. Here are two bands that deserve your full attention.
Calling All Cars- Catch them at The Fleece Bristol 26/07/2014 & London Barfly 28/07/2014.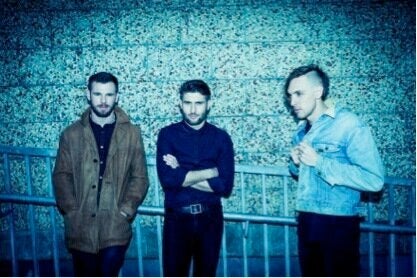 Australia is already well acquainted with Calling All Cars having played support to some of the biggest bands in the world down under: AC/DC, Queens Of The Stone Ages and Foo Fighters and more. Their rocky, riffy sound is not dissimilar from the bands they've played with. On record the band have an anthemic radio bothering sound, yet live is where this 3 piece are in their element. At Sonisphere they blew away the early morning punters, as they brought the riffs and a stage presence that captivates as the band clearly put their heart in to every minute of the set. As bands like Royal Blood and Lower Than Atlantis take a grip of the mainstream airwaves there is certainly a British market for their brand of accomplished modern rock and roll gaining momentum once more. There is no better time to be an aspiring band in Britain.
It must feel a little odd opening one of the tents at Sonisphere to a sparse crowd, yet the band deliver their set with passion, a live fervour you can see for yourself in this exclusive session of their recent single 'Standing In The Ocean' from their forthcoming debut worldwide release (3rd album proper) 'Raise The People' through Cooking Vinyl on July 28th.
I spoke to the Haydn, James and Adam who make up Calling All Cars after their Sonisphere set to ask them just what life is like now they're pushing their music globally.
Haydn (vocals & guitar): This is our first international release, essentially it's our introduction to the rest of the world. And it feels good. The production isn't a big studio sound, we didn't go for the polished job, we recorded with a bunch of different producers even had Mike Crossey do a couple of songs with us as well and we had Tchad Blake mix it who's done The Black Keys.
The band moved to the Bristol area 2 months ago and I asked the band whether they noticed distinct difference between the U.K and Australia?
James (drums): "There are far more people here. Everything is more dense there is more of a rock community. Touring in a car in Australia where all the cities are so far away is well... shit but here you can be in 6/7 towns and never have to worry about more than a 3 hour drive. "
Haydn: "I've noticed each scene feels bigger, in Australia its quite cliquey, if something isn't in the scene right now it's very hard."
Tell me about your influences, how have you ended up at the sound Calling All Cars has today?
Haydn: "It's like this melting pot of everything we've listened to since we were kids until now. With this new album in particular we were so submerged in our own music at the time, I wasn't really listening to anything else but our demos and riffs we were writing at the time. It's cliché but we were very focussed for a long time, we went in to it doing what we wanted to do."
Playing a festival like Sonisphere, do you feel the pressure going in to bigger shows?
James: "We've played bigger shows in Australia before. Regardless of the size of the show we just do what we do, we play loud and go for it. If you can't enjoy playing together as the 3 of you in the band then you shouldn't be doing it."
Shrine- Catch them at Electrowerkz London 07/08/2014 w/ Thrones and Lyger.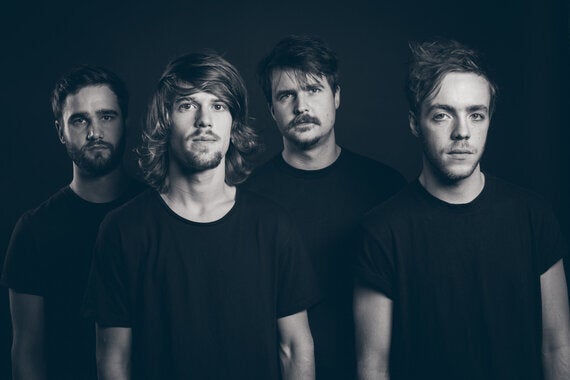 Shrine are a band from Brighton. Shrine also happen to be my favourite new band. With a sound that sits somewhere between Thrice and Mastodon, Math-Rock's choppy time signatures and the epic ambience of post rock, it's clear Shrine are dedicated to honing success from defining their own identity. Musically Shrine also hit all the right notes, each member of the band excels whether it be Will Gardner's soaring vocals that range from delicate croons to bone crushing roars, the mathy nuances that characterise Joe Gosney's guitar work, or the rhythm power house of Liam Kearney and Andrew Gosden holding it all together with power and precision on drums and bass respectively. It was Liam and Andrew I had the pleasure of speaking to after their Friday set at Sonisphere, I think they were quite pleased to be there.
Give me an insight in to your influences, where does that eclectic sound come from?
Liam: "Everything really. Nu-metal and the heavier side of the late '90s. Mainly we'd say Oceansize, Mastodon, Mars Volta, a lot of people say Thrice with the vocals."
Andrew: "Will [vocals] was in an awesome band called Lithigy from Brighton. We saw them live loads, noticed they split up, Facebooked him, swanned in and snapped him up. Me and Liam have known each other since the beginning of time and Will coming in stepped us all up. The progression of the sound has been a really organic process. Joe is a riffmeister, as soon as you've made one song he's got another one".
You've had Dan P. Carter and BBC Radio 1 singing your praises do you feel the pressure now you're garnering this kind of attention?
Andrew: "It's an honour to have Dan and Zane really getting in to it, we feel like the next song has to be really good, like a real step up. It's so nice to have so many British bands doing well, Royal Blood have just blown up, we were planning on doing a show with them then the next week they got signed by Warner and yeah that happened, but it's great to see it."
How was your debut festival experience?
Liam: "Sonisphere was the best half an hour of my life. It actually only hit me as I walked up that ramp gave these guys a hug, I had no idea what playing a festival was like. It was insane, it meant so much to have that many people watching us."
With an album on the horizon and the incredible Closer To The Sun EP already released, it's only a matter of time before Shrine pick up the recognition they deserve and importantly they're doing it all on their own terms.