It's the pinnacle of summer. The final bank holiday hurrah for the U.K. A chance for many to bid farewell to their barbeques, paddling pools and take their tops off in public one last time. For over 150,000 people though it's the annual celebration of getting rowdy in a field to one of the biggest bills of music in the world at Reading and Leeds Festivals. What is often forgotten is that it's been this way for over 30 years.
The festival has recently become the subject of much internet disregard. People bemoaning the typically young clientele celebrating their GCSE and A level results, the genre spanning lineup that inevitably leaves some keyboard warrior heartbroken and the general bare bones festival feel the whole event has; there are no 'ambient forests' you can explore and 'find yourself' in without contracting viles disease. Since 1971 bands have graced the Reading Festival stage at Richfield Avenue, it's had it's highs to mid '80s lows, to a legendary Nirvana show, to the modern 2 location festival giant it's become today. A rich heritage that has loaded this famous weekend with worldwide notoriety.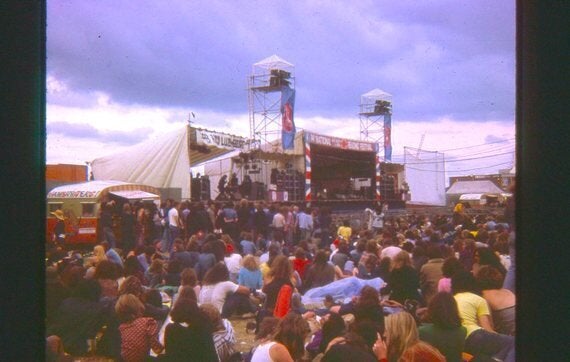 Photo: Robin Hunter- A slide from Reading: Jazz, Blues & Rock Festival 1974 (headlined by Traffic, 10CC and Focus, tickets cost £5.50.)
In 2014 the eclectic line up is one of the most modern and forward thinking bills of the summer. From a set of headliners that aren't pushing their 50's, to a who's who of potential future bill toppers propping up a hefty undercard, finished off with something for everyone from dance to punk to hip hop.
Queens Of The Stone Age have become something of a house band at R&L playing the main stage 4 times, but the importance of their promotion to festival headliner is huge. Josh Homme is a bonafide rock star and this is the set that will surely cement QOTSA as another rock band on a criminally short list capable of headlining U.K festivals. A similar honus is on Paramore to emulate the rise of previous American debut headliners My Chemical Romance and prove they're worth their lofty slot.
Arctic Monkeys are one of the biggest and best rock bands in the world; the bread and butter of a Reading line up and in a blog earlier in the year I claimed that Blink 182 are actually an exciting prospect not simply a nostalgia act.
The essentially modern flavour of Reading is articulated in the clear push to move U.S rap and hip hop to centre stage yet again. Take Macklemore & Ryan Lewis as sub-headliners, one of the prime targets for the moaner masses. They are an undisputed success story of the past 2 years, racking up over 500 million YouTube views (on Thrift Shop alone), picking up 4 Grammy's and actually making some pretty great festival ready tunes in the process. Elsewhere Schoolboy Q sits halfway up the NME stage having released the best genre LP since Kendrick Lamar and alongside him on the (Reading) Saturday is South African shock rappers Die Antwoord a genuine treat to behold. Joey Bada$$, Pusha T and Danny Brown are amongst a handful of other UK and American artists in the new, and clearly here to stay, Radio 1Xtra tent.
The NME stage hosts Lower Than Atlantis (whose new single and Festival anthem in the making is above), Twin Atlantic, Royal Blood, Marmozets, Lonely The Brave & Mallory Knox aka the Radio 1 'rocks' crew who have rightfully made their marks as the bright future for British music. A trend that continues in to the newly named 'Pit' with Architects, While She Sleeps, Basement and Empress AD making up a huge line up topped by U.S 'band of the moment' Of Mice & Men.
This year is also the swan song to long time compere Mike Davies and sees some of the most exciting, punk and hardcore bands hit a Lock Up stage looking the strongest it has in years.
Opening the tent are two bands marking their debut U.K. festival appearances, both ready to capture the hearts of the early afternoon crowd of a festival that clearly means a lot no matter which side of the Atlantic you're from. Do not miss Blacklist Royals of Nashville, Tennessee and Vales of Cornwall.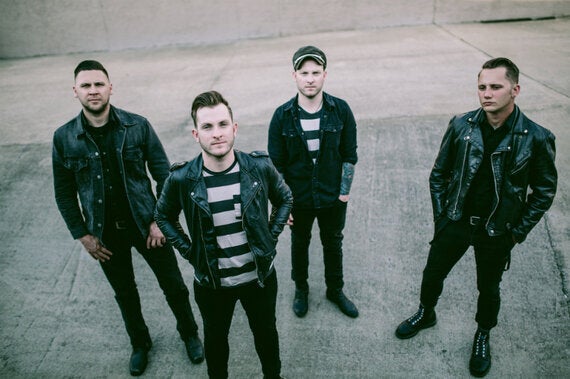 Blacklist Royals boast a rock n roll sound that comes straight from the heart, oozing an intimacy and fragility hardened by the road and overcoming great sickness in the form of drummer Rob fighting cancer from age 17. Hearing the honesty of their music It comes as no surprise that the band is made up of twin brothers Nat and Rob Rufus who I spoke to on the eve of their first European date.
Nat (guitar/vocals): " We've always played in bands together, we always write the songs together. When we were teenagers and Rob was sick, our lives revolved around each other, from then to now we've always been together. We've had the luck that one of us plays drums and one plays guitar and sings. I want it to sound like someone was in the room listening to us play."
Rob (drums/ vocals): "We still share the same record collection. When we play on stage now my monitor is just Rob's guitar and vocal, it's how we write. When we came to record this LP [new LP 'Die Young With Me'] working with Tedd Hutt was the first time that we realized it was what made the band special."
It's clearly an honour for the brothers to be at Reading Festival considering it's global reputation.
Nat: "Reading is the crown jewel of European Festivals. Reading and Leeds is actually something I never even thought we'd be able to do. Getting on the bill was a huge deal for both of us. We've had a couple of offers for other festivals but we held out with hope of playing Reading. It's the most famous festival out in Tennessee, all of those famous sets in the '90s, I mean to be able to go, let alone play is incredible"
To many Blacklist Royals may not be top of their 'must see' list, so why should you watch Blacklist Royals?
Nat: "We're definitely a bit different from all the other bands playing on this stage. It's worth people coming to see, we'll play mostly our new album and we just added a new key player live. Hopefully people take the chance, I know there are a million great bands playing, but I think fans in the UK would really dig us, I just want as many people there as possible."
Blacklist Royals play Leeds on Friday, Reading on Sunday in the early afternoon slot.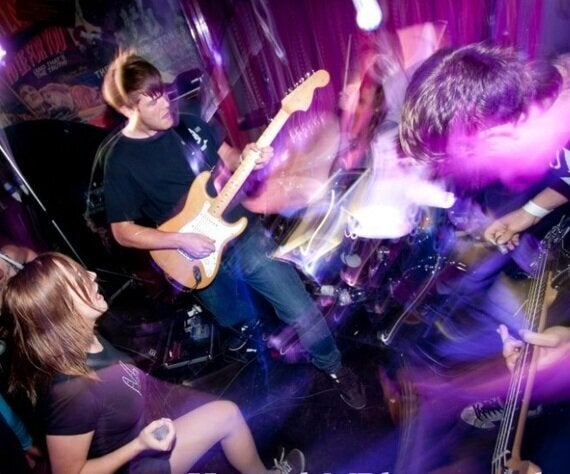 Vales are a band from Cornwall, a band whose honest melodic hardcore sound conjures epic soundscapes of emotion and aggression. On the bands debut full length 'Wilt & Rise', recorded for 6131 records in L.A, the band cemented their unique take on cold and essentially Cornish hardcore. There are no summer jams to be found here, the only beaches that you could lie on listening to these tracks are those beaten by the Atlantic ocean's waves upon which the shed where Vales wrote these songs sits.
Ben Sullivan (guitar): "We were all based in Cornwall and wrote it in the winter in a freezing cold surf shack on some dunes on an abandoned beach where we used to practice prior to going out to Los Angeles to record. I was always so cold when I was writing music, playing together wearing gloves in a horrible shed has certainly had an influence on our sound. Being from Cornwall, playing music in a scene as close knit as it is there, we had great opportunities to play good shows in intimate venues, bands like Crocus and Gnarwolves (playing the main stage at R&L) are all from Cornwall. It has had a massive influence on the band."
Having spent 6 weeks relentlessly touring the U.S an experience that "was everything [they] thought it would be and more" hitting 25 states from West to East and West again, Reading & Leeds will be the band's first big festival experience in the U.K.
Ben: "I've never been to any big festivals. I don't know what to expect. Well I'm not looking forward to going to the toilet. I've heard it's massive and there are loads of fluorescent band wearing kids."
The eclectic lineup is a long shot from the toilets however, and Ben is clearly pleased to be sharing a festival bill with such a diverse range of artists.
Ben: "To me Diversity in a bill is probably what I look for. There's nothing better than having loads of different types of people watching loads of different types of music and having a great time, as long as no one is a twat there are great vibes. Over the past few years music has become more accessible over the internet you cant judge what somebody listens to as so many people has such a range of interests. When I was younger you'd have your stereotypes and sub cultures, it doesn't seem to be quite that way any more."
Vales play the lock up stage on Friday (Leeds) and Sunday (Reading).
It's a landmark year for Reading and Leeds that marks a step towards the future for the oldest pop festival still in existence and it's a forward thinking move that should be welcomed as a sign of the times instead of clinging on to the past. Where once it was my dad attending Reading Jazz, Blues and Rock Festival, now it's a new generation at a Reading Festival boasting all kinds of Rock, Dance and Hip Hop. New sounds, same eclectic flavour.
Reading & Leeds take place over the bank holiday weekend 21-24 August