When people think of the Arts in this here sceptr'd isle admittedly one does not immediately think too readily of Britain's Second City, Birmingham. But, that would be a great mistake and one that keeps on happening. Least we forget, Shakespeare did not hail from too far from here even if he did get his break further south. In the 11 years I have called this city home I have witnessed first hand a very lively arts' scene, albeit one that often suffers from a lack of national support and so can easily go unnoticed by many; even Brummies themselves. These artists have often come together under one or another collaborative projects, be it the close-knit graffiti scene I have come to know and love, or otherwise; the artists of Birmingham have forged bonds and collaborative networks that can overcome any and all obstacles to become legitimate artists in their own lifetimes and not just in their own bedrooms.
So, as a keen follower of street art in particular and documenting as many of the pieces I can, when I can, it was with some excitement I stumbled upon a forthcoming art collaboration right here and (almost) right now that sums up, to me at least, the determined nature of a small hand of people in Birmingham to shout loud and proud about their city and to accommodate artists of all types regardless of the current government line that has seen savage cuts become the norm in all aspects of the public sphere. For many, a DIY approach has been a means to overcome the odds and with great successes.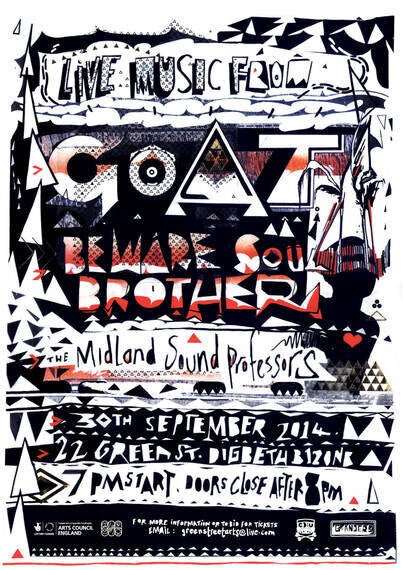 Enter then, local art legend Glenn Anderson and Green Street Arts, the latter a space that I have featured before and will, I imagine, feature again, as one of a few places that genuinely subscribes to the belief often touted hollowly by many but practices by the very few of 'Art for all'. They are a not-for-profit community organization that's sole purpose is to support the local arts In this small but important part of Digbeth, tucked away behind a fading façade of past industrial glories with its boarded up buildings and wistful warehouses that sit next to the new and shiny face of modern Birmingham and no better realized than in the artistic hub of the Custard Factory, this philosophy is being realized on a regular basis.
Along with Glen Anderson, over the month of September, Green Street Arts will also be welcoming artists Liam d'Authreau, as well as world-renowned Midlands'graffiti artist Chu, all of whom will be coming together to create, collaborate and craft an installation piece behind closed doors and across a whole floor from found and recycled materials. Bringing their diverse artistic techniques and methodologies into play together they will be drawing on the rich traditions of myth, legends and folklore to create a shared vision. A vision that will see the creation of a sculptured performance space produced by Glenn Anderson, an interactive 2D and 3D space using cutting edge technologies courtesy of Chu (labeling him just a 'graffiti artist' as I did does not do his work the justice it deserves, I admit, as one cursory look at his website illustrates) as well as input by Liam d'Authreau, who will provide both the painting for Anderson's performance space as well as the merging of 2D and 3D lighting for the culminating event at the end of the month when Sweden's alternative experimental fusion band GOAT, supported by Beware Soul Brother and Midlands Sound Professors, will bring the noise to proceedings and add a further dimension to the whole affair. A band that embraces an 'open doors' policy on collaboration as their recent Facebook campaign for fans to design their forthcoming album artwork testifies to. One look at their different styles will immediately inform you that this will be a high voltage collaboration which will raise the expectations and challenge audience involvement in attending a gig unlike any other music lovers have attended I imagine.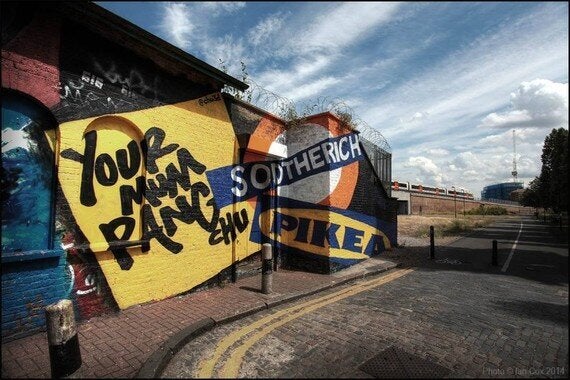 An example of a recent Chu piece
Green Streets Arts open their doors to the public for one night and one night only, on September 30th. The doors are judiciously open for only one hour, opening at 7pm before shutting at 8pm. The only cost is the collective artists'desire to have the public participate themselves, blurring the lines between art and audience. 125 VVIP=1 tickets are up for grabs based solely on the would-be attendees reasons for attending. For this, you must submit a 100 word written statement of intent, so to speak, explaining briefly why you want to attend. Anyone interested should seize the day as you only have until September 22nd to send in your statements to greenstreetarts@live.com. My submission will be in the post sooner rather than later to avoid disappointment. As someone who laps up live music by great bands as often as I can this is something I will not want to miss. As a supporter of the arts, this will definitely be something I promote with my own students on my return to teaching this September.
And after the event? Well, as part of Chu's contribution to the collaboration, on the night he will be posting a 360-degree image accessible via your smartphone immediately after the event at www.nothyself.co.uk allowing the event to be shared with others far and wide who may be less fortunate than some of us being not lucky enough to live in Birmingham.
All art is the writer's own