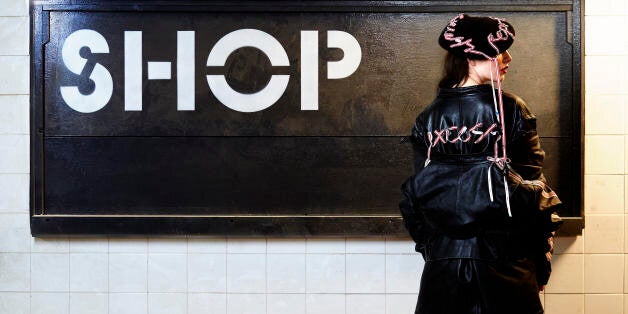 Upcycling is a creative design solution to an environmental crisis - it is also the single most effective way at slowing down fashion without resorting to boycotting brands.
Because we don't need to stop buying clothes, we need to learn how to buy better, and by buying clothes made with pre-existing materials we would save an enormous amounts of water, slow down unnecessary virgin textile production and drastically reduce landfill mass with its associated emissions burden.
What upcycling does is encourage creativity, problem solving, a sense of humour, and the understanding of efficiency and common sense.
There is a kind of poetry in taking the unwanted and giving it another life - as a design process it has its own aesthetic signature, its own set of values, its unique method. It may not be for everyone, but those who love it can become passionately addicted.
It encourages time, the single most undervalued word in fashion's modern history.
It also encourages patience, which, along with time, is part of an ancient fashion lexicon.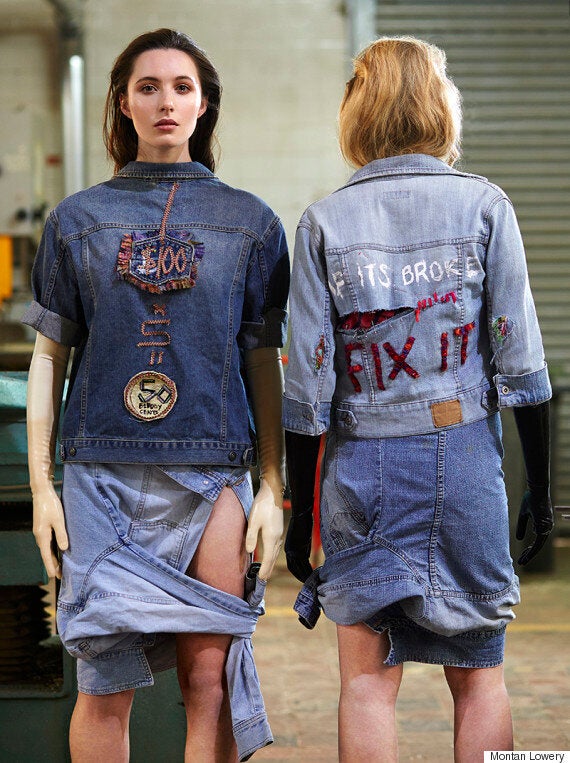 It encourages a journey of discovery whereby sources of fashion waste are located, materials are 'saved' and reintroduced into the system via the intelligent use of creativity and manual abilities.
Let's put it into context. Upcycling may be a new definition (first coined by Reiner Pilz in 1994: "Recycling," he said, "I call it downcycling. They smash bricks, they smash everything. What we need is upcycling - where old products are given more value, not less." ) but we have been upcycling for millennia in all forms of art and design, from mosaic to Wabi-Sabi, quilting to Boro fabric, modern art to interior design.
We just have to look at food to understand how steeped repurposing is in our culture. Almost every country will have a much loved national dish that derives from leftovers: Paella in Spain, stale bread for Bread and Butter Pudding, Minestrone, Broth... there are way too many to mention all.
And in fashion it's second nature: in fact, it's so trendy right now that designers are borrowing the look without actually implementing the technique. From Galliano at Margiela to Christopher Kane, catwalks are awash with the 'looks upcycled' aesthetic, its vibrant, patchy, colourful, often idiosyncratic juxtapositions look great online, a breath of fresh air to contrast black minimalism.
Back then when clothes didn't cost the same as a sandwich, people made the effort to keep them, customising them to suit the changing trends. So when we went from hippy to glamrock to punk, kids didn't go to New Look to buy their skinnies and ripped t-shirt. They learned how to sew (or asked their mum) and ripped away purposefully. Clothes had value and weren't thrown away, providing a creative canvas for change. It was a challenge, it was disruptive, it was iconoclastic: grannies' tartan skirts ending up ripped and safetypinned on the Sex Pistols; Victorian underwear, such as drawers and petticoats, becoming ruffles on a New Romantic shirt.
Unfortunately, in fashion, upcycling makes little sense in today's culture, now that we have been taught by this gigantic industry that it's easier to throw something away if it isn't perfect, given that it has become so easy, quick and cheap to go out and buy something else, something new.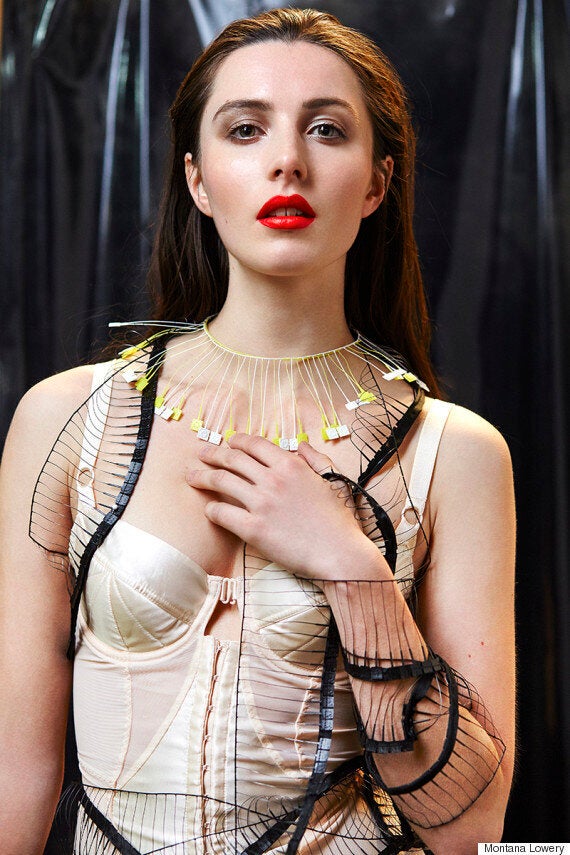 Despite the fact that it is estimated that the industry is producing approximately 150 billion items of clothing annually, closed loop technology is nowhere near 100% effective. Although we can recycle single fibres such as wool or cotton, we are still far from being able to recycle clothes made by blended fibres (that's the majority of the stuff we wear) not to mention clothing implements such as zips, buttons, labels and sewing threads, or accessories, like hair clips, shoes and handbags.
So, while we wait for technology to save us, why not upscale upcycling instead?
It's the best bet we've got to still make wonderful clothes whilst slowing down the industry.
Upcycling should be taught as a design technique, and as a technical method for production.
Young fashion designers interested to know more should be shown zero waste pattern cutting; how to follow a waste-stream; how to look for second hand clothing at scale; how to approach manufacturers for factory remnants. They should be taught how to disassemble garments and transform them into something else; how to sort surplus, how to store it and how to design to include surplus.
Garment workers should be taught disassembling and reassembling and trained 'waste engineers' inside both brands and manufacturers sourcing and production departments should be aware of where the surplus is kept, whether it is stock fabric, defected fabrics, unsold clothes or defective runs; they should know which types of waste are reusable and how to offer it to their clients to reincorporate it in their collections. There should be upcycling lines in factories, ready to produce new stuff from stuff that is deemed unusable.
It has been done before, plenty of times, the knowledge is there. It has been done as a result of poverty and need (women scouring factory floor off-cuts during the wars); it's been done by the industry to maximise factory resource efficiency and it's been done more recently by design pioneers who see it as a creative way to combat mass production and mass consumption. Just like the materials we reuse, its nothing new. But it's not been upscaled, yet.
As resources will become more scarce and expensive, as the issue of fashion and textile waste drowning the planet will become more obvious following a global call for brand transparency, what we are looking at is a viable alternative, one that would be creating new skills and new jobs, and move us towards an efficient industry where surplus is addressed long before it becomes waste.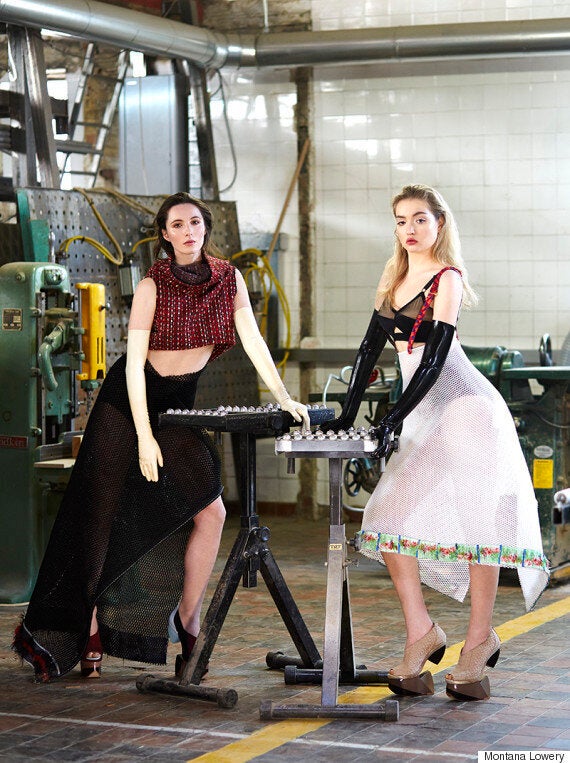 In a fashion moment where our prêt-à-porter has become much more like a prêt-à-jeter, we need to look back to move forward: we have the answer, now all we have to do is start asking the question.
Here you can find a video of Fashion Revolution's upcycling workshops which took place in April during Fashion Revolution week, where you can find out more about upcycling, some amazing designers, and why it's so important to become involved in looking for solutions for fashion.
Photographer Montana Lowery
Styling, Hair and Make up: Novel Beings
Models: Sienna Somers and Nancy Morris
All outfits created by students at the Upcycling Workshops.
Thank you to Avery Dennison for sponsoring the event.
This September The Huffington Post UK Style is focusing on all things sustainable, for the second year running. Our thirst for fast fashion is dramatically impacting the environment and the lives of thousands of workers in a negative way. Our aim is to raise awareness of this zeitgeist issue and champion brands and people working to make the fashion industry a more ethical place.
We'll be sharing stories and blogs with the hashtag #SustainableFashion and we'd like you to do the same. If you'd like to use our blogging platform to share your story, email ukblogteam@huffingtonpost.com
Related